Editorial: Room with a view
Spain's crying room aims to remove the silence around mental health and emphasizes the need to be unashamed about seeking help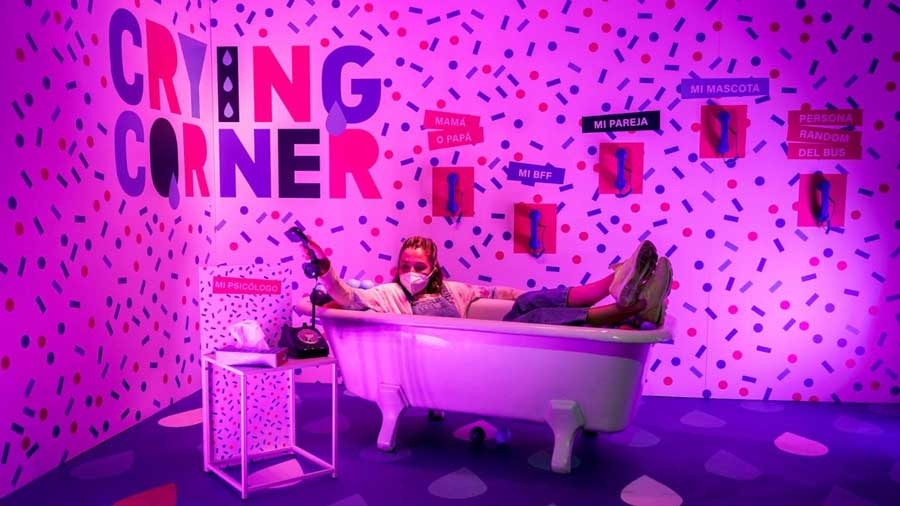 ---
Published 23.10.21, 01:33 AM
|
---
Men don't cry. Neither do women, if crying lays bare their innermost fears and pains amid society. The world, especially the West, seems fairly convinced about this, although public weeping by women in the case of death is allowed in many cultures — the lack of tears may then become a problem. There are also ceremonial structures to mourn the dead with wailing and prayers. But grieving a death is different from weeping in anxiety and fear, or crying for help when teetering on the edge of a mental abyss. Society is still disconcerted by the public airing of mental health issues, even though suicides of both the young and the elderly have become one of the biggest causes of death in more than one country. The Spanish government's decision to open a 'crying room' in the middle of Madrid to make mental health a visible issue is a reassuring move in this context. The Spanish prime minister also announced a 100-million euro package for a mental health drive and the opening of a 24-hour suicide hotline on World Mental Health Day.      
Men and women can come to cry, or ask for help through the numbers listed for mental health experts at the telephone stationed there. The name is a defiant reversal of the Spanish saying that sends people with problems to go cry in the 'crying room' instead of making their anxieties and fears public. Nothing could better emphasize the hollowness of the stigma attached to mental health problems. The invitation at the entrance to come and cry, with another motto suggesting that anxieties are shared by many, break down gendered notions through the open acknowledgment of the universality of unhappiness and mental fragility. The traditional expectation of stiff-upper-lipped men is of great disadvantage to the mental health profession. Spain's crying room is for everybody.  
This is particularly apt in and after the pandemic — there are thousands of men, women and children who need to cry, whose terrors and anxieties need to be palliated, who need help to readjust in a society ravaged by disease and absences. Deaths of loved ones, tremendous economic stress, acute uncertainty about the future are enough to bring about psychological problems by themselves. This is apart from the exacerbation of existing illnesses — depression being one of the most common. Then again, caregivers of differently abled children or of elderly people needing constant care are themselves at risk mentally with schools closed and no help at home. Spain has set an example, although the crying room is more about removing stigma and bringing mental health issues into public discussion. But it is still a creative effort to build a social safety net around people who desperately need it. In the context of the pandemic, this example can be built upon elsewhere, in smaller localities and village clusters, because societies must relearn ways to connect, protect and hold on.