Should the Koh-i-Noor be returned?
EYE ON ENGLAND: The simple answer is it can't, and don't we know why?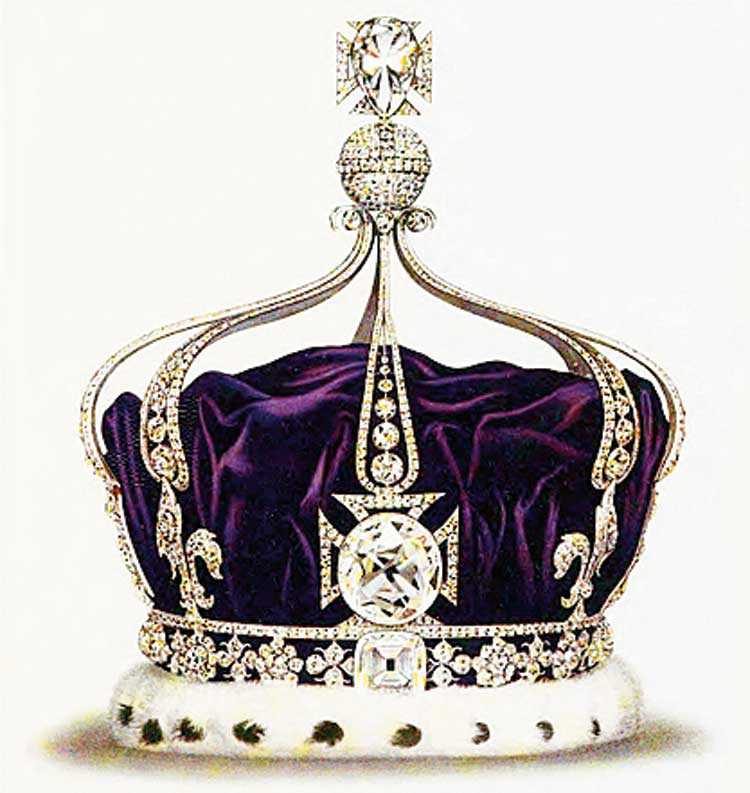 Brightest jewel?
Source: Wikimedia Commons
---
Published 06.03.20, 06:45 PM
|
---
Every now and then an Indian politician will demand the return of the Koh-i-Noor, which I saw last week for the first time during a guided tour of the "priceless" crown jewels — which attract around 2.9 million tourists every year — in the Tower of London. The 105.6-carat Indian diamond is set in a platinum crown which was worn by Queen Elizabeth, the deceased Queen Mother, when her husband, George VI, was made king in 1937.
The veteran journalist, Kuldip Nayar, who was briefly India's high commissioner in London, had said the decision to "flaunt" the Koh-i-Noor during the Queen Mother's funeral on April 9, 2002 was symptomatic of Britain's "old empire mentality". But thanks to the Koh-i-Noor, Britain is in some ways the brightest jewel in India's crown. It is not necessarily wise to call for its return.
The guide's voice was loud and clear in the semi-darkness: "That is the Koh-i-Noor — Persian for 'mountain of light — the oldest and most famous diamond anywhere in the world. It was acquired by the British after the Second Anglo-Sikh War and the Treaty of Lahore in 1849, and presented to Queen Victoria on July 4, 1850. Been here [in the United Kingdom] ever since. The Punjab [from where it came] is a region — it covers what is now both India and Pakistan. There are frequent discussions, 'Should the Koh-i-Noor be returned?' The simple answer is, it can't, because India and Pakistan aren't the best of friends, shall we say?"
Displayed alongside, studded with '5,986 diamonds', is the Imperial Crown of India, worn by George V at the Delhi Durbar of 1911. "It never will be used again: the empire is gone." Charles Farris, a curator, told me about the start of the process of re-labelling the crown jewels "more openly and honestly and fully because the stories are... very, very complicated... there is only so much you can say on the very small labels." Jocund company
It never seemed odd to us that as children in the heat and dust of Patna, we learnt of William Wordsworth's "golden daffodils". Recently, they have been "fluttering and dancing in the breeze" — in storms, actually — outside my window. On my desk, there is a bunch of bright yellow daffodils in full bloom.
There was a time when the daffodils would not appear till middle or late March, heralding the arrival of spring. But climate change has upset the laws of nature so much that daffodils have been sprouting in the garden since the middle of February and even earlier.
On BBC Radio 4, I have been listening to Jonathan Bate, a classicist and, until recently, Provost of Worcester College, Oxford University, who has been travelling "in [Wordsworth's] footsteps to reveal the true story of the making of the poet" on the occasion of his 250th birth anniversary this year. Funnily enough, the sight of a host of daffodils on English greens takes me back to my Patna days.

New voices
The Romantic Novelists' Association held its annual prize-giving ceremony in London this week. It is a marvellous organization which was set up 60 years ago "to promote romantic fiction and encourage good writing and now represents more than 1,000 writers, agents, editors and other publishing professionals". All the novels have a happy ending. But as British society has changed, so has what is permitted in the novels. Now, 'anything goes'.
But is English romance different from romance in the UK's Asian community? We shall find out because Keshini Naidoo, an Indian with a South African background, has set up her own digital publishing house, Hera Books. She is going out of her way to give a voice to Asian authors, especially women. Among the authors shortlisted this year in the 'contemporary romantic novel category' was Jeevani Charika, who is of Sri Lankan origin, for A Convenient Marriage. This book tells the story of a couple — the husband is gay, the wife straight — who marry willingly to please their parents. All is well until they actually fall in love with other people.
Charika, who got her undergraduate degree at St Peter's College, Oxford, and has a PhD in microbiology from Linacre College, sometimes uses her white pseudonym, Rhoda Baxter — "I named myself after the bacteria I studied for my PhD: Rhodobacter sphaeroides".
Soul food
Chowringhee or Chourangi? Anjan Chatterjee, of Oh! Calcutta fame, has chosen the latter as a name for the new Bengali restaurant he is threatening to open near Marble Arch in London. A friend, familiar with London's restaurant scene, WhatsApped me a notice that Chourangi, specializing in the "unexplored flavours of Calcutta", will be "opening soon".
Other than Little Kolkata in Covent Garden, authentic Bengali food is almost conspicuous by its absence in Britain. Udit Sarkhel, whom I miss very much, experimented with Calcutta Notebook in London. But he tragically passed away while on a visit to Calcutta to gather new ideas in 2012. A restaurant website, Eater London, reports that Speciality Restaurants Ltd will open Chourangi at 3 Old Quebec Street in 2020, and adds that Oh! Calcutta "offers fish fry, clay pot-cooked Bengali carp, maacher jol fish stew; and Awadhi biryani". The British have basically got used to an Anglicized version of Punjabi food although some Kerala restaurants are also doing well. I, for one, would welcome Chourangi's arrival. There is certainly a gap in the market. After Boris Johnson's ministerial reshuffle, the Labour-supporting Mirror expressed fears that "the PM will lead a Cabinet of poodles". In the Left-leaning Guardian, Simon Jenkins complained that Johnson clearly wants to run "a 'Napoleonic' government, based on strong central command and a cabinet of poodles". The Swindon Advertiser explained the latest Private Eye cover to readers: "In politics, the word poodle is often used as an insult to describe a politician who obediently or passively follows the lead of others."