Seeing is believing: Gamchha and other accessories
DELHI DIARIES: Why is Punjab chief minister livid? And AAP has a real hero in its chief whip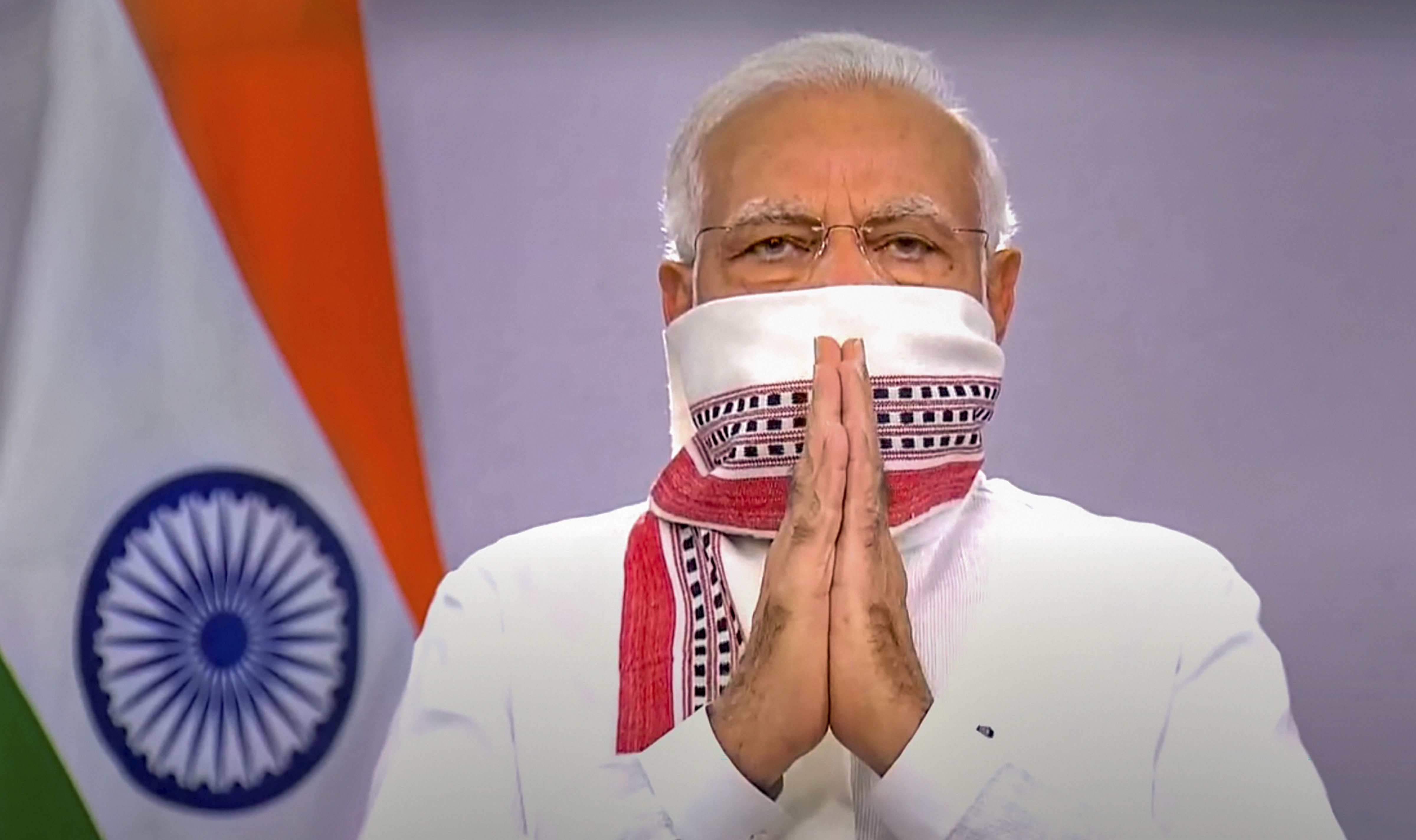 ---
---
In the fable, the emperor's 'new clothes' had become the talk of town. In India, it is the prime minister's choice of mask that has given rise to considerable hushed chatter in official circles. In his recent televised addresses as well as during his discussions with chief ministers and village heads, Narendra Modi has as appeared with a gamchha wrapped around his face. Naturally, questions have been raised about the need for this when those he was addressing were hundreds of miles away on the other side of a screen. First, why use an improvised mask? Then, why use it in a fashion that does not meet the stipulations of wearing a mask? For instance, during the conference with sarpanchs, his gamchha was wrapped around his lips but not his nose, which should remain covered if the intention of wearing a mask is genuinely to gain protection. Clearly, the reason Modi is appearing with a gamchha mask is nothing more than optics.

Drown the sorrows
The chief minister of Punjab, Amarinder Singh, is livid with the Centre for rejecting his plea to reopen liquor shops in the state. He wondered what the connection was between alcohol and the novel coronavirus, lamenting that the Centre was neither helping the states financially, nor allowing them to generate revenue. Punjab earns some Rs 6,000 crore from liquor sales. The CM said, "virus can reach homes more through vegetables and fruits which are sold in the open than bottled whiskey or scotch but the Centre is not willing to listen."
Interestingly, while states like Delhi, Kerala, Bengal and Maharashtra wanted to partially open liquor shops or allow home delivery, Assam and Meghalaya were allowed to keep shops open. While Assam rescinded its order after a nudge from the Centre, Meghalaya is still selling liquor. Meanwhile, European nations and the United States of America, which are also reeling from the pandemic, haven't closed liquor shops. Strictly legally speaking,India cannot prevent liquor sales as alcoholic beverages are classified as food under the Food Safety and Standards Act, 2006 while the Disaster Management Act is being used to force the states to abide by the directives of lockdown. Chief ministers, particularly of states like Punjab, are upset because owing to the ban illicit sale is picking up and sellers are charging Rs 1,000 for a bottle costing Rs 500 and the state is losing revenue at a time when expenses have mounted and earnings have vanished. Missing a fortifying sip is understandable given the circumstances.
Dual approach
Timing is everything. Around the same time that the Chinese ambassador, Sun Weidong, tweeted that his country had opened a "green channel" and approved 35 cargo flights to carry essential medical supplies from his country to India, the economic arm of the RSS, Swadeshi Jagran Manch, called for the boycott of Chinese goods. The outfit also indirectly blamed China for the coronavirus pandemic. While the government has been compelled to seek assistance from China, the Rashtriya Swayamsevak Sangh, has been slamming Beijing in its mouthpieces, going to the extent of insinuating that it is responsible for the creation and spread of the virus.
This forked tongue approach is evident in domestic politics too. While the PM calls for a joint fight to defeat the pandemic, his party's social media warriors are relentlessly targeting Opposition-ruled states, seeking to run them down over coronacare. The saffron brigade is also milking the pandemic to promote Brand Modi, celebrating that his popularity and approval rating have soared. "Truth is self evident!" tweeted Amit Shah, who is lying low these days. "Entire world is praising PM @narendramodi, the way he is handling COVID-19..."
Some reprieve
All clouds, even the Covid-19, seem to have a silver lining. Karnataka's communal hotspot, Dakshina Kannada district, must be thanking Covid-19 for an unprecedented dip in communal violence. From moral policing to cow vigilantism, the district has been silent ever since the nationwide lockdown. The district administration, busy with responding to the pandemic, must be feeling relieved that the communal elements have retreated. Otherwise it would have been double trouble in the district that has seen around 18 cases of Covid-19, with four in the hospitals now.
Hit the ground running
While prominent MLAs of the Aam Aadmi Party have been busy being photographed with bleach sprinklers or sitting through online meetings with citizens, the party's chief whip, Dilip Pandey, has been criss-crossing the capital delivering food to those in need. Pandey is not the only one distributing food, but he has not confined himself to his own constituency like most. Even AAP's "most eligible bachelor", Raghav Chadha, and the deputy CM, Manish Sisodia, drew flak for their triumphant images with sprinklers at a time when scuffles are breaking out in food queues. Pandey has been circulating simple forms on WhatsApp for those who need ration, which he then follows up himself or pesters officials to do so.
Footnote
Tech jargons are flying in Kerala, thanks to some Congress leaders who seem to have found a new weapon against the CM, Pinarayi Vijayan. A no-cost deal with an American company to use its data processing and analytics tool has sent Congressmen and BJP leaders alike to take crash courses on cloud computing. Yet, one of them is suspicious that the data is being stored by the US firm. A Congressman even hit a ridiculous low by warning that the health data being processed would reach the US embassies that would deny visas to Malayalis who contracted Covid-19. Such wild claims have caused great mirth.