Safety first is still not the mantra
It is shameful that violations of traffic rules continue unabated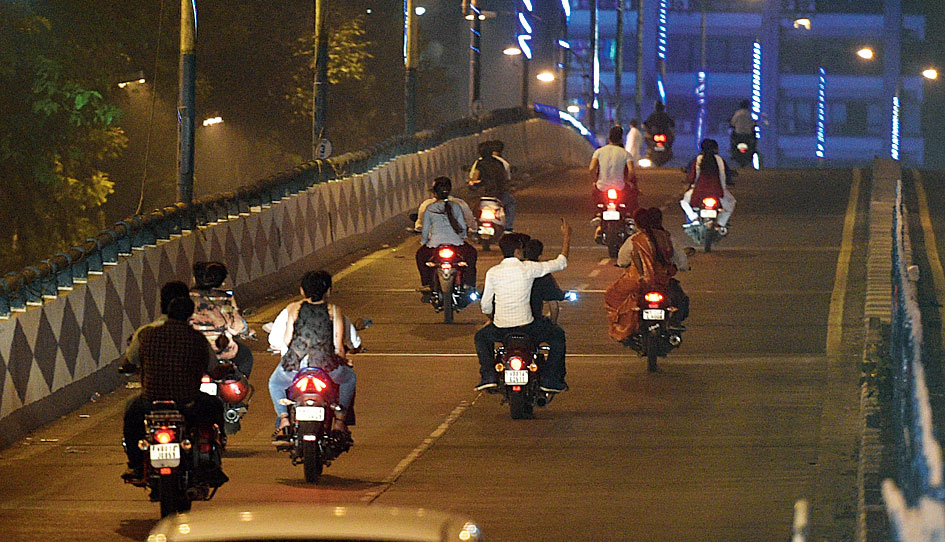 Risky motorcycle riding, without helmet, on Park Street flyover in Calcutta.
(Sudipta Bhowmick)
---
Published 06.01.20, 06:34 PM
|
---
Sir — Almost 40 people were booked every hour by the Noida Traffic Police on New Year's Eve. Many in Calcutta, too, were seen helmetless or with two passengers riding pillion. It is shameful that violations of traffic rules continue unabated. There is a dire need to address this menace and ensure greater sensitization across the country.

Mehul Dasgupta,
Calcutta
Dark times
Sir — The report, "Gang-raped at home" (Jan 3), clearly indicates that the state of law and order regarding the safety of women in this country is in a shambles. In an incident of horrific proportions, two women — one in Kulberia, North 24 Parganas and another in Kaliaganj, North Dinajpur — were gang-raped on the night of December 31.
Such crimes have become common across the country, especially in semi-urban and rural areas. There is often a nexus between criminals and politicians who provide the former with tacit protection. Making matters worse is the snail's pace at which the justice system in our country moves. The police are often inefficient in conducting investigations; in many instances the crime is not reported on time, or at all. Considering the spike in atrocities against women, it is time primary importance is accorded to curbing gender-based violence.
Malay Kumar Nandy,
Calcutta
Sir — The gang rape of two women in North 24 Parganas and North Dinajpur is a matter of serious concern and must be condemned. These incidents could have been averted had the administration taken stronger steps to ensure the safety of women.
During Christmas and New Year celebrations, a large number of police personnel are deployed to contain crowds in Calcutta. This leaves the city's outskirts largely unmanned, thereby rendering the women who reside there vulnerable to attacks. The incident in Kulberia could have been avoided had the administration kept an eye on the history-sheeters in the area. It is the failure of the police that goons have become powerful forces in many parts of town.
Sexual assault has reached unimaginable proportions. It is a pity that not much has changed in terms of ensuring women's safety even though India has witnessed several cases that assumed national significance, such as the Hyderabad gang rape. The very least the police could do is keep a closer watch on those with criminal records and swiftly bring perpetrators to justice.
Jayanta Datta,
Hooghly