Editorial: Rights divided
India's human rights record has declined sharply in the world's perception.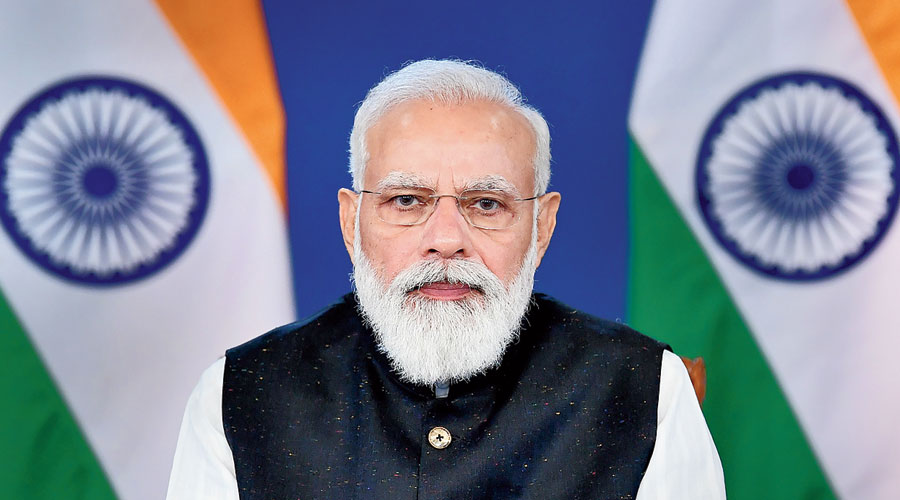 Narendra Modi.
File photo
---
Published 18.10.21, 04:47 AM
|
---
A vision divided thrives on contradictions. On the 28th anniversary of the foundation of the National Human Rights Commission, the prime minister criticized partisan attitudes displayed in protests against human rights violations by those who view them through a "political lens". Bharatiya Janata Party leaders repeatedly accuse activists of being partial to non-BJP victims of rights abuses. Narendra Modi called this "selective outrage", which demeans the country and endangers democracy. Yet there could have been no definable human rights without political awareness. But the prime minister was referring to the divisive politics of rival parties: observers have speculated that he may have been alluding to the fact that the death of four protesting farmers in Lakhimpur Kheri had aroused furious criticism although two BJP workers died there too. Since the BJP has been countering criticism of the Uttar Pradesh government for Lakhimpur Kheri by suggesting that the protests were politically motivated, perhaps the prime minister gave it a philosophical twist.
After having condemned the political lens, however, Mr Modi listed the 'basic needs' of various segments of people that his government had fulfilled so they could acquire 'dignity' — cooking gas, Jan Dhan accounts, toilets, housing, 26 month-long maternity leave, outlawing of oral triple talaq, and so on. To project citizens as beneficiaries of his government's largesse, however, is not to dignify them but to suggest that they are not entitled to these. His conception of human rights is divided too. Only when people's basic needs are met can they aspire to human rights. For Mr Modi, these are not only distinct, but also sequential. So is housing not a right because it is a basic need? Is food more 'basic' than justice, and not part of justice itself? Again, can a citizen whose basic needs are unfulfilled not have rights? The prime minister also emphasized — as he has done many times earlier — that the 'flip side' of rights was duties. Human rights could thus become conditional — and be arbitrarily granted as concessions — since the duties are not spelt out. The expressed and metaphorical divisions helped the prime minister show off his government's achievements while suggesting that the human rights hullabaloo is a means to target his party. Or maybe he was just shy: India's human rights record has declined sharply in the world's perception.