Jana tha Japan, pahunch gaye Cheen
The Centre has rejected the Bengal government's proposal to change the name of the state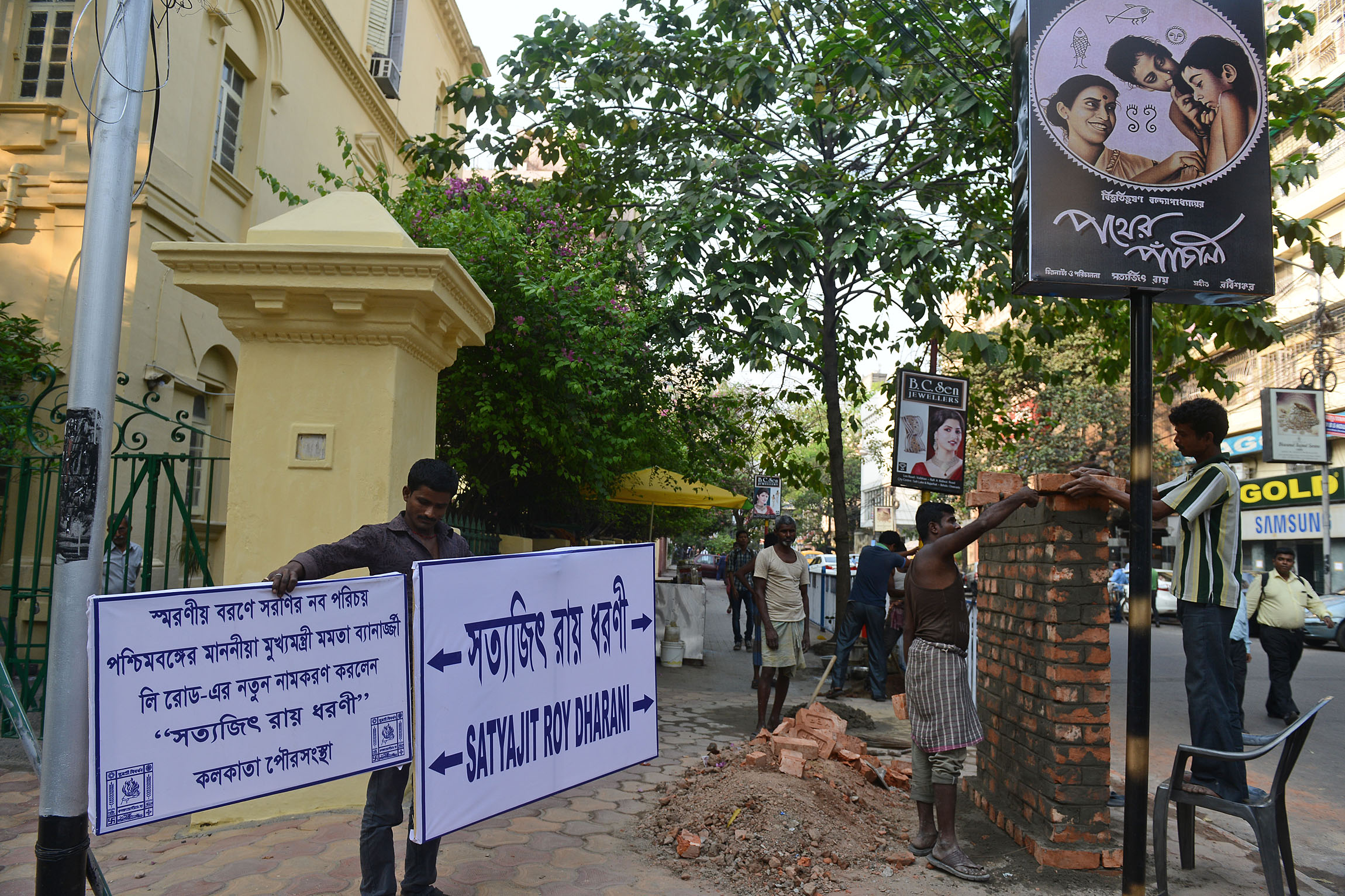 Lee Road was renamed Satyajit Ray Dharani by Mamata Banerjee
(Photo by Ranajit Nandy)
---
Published 07.07.19, 04:20 AM
|
---
Jana tha Japan, Pahunch Gaye Cheen
The Centre has rejected the Bengal government's proposal to change the name of the state. Union minister of state for home, Nityanand Rai, said something about "consideration of all relevant factors" waiting to happen. Previously, the central government had reportedly expressed concern that if West Bengal turned Bangla, there might be some confusion in the neighbourhood. Perhaps the worry is that unsuspecting citizens might lose their way and end up at the neighbour's door. Or that the suspected non-citizens might mistake the name change for a welcome. Who can say?
Resonances and resonances
The Bengal government for its part has to say that the reason behind the proposal is partly deference to resonances cultural and historical and no idle whim. (Some will remember that in 2016 when Lee Road was being renamed after Satyajit Ray, chief minister Mamata Banerjee suddenly decided that she had had enough of the 'sarani' suffix and wanted to append this one with a 'dharani' instead.) This time, however, Banerjee did say something about the change reflecting "the aspirations of people". Though, scraping the bottom of the aspiration pot as we are, one would imagine a very different set of items topping that list.
Yours alphabetically
Aspiration or not, the ordinary citizen has learnt to grapple with successive governments' name change initiatives. The last state to have its name changed was Odisha. The last station to experience it was Chhatrapati Shivaji Maharaj Terminus. It has been reported that in 2018, 25 towns and villages had their names changed: Allahabad became Prayagraj (Uttar Pradesh), Faizabad became Ayodhya (Uttar Pradesh), Arikkod became Areekode (Kerala), Pindari became Pandu-Pindara (Haryana) and so on and so forth. But some of the places that fit confusion prescription remain unscathed thus far. There is a Kochi in Japan, a Patna in Scotland, a Thane in Australia, an Indore in West Virginia, a Hyderabad in Pakistan and a Delhi in California. The Bengal government's rationale about the practical benefits of a shift from 'W' to 'B', however, is more understandable. Apparently, a state name beginning with W gets heard late etc., etc. In that case Ladies and Gentlemen, should we not aim for a straight A? Amar Sonar Bangla.