Reimagining embankments
Resilience building in flood-prone areas require capacity-building of the community so that people can anticipate, absorb, adapt, mitigate and transfer disaster risk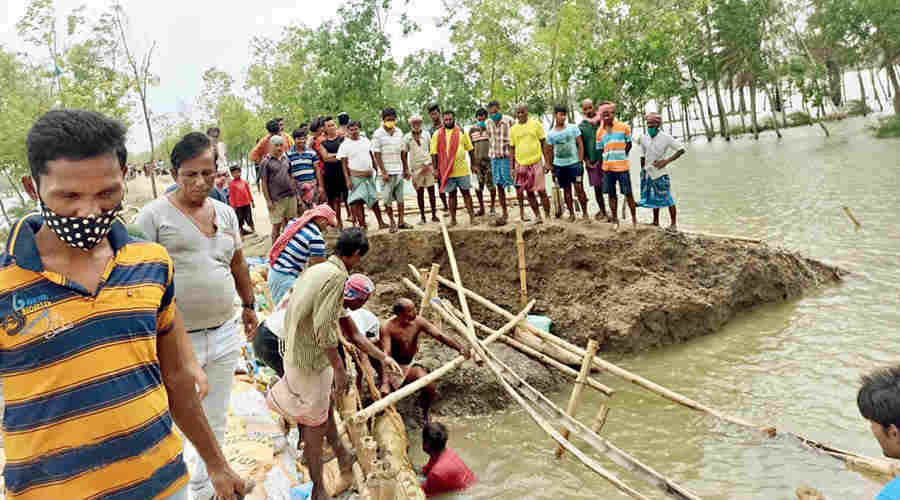 Villagers try to repair a breached embankment at Patharpratima in South 24-Parganas on Thursday, a day after Cyclone Yaas.
Telegraph picture
---
Published 08.07.21, 12:42 AM
|
---
The Sunderbans delta and Bengal's coastal districts are facing a disaster, once again. Flooding induced by the cyclone, Yaas, facilitated by numerous breaches in the embankments, has severely affected lives and livelihoods in these areas. The delta and the coastal stretch may have survived Aila, Bulbul and Amphan in the past. But Yaas assumed a different significance, lashing the state as it dealt with a health hazard. The adverse effects have already attracted policy attention at the highest level. In this context, there is need for an objective assessment of embankments through the lens of disaster risk-reduction. If one has to build resilience in these perennially risk-prone areas, there must be a paradigmatic shift in embankment management coupled with other vulnerability-reducing interventions.
Embankments are among the oldest flood-control measures in flood-prone countries. Findings from international research projects show that embankments are usually the most favoured among flood-risk management options and often create a dependency, which, in turn, results in their continued adherence.
India has had a long tryst with embankments. During the colonial period, the need to bring more land under agriculture required reclaiming land and its protection from seasonal flooding. This encouraged the construction of embankments. Over time, there was increasing scepticism among colonial engineers regarding the impact of embankments on the riparian system. However, the post-colonial State continued to promote embankments.
Embankments, much like dams and canals, signify the triumph of man over nature. While dams and canals drew their legitimacy from their contribution to food security, embankments were conceived of to protect the fertile floodplains from the vagaries of flooding. In the delta, the embankments became the very basis for human settlement by facilitating the protection of land from the intrusion of saline water.
According to the report of the working group on water resources management for the Eleventh Five Year Plan, there are close to 34,000 kilometres of embankment in India that protect some 18.22 million hectares of land. Around 75 per cent of these embankments are located in Assam, Bihar, Odisha and West Bengal, with Bengal alone having around 30 per cent of these structures.
Between 1953-2010, the total financial damage caused by floods amounted to Rs 18 billion. The expenses incurred on flood-control measures have continued to rise. Much of this money is spent on the construction of new embankments, repairing of existing embankments, and other bank-strengthening activities. Yet, reports of embankment breaches and collapse are quite common. Embankments, like canals, are resource-intensive, bear a strong footprint of the State, and are potential sites for rent-seeking. A lot has been written with respect to canal management. Unfortunately, embankments only receive attention after a disaster.
Embankments, as witnessed in the riparian tracts of north Bihar, often become sites for diverse disaster risk. In disaster parlance, the risk is a product of hazard and vulnerability. The hazard itself is one of the risk drivers. Embankments fragment habitations. Some habitations continue to remain on the riverside of the embankment while other — supposedly protected — habitations lie on the countryside of the embankment. There could also be habitation right on top of the embankment. The biophysical vulnerability varies across these habitations. But the people residing in them also command varying degrees of assets. These assets — the very means of production — are drivers of social vulnerability that result in a fragile kind of life and livelihood, which collapse during a calamity. Embankments actually escalate disaster risks by giving a false sense of protection in these vulnerable areas.  
Embankments as sites for disaster risk are also an outcome of moral hazards. Sometimes, people living on the riverside habitations breach the embankment to reduce their risk of flooding. Influential people in the countryside also breach the embankment in order to direct saline water to their fisheries (bheries).
In order to build resilience in flood-prone areas, there is a need to reimagine embankments. Resilience building in such spaces would require capacity-building of the community so that people can anticipate, absorb, adapt, mitigate and transfer the disaster risk. This would require interventions that aim to minimize the occurrence of natural calamities and weaken the factors that create vulnerabilities.  
There is a need for an interdisciplinary and a participatory understanding of the efficacy of embankments on life and livelihoods of riparian populations as well as for the exploration of a novel State-community partnership in the management of embankments. Examining the feasibility of elevated hazard-proof housing, creating safe water and sanitation facilities, a basket of stable livelihood options and risk insurance should be integral to the policy of reimagining embankments.