Raising the bar: Bringing sustainable living concepts to cocktails
The 'farm to table' food concept has been around for a while; also lurking in secrecy is the 'farm to bar' concept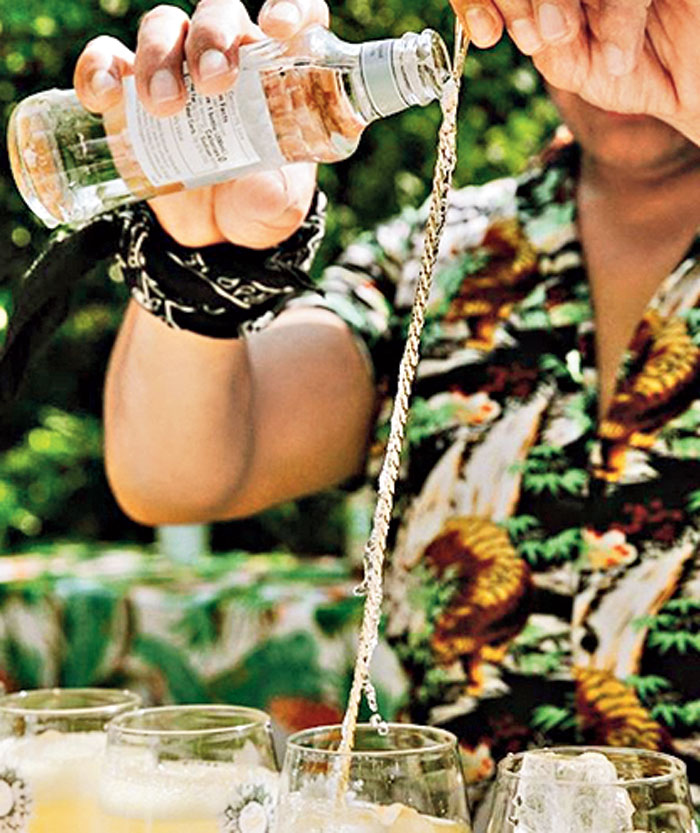 Secret Summer festival in Long Island City in New York
www.secretsummernyc.com
---
Published 16.08.19, 07:18 PM
|
---
The 'farm to table' food concept has been around for a while. Also lurking in secrecy is the 'farm to bar' concept. It was celebrated at a Secret Summer festival in Long Island City in New York. The idea is to bring sustainable living concepts to cocktails and drinks. For example, the Lemon Balm Margarita features Aldez Blanco Organic Tequila, Lani's Farm lemongrass and Hudson Valley Harvest lemon balm. The event was hosted at The Foundry, where each room had a different drink-related theme, such as the London Essence Ivory terrace, the Aldez tequila hacienda or the Aperol Spritz greenhouse.
Each brand created its own drinks incorporating local ingredients. Cold infusions, where delicate herbs are left to soak in liquors for around two weeks, were featured quite visibly at the event.
Some of the local ingredients at the festival were mint leaf from Windfall Farm, honey syrup from Brooklyn Grange, rosemary from Hudson Valley Harvest and strawberries from Lucky Dog Farm. Nicole Baum from Gotham Greens provided Genovese basil.
The founders of Secret Summer say that the 'farm to bar' movement has a loyal following. Returning guests made up a large portion of this year's attendees. In November, the Secret Summer founders will open a new cocktail café called FESTIVÁL at 61st Street and Second Avenue. During the day, the café will serve coffees and act as a venue for lectures from local farmers.
They will display their products, which will be used in feature cocktails for the evening. Sweet freedom
It's that time of the year again. A lavish celebration of all things Indian in the United States of America for India Day 2019. Edison, New Jersey just witnessed its 15th annual New Jersey India Day Parade move through the heart of New Jersey's Little India — from Edison to Woodbridge on Oak Tree Road. Every year, over 35,000 Indian Americans from across New Jersey and the tri-state area celebrate this day, which is organized by the Indian Business Association.
The governor of New Jersey, Phil Murphy — he announced last month that he will be visiting India in September — attended this year's event. He acknowledged the contributions of Indian Americans to the community, and was joined by some notable personalities from Bollywood, including Sonu Sood and Monal Gajjar. In New York, with the theme, 'Support Our Troops, Salute Our Troops', the Federation of Indian Associations of the tri-state area of New York, New Jersey and Connecticut will organize the 39th India Day Parade tomorrow. It will be the biggest parade celebrating India's independence outside India. The actor, Sunil Shetty, who had starred in the film, Border, will be the Grand Marshal of the parade. The actress, Hina Khan, and the National Basketball Association commissioner, Adam Silver, will be special guests.
Great idea
If you're looking for luxury and also a hot sauce pool floatie, look no further. Taco Bell opened up a four-day pop-up hotel in Palm Springs, California. The Mexican food chain is not trying to dip its toes into the hotel industry, but merely using this as a tool to boost its brand. It turned out to be a great idea, because The Bell: A Taco Bell Hotel and Resort sold out all 70 rooms — starting at $169 per night — in two minutes.
Checking in came with a 'Baja Blast' cocktail which has a watermelon popsicle sticking out of it. Rooms were stocked with half a dozen bags of Taco Bell chips and a fridge full of soda. There was also a plush Taco Bell robe in the closet. The Taco Bell chef, Rene Pisciotti, created the hotel menu items as riffs on the actual Taco Bell menu.
Everything inside was bright and in Taco Bell colours. There were DJs and live bands at all the pools, and 'Bell hops' taking your order while occasionally doling out Taco Bell's beloved hot sauce packets. The pop-up hotel, which ran from August 8 to 12, also had a beauty salon where you could get Taco Bell gel manicures and hair braids or fades. The free activities included 'dive-in' poolside movies, silent discos, water-ballet training and game night. The food was almost secondary.
Take a chance
Self-driving cars have come to NYC. They take passengers around a loop just over a mile long in Brooklyn Navy Yard — the hot spot to test the new technology, such as drones and Citi Bikes, owing to its lax regulations compared to bustling city streets. The idea of having driverless cars in such a crowded city has been criticized as well as welcomed. Some say it is safer than Ubers or taxis, but the technology may not be sophisticated enough to take on that challenge. The first pedestrian death from an autonomous car happened last year; three Tesla drivers have died from activating the autopilot feature over the past couple of years.
Optimus Ride, a start-up founded in 2015, is behind the autonomous cars appearing in Brooklyn, and has no history of accidents related to its vehicles. It has conducted over 20,000 autonomous vehicle rides around Boston's seaport neighbourhood and a residential community in South Weymouth, Massachusetts. Typically, the cars have two people for every ride — one to collect data to continue improving the technology, and another to take over if anything goes wrong. In Brooklyn, the cars will be programmed to obey all traffic laws and not be able to go over 15 miles an hour.
Suhashini Sarkar Footnote
People love immersive exhibitions. ZeroSpace promises an experience that will take visitors through a "portal to another dimension in the middle of New York City". When visitors enter the 25,000-square-feet space — located across the street from Madison Square Garden — they encounter an actor-driven sci-fi scene involving operatives from a secret government agency on a hunt for aliens. Agents escort you through large rooms filled with projections and interactive elements.