Promises to keep: right to education
The Annual Status of Education Report 2020 found that 5.5 per cent of rural children had not been enrolled for the 2020 school year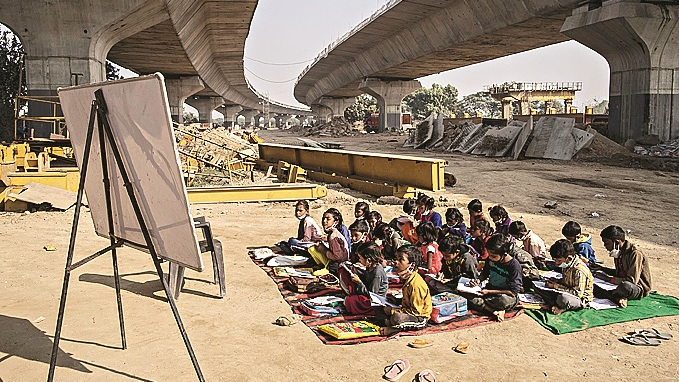 Underprivileged children study while seated on mats on the ground at an improvised classroom set up at a construction site on December 09, 2020 in New Delhi, India. Many underprivileged children are unable to afford the laptops or tablet computers needed for online classes, leaving them without access to education as the Covid-19 pandemic rages across India. The improvised school, set up by graduate students who are still looking for work, is located at a construction site underneath a metro railway track in the dusty streets of the country's capital. The pandemic is hit the underprivileged members of society the hardest, forcing millions of people out of work, out of homes, and back into destitution, as the country quickly approaches a tally of 10 million infections.
Anindito Mukherjee/Getty Images
---
Published 08.02.21, 02:50 AM
|
---
India, one of the largest democracies of the world, is trying to live up to its promise of delivering justice, liberty, equality and fraternity to its citizens. The Right to Education Act, 2009 completed its decadal anniversary in 2019. Rooted in the principle of equality and non-discrimination, the landmark RTE Act went on to make education a fundamental right by ensuring free and compulsory schooling for children from the age of six to 14. I recently conducted a survey among women-headed households and primary school teachers based out of rural Lucknow to understand the demand and supply of education. The findings are quite illustrative.
 Each of the 60 women-headed households that I studied was of the opinion that seeking education is important to bring about inter-generational shifts. The primary driving force was to make their children — especially daughters — independent so that they did not share the same 'fate' as them. Most of them tried to meet the educational requirements in spite of their minimal resources. However, their experience of government-run schools was not positive: they were quite vocal about the lack of a competitive environment, basic amenities and quality education.
 There were some participants who said that daughters should be married off early so that their future could be secured. These participants lack economic and socio-cultural capital. They were driven by the deep-rooted belief of controlling and protecting women and girls. Further enquiries revealed that the absence of the guarantee of a job immediately after the completion of school made education a less lucrative investment. Conversely, marriage was seen to hold greater prospects in terms of social security.
 While assessing the supply side of the education system, I looked at teachers and school principals in rural settings. What I found was that on account of their economic, social and political marginalization, the educators remained trapped in the struggle to balance the demands of their vocation and subsistence. Some participants stated that education is a privilege in their villages where the focus remains on earning a livelihood. These challenges have been shared in the public domain. Presumably, policymakers and governments are aware of them. Yet, the concerns remain unaddressed.
 The Annual Status of Education Report 2020 found that 5.5 per cent of rural children had not been enrolled for the 2020 school year. There was also a shift in enrolment from private schools to government schools. The unprecedented economic hardship brought about by the pandemic has had a domino effect on children's education and health. It is apparent that India, which is aiming to become a five trillion dollar economy, is yet to build a robust education system. Inadequate investment and research and poor learning outcomes in schools are some of its manifestations.
 Apart from its gendered impact on differential access to resources, the pandemic has also increased the socio-economic burden on vulnerable groups. Therefore, the broadening of employment opportunities, capacity-building and new welfare schemes must be accompanied by the creation of an equitable education system.
The renowned educationalist, Paulo Freire, had pointed out that education can be used for domination or liberation. Skewed resources have meant that in India, the privileged continue to dominate the populous underprivileged segment.