Priyanka should campaign for laws that hold politicians accountable
In India, the poor remain the sacrificial lamb in vote-bank politics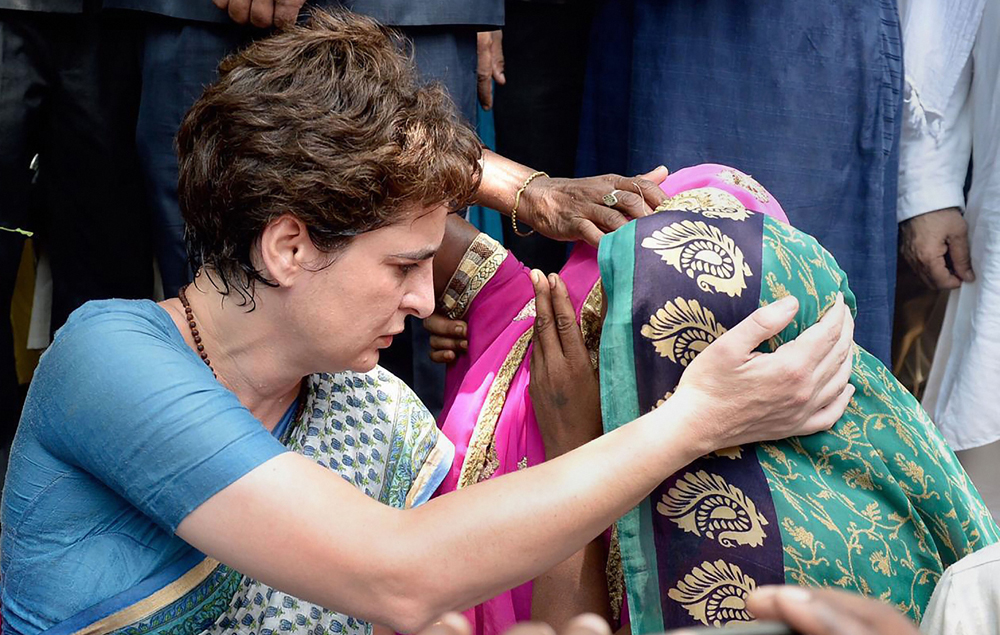 Priyanka Gandhi Vadra consoles a family member of Sonbhadra massacre victim on July 20, 2019. Her spontaneous gesture of compassion is a rare instance of humanity in Indian politics
(PTI)
---
Published 24.07.19, 12:34 PM
|
---
 Sir — The political drama surrounding Sonbhadra — where 11 villagers were killed over a land dispute — reached its peak when 15 relatives of the victims met the Congress general secretary, Priyanka Gandhi Vadra, at the guest house in Mirzapur where she spent a night in detention ("Yogi relents on Priyanka", July 21). Earlier, power and water supply had allegedly been cut when Priyanka sat on a dharna, demanding to be allowed to visit the village. Interestingly, while Priyanka was detained, delegations of other political parties were allowed to visit Sonbhadra.
Priyanka's spontaneous gesture of compassion is a rare instance of humanity in Indian politics. It is reminiscent of her grandmother, the former prime minister, Indira Gandhi, who visited the affected families in Bihar's Belchi village in July 1977, after 11 members of the Dalit community had been massacred by an upper-caste gang. This proved to be a crucial moment for her political life, leading to a turnaround from a recent electoral defeat. Now, 42 years later, Priyanka's reaction to the Sonbhadra incident could yield a similar outcome. Was it this very fear that forced Yogi Adityanath to try to stop Priyanka's visit?
However, one doubts if Priyanka's announcement of a compensation of Rs 10 lakh for the kin of every victim can solve hate-fuelled crimes like rioting, mass murder and lynching. In this country, the poor remain the sacrificial lamb in vote-bank politics. If Priyanka truly wants to earn the common man's trust, she must campaign for strict laws that will preclude a politician from retaining office if prior records indicate a failure to uphold raj dharma.
Bidyut Kumar Chatterjee,
Faridabad
Sir — Instead of owning up to the utter failure of his administration to prevent the Sonbhadra massacre, Yogi Adityanath has now blamed the Congress and the Samajwadi Party for not having allotted plots to the tribal villagers officially years ago. He has clearly been rattled by his foiled attempt to stop Priyanka Gandhi Vadra from meeting the families of the deceased. The Bahujan Samaj Party chief, Mayawati, too, has accused the Congress and the Bharatiya Janata Party of being responsible for the oppression of the tribal people.
Deprivation continues to haunt poor tribal people. This results in a class war, with these deprived groups eventually taking up arms to seek justice. It is necessary to build credible administrative and legal shields against any future attempts targeting the vulnerable sections of society. The immediate task for the investigating agencies should be to build foolproof, prosecutable cases against those responsible for such carnage and swiftly bring them to justice.
S.K. Choudhury,
Bangalore
Risky venture
Sir — Cuba is now considering the use of cryptocurrency in its national and international commercial transactions in order to escape the continuing sanctions put in place by the United States of America. This might not be the best idea. Currency is, and should always be, an entity whose value is determined through political steps, rather than remaining constant. For instance, when a country's industry goes into deficit in comparison to that of its trade partners, its central bank has to regulate the value of money so that the exchange rates between two currencies fall, thereby increasing the competitiveness of indigenous industry in domestic markets. Governmental control over the value of money is also important in order to control inflation and deflation as well as to increase or decrease market liquidity and redistribute capital in times of depression.
The value of cryptocurrency, on the other hand, is defined by algorithms in an objective manner. This objectivity would be crippling if a cryptocurrency were to become the dominant currency of a country, because the government would lose all power to regulate its value, and thus have very little control over its own economy. The old gold standard in the US, which was eventually discarded, is testimony to the fact that fixed value currencies do not make for a good economic system in the modern world.
Jishnu Hore,
Calcutta
Learn the lesson
Sir — On his visit to a government school in Delhi to experience a 'happiness class' — a 45-minute-long period which includes storytelling and other innovative activities — the education minister of Meghalaya, Lahkmen Rymbui, expressed his wish to replicate the model in his state. Novel methods of teaching — the kind that will help students nurture their understanding through enjoyable exercises rather than learning by rote — would not only encourage youngsters to study harder but also enhance their creativity. All Indian states should follow suit and give students a chance to shine.
Samir Guha Neogi,
Calcutta