Pakistan cannot continue to abet terrorism
The debt-ridden country should act decisively against terrorist groups there if it wants help to come out of the red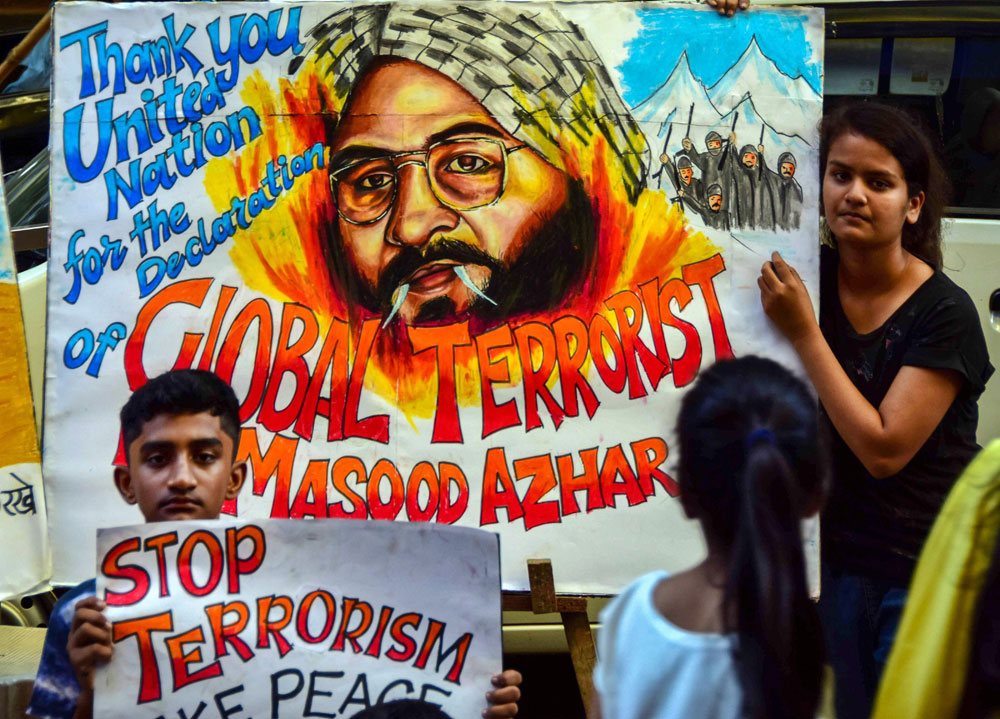 Students cheer the blacklisting of Jaish-e-Mohammad head Masood Azhar by the UN Security Council, in Mumbai on Thursday, May 2, 2019
(PTI)
---
Published 08.05.19, 11:09 AM
|
---
Sir — After consistent diplomatic efforts, India ultimately got the Jaish-e-Mohammad chief, Masood Azhar, designated as a global terrorist by the United Nations security council ("New chapter", May 6). This time, China did not object either.
Although the move to blacklist Azhar had begun in 2009 under the United Progressive Alliance regime, led by Manmohan Singh, it was Narendra Modi's excellent relations with other world leaders that enabled India to achieve this step.
With the listing, Pakistan must have understood that it would stand globally isolated if it did not act on the UN's decision. It has issued orders to freeze Azhar's assets and impose a travel ban. Given its debt-ridden economy,  Pakistan should take strong steps against terrorist groups operating from its soil if it wants help from the international community to come out of the red. It cannot continue to abet extremism, especially in its bid for Kashmir. It should learn the art of diplomacy from its 'all-weather friend', China, which engages in talks and business with India in spite of having differences.
With the elections underway, the decision regarding Azhar seems to have given Modi's popularity a boost. Like Manmohan Singh, all Opposition parties should be happy about this achievement. However, the listing did not mention the Pulwama attack or Azhar's role in terrorist activities in Jammu and Kashmir.
S. Balakrishnan,
Jamshedpur
Sir — The listing of Masood Azhar as a global terrorist is a big diplomatic victory for India in its long-standing fight against terrorism. He is allegedly responsible for numerous attacks, including the hijacking of an Indian Airlines plane in 1999. As such, he is a serious threat to security, and India's stand in this regard is justified.
One must thank India's permanent representative at the UN, Syed Akbaruddin, for his contributions to the process. The decision taken by the international body demonstrates the commitment of the global community to rooting out terrorism and bringing peace and stability in South Asia. Azhar will now be subject to a ban on travel and access to arms, as well as a freeze on assets.
Terrorism is a big threat to humanity and it can only be defeated when the world unites against the menace. This is thus a step in the right direction.
Ramesh G. Jethwani,
Bangalore
Mystery man
Sir — The Indian army released pictures of giant footprints in the snow close to the Makalu base camp in the Himalayas, which it suspected belonged to the mythical Yeti ("No longer abominable", May 4). However, there has been no credible scientific proof till now that proves the creature's existence. In fact, the pieces of evidence previously collected in the form of DNA samples from bones and hair strands purportedly belonging to the Yeti have matched mostly with bears inhabiting the Tibetan plateau-Himalaya region.
While the claim of the Yeti having been spotted is in itself amusing, the responses to the news on social media have been no less entertaining. These range from nostalgic trips to childhood memories of having read about Tintin's adventures in Tibet to political jokes about the timing of the alleged discovery. As such, one would not mind a slow unravelling of the mystery while scientists come to a conclusion regarding the origin of the footprints.
Sanchari Ghosh,
Calcutta
Sir — The Indian army claims to have spotted the footprints of the Yeti. Indeed, nothing seems impossible in New India. But more amusingly, the Bharatiya Janata Party leader, Tarun Vijay, has requested that the Yeti not be referred to as a 'beast'. He wants it to be respectfully called a 'snowman'. The Yeti's existence appears to be a foregone conclusion just like the plastic surgery of Lord Ganesh.
Further, the BJP seems eager to accord respect and dignity to a legendary character while denying the same to minorities in society, farmers, rationalists and dissenters in general. They have no qualms about calling political opponents names, just as a leader recently referred to the Opposition as a coalition of dogs, cats, snakes and mongooses.
Kajal Chatterjee,
Sodepur
Food for thought
Sir — Raising awareness about food wastage through a food hackathon is a truly innovative idea ("They hacked my phuchka", May 5). Many people in India die of starvation and thousands of others do not get proper meals. As such, wasting food is inexcusable. It is therefore necessary to develop a food bank where people can deposit all of their extra food so that it can be distributed among the hungry. Even food outlets, restaurants and hotels should ensure that not a single piece of bread is thrown away. It might then be possible to make food available to all, even in the remotest corners of the country.
Alok Ganguly,
Kalyani