Editorial: One for none
India was one of the 10 nations that the US Commission for International Religious Freedom recommended to be redesignated as a 'country of particular concern'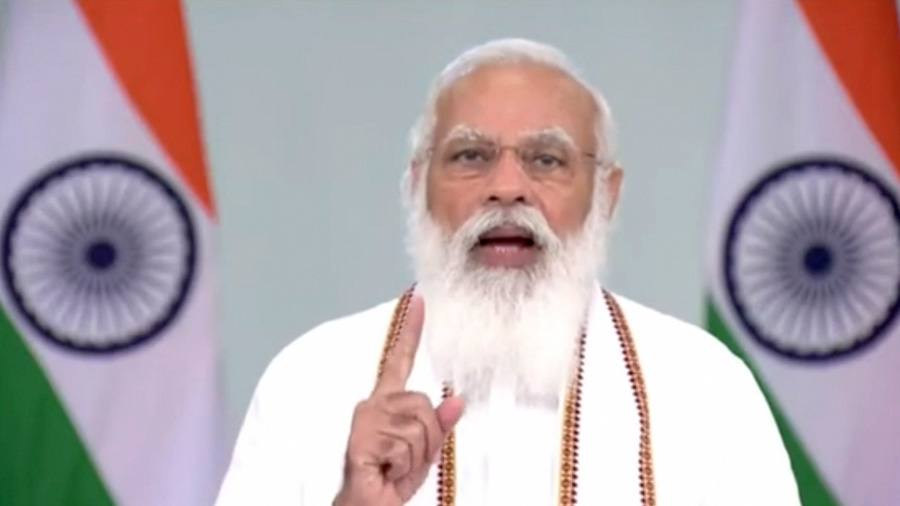 In the course of his recent Mann ki Baat address, Narendra Modi entreated citizens to lead a 'Bharat Jodo Andolan'.
PTI
---
Published 27.07.21, 12:22 AM
|
---
Unity in diversity is one of the many wisdoms that India has gifted to the world. Indeed, the comity of nations has, over the years, acknowledged pluralism to be almost synonymous with the Indian republic. It is thus curious that the prime minister has felt the need to reiterate the importance of unity to Indians. In the course of his recent Mann ki Baat address, Narendra Modi entreated citizens to lead a 'Bharat Jodo Andolan'. Unity, indeed, is a desirable goal and citizens must always strive towards meeting it. In a democracy, the government — elected by the people — is also mandated to protect the social fabric of the nation. It will be instructive to examine Mr Modi's record in this respect. There is general consensus that India's inclusive body politic has come under unprecedented strain with the political ascendancy of the Bharatiya Janata Party. Violence and vilification of and discrimination against minorities have become part of New India's everyday experience. Lynchings and communal conflagrations are some of the more visible dimensions of this engineered polarization. The world, too, has taken note of the deterioration. For instance, India was one of the 10 nations that the United States Commission for International Religious Freedom, a quasi-judicial, Congressional entity, recommended to be redesignated as a 'country of particular concern'. India's enfeebled commitment to secularism under Mr Modi's watch may have been a factor in this troubling inference.
The reason for the invigoration of faith-based fault lines is not far to seek. Its lip service to fraternity notwithstanding, the ideological framework of India's ruling dispensation has no place for the spirit of accommodation among religious communities. Spurred by a seemingly majoritarian impulse, it seeks to impose a narrow vision that goes against the wisdom, humaneness and expansiveness of the values enshrined in the Constitution. What must also be acknowledged is that there is considerable public support for Mr Modi's allegedly divisive agenda. The recent Pew report on the waning culture of religious tolerance assumes significance in this context. Could it be that Mr Modi's call for unity is, in fact, an indirect admission that India's faltering unity needs to be rectified? The prime minister's critics would be hoping that citizens are not being goaded to embrace a homogenous unitariness in the name of unity on an auspicious, imminent occasion. For that would be the final nail in the coffin of Indian unity.