One does not have to support the TMC to appreciate Mahua Moitra's speech
She underlined how India is fast becoming a fascist country under the reign of the BJP at the Centre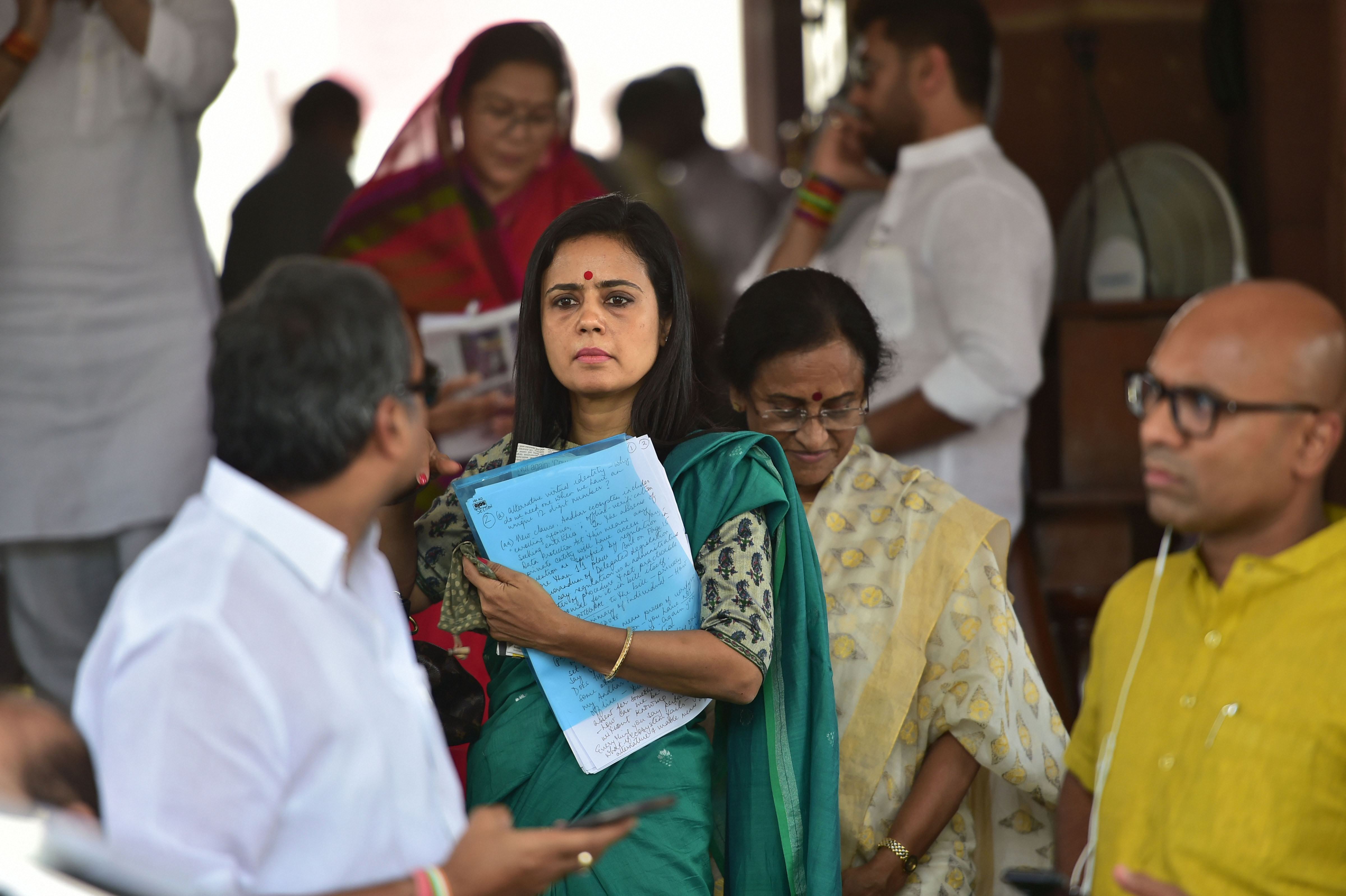 Trinamul Congress MP Mahua Moitra (in green sari) at Parliament House during the budget session, in New Delhi, on Tuesday, July 2, 2019.
(PTI Photo)
---
Published 03.07.19, 11:55 AM
|
---
Sir — The maiden speech of the Trinamul Congress parliamentarian, Mahua Moitra, in Parliament last week raised the bar of oratory in Indian politics by quite a few notches. It is rare these days to hear a parliamentarian speak in a manner that holds our attention in a positive way. Pratap Singh Sarangi, the Bharatiya Janata Party MP, for instance, resorted to predictable jingoism in his debut speech.

One does not have to support the TMC to appreciate Moitra's speech. She was assertive and confident. She underlined how India is fast becoming a fascist country under the reign of the BJP at the Centre. It is often important to remind people of even the most basic things, and Moitra's speech did just that. She was right in pointing out that hate crimes and communal violence have become the norm of the day. Moitra's speech should inspire other MPs to talk sense in Parliament instead of chanting religious slogans and heckling opponents.
It is also a matter of pride, particularly for Bengalis, that just when West Bengal seemed to have been pushed to the sidelines of Indian politics with the rise of the BJP, at least two Bengalis appear to be making a mark. Besides Moitra, Adhir Ranjan Chowdhury, the leader of the Congress in Lok Sabha, is putting up a formidable opposition. Both Moitra and Chowdhury are strong orators who may revive the tradition of debate in India. One only hopes that they retain their sensible political views.
Debopam Banerjee,
Calcutta
Sir — In her debut speech, the first-time MP, Mahua Moitra, humbly accepted the resounding mandate by which the Narendra Modi government returned to power. However, she clarified that the very "overwhelmingness" of the mandate makes it necessary for the Opposition to voice its dissent. She spoke about seven 'dangerous signs' that pervade India today, by referring to a poster in the United States Holocaust Memorial Museum which lists the early signs of fascism.
Unlike the mundane speeches of parliamentarians these days, Moitra's address was both interesting and meaningful. She has shown that it is time to think seriously about the future of the country. Her commendable speech indicates that one can expect many more such gems from her during her tenure in Parliament.
Asit Kumar Mitra,
Calcutta
Sir — Through her firebrand debut speech which shook Parliament, Mahua Moitra has made a strong first impression. The analogy of early fascism that she used for the BJP government is sure to strike a chord with many. Such dissenting voices are extremely crucial to the contemporary political scenario to prevent the temple of democracy from being transformed into an echo chamber.
Adrian David,
Chennai
Look deeper
Sir — In the article, "Women must get well" (June 28), Nandita Saikia sheds light on the current state of women's healthcare in India. It has been miserable for ages. While the primary issue is gender inequality, broader factors, such as the poor healthcare system, also cut short the lifespan of women. There is an urgent need to raise awareness about their health. For this, equal opportunities in terms of education and employment are important. Unequal social structures and prejudices often lead to an environment where women's well-being is compromised. Few women in India eat a balanced diet; this results in nutritional deficiencies. They tend to ignore their own health by prioritizing the well-being of their family. Ailments like osteoporosis and osteoarthritis are common among elderly women. But not many get adequate care. Usually women receive attention only during pregnancy, and the rest of their lives are built around 'sacrifices' that they are expected to make.
Further, our healthcare system is concentrated mostly in urban areas. The rural population,thus, has scant access to medical services. The situation can certainly be improved, but it requires a great amount of commitment. The right to health is a fundamental one; healthcare should be accessible to all.
Chahat Singh,
South 24 Parganas
Strike a chord
Sir — David Gilmour, the former Pink Floyd frontman, recently auctioned off his personal collection of guitars and donated the entire proceeds of $21.5 million to a non-profit environmental law organization. By selling off his prized possessions, Gilmour has impressed upon people the urgent need to save the environment, and made it clear that laissez-faire is no longer a viable strategy. One hopes that his heart-warming video — he says that if not for anything else, one must save the world so that future generations can play music on those guitars — inspires all his admirers to help further the cause.
Aditya Roy Choudhury,
Calcutta