Omar Sheikh: if not Daniel Pearl, a trail with links to ISI, 9/11 mastermind and bin Laden
One of three terrorists released at Kandahar after the IC 814 hijack, his 'handler' is now Pak interior minister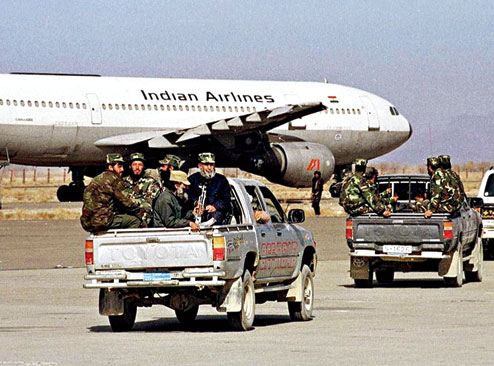 The hijacked Indian Airlines flight, IC-814, in Kandahar in December, 1999.
File photo
---
Published 16.04.20, 02:59 PM
|
---
Was it a coincidence or was it purposely timed for when everyone was too busy worrying about the Covid-19 crisis?
Last week, the Sindh High Court overturned, citing a lack of evidence, the conviction of Ahmed Omar Saeed Sheikh on charges of murdering Daniel Pearl. It, however, found him guilty of a lesser charge of kidnapping and sentenced him to seven years in prison.
Omar Sheikh, who has been in custody since 2002, will be released as the sentence for kidnapping will be deemed to have been completed.
In India he's remembered as one of the three terrorists released at Kandahar after the hijacking of IC 814. The other key figure released with him was Maulana Masood Azhar who went on to found the Jaish-e-Mohammed (JeM).
Omar Sheikh is a 46-year-old British citizen. He was born in London into a moderately prosperous family and initially attended an independent school (whose alumnus included English cricketer Nasser Hussain). He went on to spend two years in the exclusive Lahore boarding school Aitchison College (Imran Khan is an alumnus) which may have been either to achieve the ambitions of every upwardly mobile Pakistani middle-class family or to smoothen some rough edges.
According to some accounts, Pearl's killing had been described as "warning shot" from militants to the government. His death was followed by a series of suicide attacks and domestic turbulence.
Enter Ijaz Shah.
At this point, as the jehadis grew more adventurous and even attacked Musharraf's convoy (December 2003), the dictator turned to Ijaz Shah and made him the Director-General of the Intelligence Bureau (2004-08). Shah brought to the table a long association with creating and breaking political organisations, of undermining the judiciary and connections to jehadi organisations. Benazir Bhutto had named him as one of those behind the 2007 Karachi bombings. Gen Ziauddin Butt, the former DG ISI, had alleged that it was Shah and the IB who had kept Osama bin Laden in a safe house in Abbottabad (Shah's hometown). Butt retracted after Shah threatened to file a defamation suit.
Shah's understanding of, and deep connections with, jehadi organisations is probably why Imran Khan brought him in as a federal minister of parliamentary affairs in April 2019. A month later, he was made interior minister. His appointment is obviously intended to fireproof the Imran Khan government from homegrown jehadi elements as Pakistan moved to meet some of the FATF conditions such as the ban on the Jamaat ud Dawa (JuD) and the JeM and their front organisations as well as the conviction of JuD chief Hafiz Sayed and the mysterious "disappearance" of Maulana Masood Azhar.
The US has termed the verdict an "affront to victims of terrorism everywhere" and secretary of state Mike Pompeo tweeted that the US "will not forget Daniel Pearl". To deflect the outrage, Pakistan announced that it would appeal to the Supreme Court and detained Omar Sheikh for a further three months on public safety grounds.
If it is true that Omar Sheikh has been loyal to the ISI and served 18 years for a crime he may not have committed, his acquittal is to be expected particularly when his "handler" is the interior minister. However, he is likely to be embroiled in many more cases so that there are legal grounds to block his extradition to the US. There are too many linkages, with Khalid Sheikh Mohammad, Al Qaeda and Osama bin Laden and the ISI, which could unravel.
The author is a former special secretary, R&AW 
At Aitchison, he seems to have earned a reputation as a hell raiser, though he was a star in the boxing ring. He was brought back to the UK to finish school and then went on to join the London School of Economics (LSE) but soon dropped out. He excelled at boxing, martial arts and chess and spoke five languages but his reputation both at school and at LSE was marred by frequent bouts of violence. He left LSE after coming in touch with Islamist radicals and went away to Bosnia to drive aid convoys for an Islamic charity. Many who knew him in school and college have referred to him as "dysfunctional" and a "psychopath".
Pervez Musharraf in his book In the Line of Fire made the claim that Omar Saeed had been recruited by the Secret Intelligence Service (SIS, commonly referred to as MI-6) and sent to the Balkans to infiltrate jehadi organisations but that "at some point, he probably became a rogue or double agent".
In 1994, he had reached India and was behind the kidnapping of three Britons and a fourth from the US. Omar Sheikh, using the alias of Rohit Sharma, had befriended them and invited them to accompany him to a village which an uncle had left him. The three Britons were held in Saharanpur and the American in Ghaziabad. The police luckily stumbled upon the American and this led to the release of the other three and the capture of Omar Sheikh.
Omar Sheikh was incarcerated in Tihar jail but released on December 31, 1999 as part of the exchange for the passengers aboard IC 814. For some time after he was freed he worked with Maulana Masood Azhar as he set about establishing the JeM with ISI backing. This is when he was probably recruited by the ISI and sent on missions to Afghanistan. He was also in touch with a number of ISI officials including Brig (retd) Ijaz Shah who was then the head of the ISI in Punjab. Ijaz Shah is Pakistan's interior minister now.
In February 2002, Omar Sheikh was arrested by Pakistani police in connection with the Daniel Pearl kidnapping though he insisted that he had surrendered to Brig Shah, who was then the home secretary of Punjab, a week before he was arrested. Pearl, an American who worked for the Wall Street Journal, had been attempting to trace the background of Richard Reid, the alleged shoe bomber. This had taken him to Karachi where he met "Chaudhry Basheer", the name Omar Sheikh used to befriend him. Reports suggested that Pearl was then led into a trap by Omar Sheikh.
The Pakistani establishment was apparently convinced that Pearl had connections either with the CIA or the Mossad. There is little doubt that they knew what was happening and it could be that the trap was by the wrong persons bent on embarrassing the Pakistani establishment or that the ISI lost control. The media had reported that Omar Sheikh was involved in the kidnapping but that he had no hand in the killing and was a fall guy for a person or persons actually involved in Pearl's death. Subsequent US forensic analysis identified the hands on the knife in the video of Pearl's execution as that of Khalid Sheikh Mohammad (KSM), mastermind behind 9/11. Khalid Sheikh Mohammed is also said to have confessed to the killing. There is, thus, a trail which links Omar Sheikh and KSM with the ISI, something which has not been investigated fully and would be enough grounds to question the official Pakistani version of events.