Not for the gods of small things
If a temple is backed by powerful Hindu men, it is the foundation of a future nation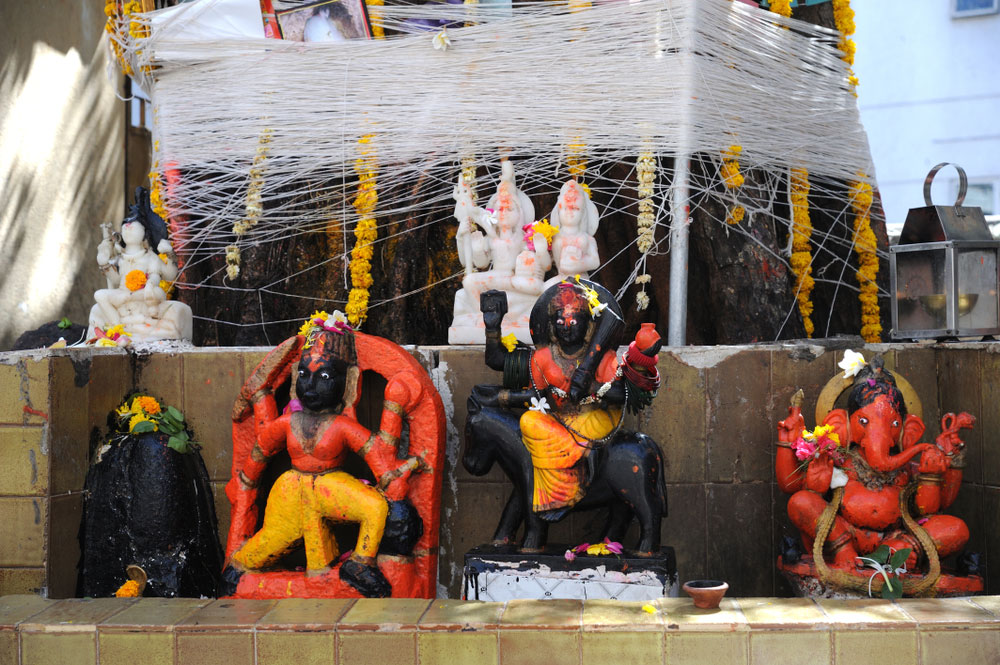 Of course the temple was wrong. People occupying the streets illegally had made an illegal construction. But it made the pavement look like something else. It had sprouted like a flower in the middle of waste.
(Shutterstock)
---
Published 17.05.19, 10:03 AM
|
---
At a big crossing near where I live, the pavements on one side of the road are inhabited by street-dwellers. From the pavements rise tall buildings that have replaced less tall, older buildings. In the midst of this urban squalor, both horizontal and vertical, something beautiful happened one day.
A little before Diwali, a patch of pavement near the gates of a huge multi-floor housing estate had been cleared and a young woman was building something on it.
It was a small structure made of mud, about two feet in height and one-and-a-half feet wide, which ended in a pointed dome on top. Inside it there were two levels, very neatly made, and a tiny arched doorway had been scooped out at the centre of the base. Simple, tiny motifs stood out in relief above the doorway. The two levels were differentiated by a tiny balcony running along the middle of the structure: quite a marvel of miniature.
The young woman was now inspecting her work from different angles with satisfaction and pride. She had built a temple. The pavement-dwellers here are a small community of scavengers, to which she belonged. I had a feeling that she was from Jharkhand or Bihar, but she said that she was from Panskura, Bengal, not too far from Jharkhand. The temple architecture was certainly not Bengali. It was beautiful.
The following day, the temple had been painted in white, with lime. On the front, small flowers had been painted in colour, sweet and folk style.
A few days later two tiny idols of Ganesh and Lakshmi had been installed inside, and flowers sprinkled in front of the temple and its top and an earthen lamp had been lit up in front. It was a sight for sore eyes.
Of course it was wrong. 
People occupying the streets illegally had made an illegal construction. But I didn't care. The temple made the pavement look like something else. I do not follow any religion, but I felt happy to see the temple glowing serenely in the gloom of a Calcutta evening. It had sprouted like a flower in the middle of waste.
It was too good to last, of course. Soon after Diwali, I saw a motorbike leaning against the wall, dangerously close to the temple. Its sanctity had already been violated.
A few days later, cardboard boxes began to pile up next to the temple. Then stuff began to be dumped in front of the temple, though the white of its walls could still be glimpsed. Finally, the spot became a regular garbage dump, the temple disappearing beneath it. The old ugliness settled back and everything was all right again.
Still, I felt like looking for the temple and peered into the garbage. No trace of temple.
It was gone, done in by refuse.
I looked around and found the young woman. Her home was a narrow strip of a bed at the street corner. She was 25 and still struggling to clear her higher secondary exam. Above her head were a few pieces of cloth hanging from stunted poles. She lived with her mother, a beggar.
She had no locus standi, and neither did her temple.
She was resigned to the scheme of things perfectly. "I live here. I can do nothing to keep my temple. But I built it before Diwali, like we used to in our village," she said. 
Forget the beauty part; it is apparently the concern of only the elite. But is not destroying a place of worship — and this is a Hindu temple in a Hindu neighbourhood — with filth an obscene and sacrilegious act? Not if she is such a poor woman, even if she is a Hindu.
But if a temple is being backed by powerful men, Hindu, then it is a different thing altogether. Then it is the foundation of a future nation.