News from nowhere: Editorial on fake news being turned into a political weapon
False news mobilises more people at one go than, say, the Nazis could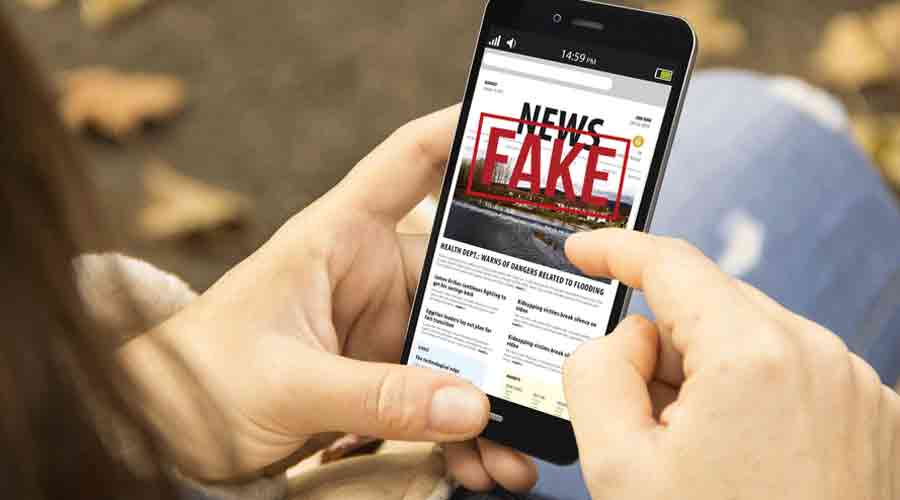 Fake news tells no tale, it targets the future.
Representational file picture
---
Published 26.06.22, 02:29 AM
|
---
Fake news could have been fun. Inhabitants of a time and place seething with fake news of the crude kind supplied with 'malice aforethought' may be excused if they yearn for more gripping tales — of pirates' treasure and wailing banshees, of Nessie spilling out of the loch and the yeti playing peek-a-boo in the breathless cold. And what are those moving lights in the sky? Hush-hush projects by the big powers or Little Green Men dropping in for a visit? There are more things in heaven and earth after all: Shakespeare could not have been wrong. With a dash of exoticism and the thrill of the unknown, as in the case of curses articulated in hieroglyphics on the walls of pharaohs' tombs, the possibilities of fake news — and fantasy — are mind-boggling. According to a recently released documentary, this possibility was seized upon by an Egyptologist who became a journalist, Arthur Weigall, when he and the paper he worked for were shut out of the developments during the opening of Tutankhamun's tomb in 1923. The moral is not flattering to mediapersons, suggesting that depriving a journalist of a story may result in a tricked-out version, but the still unforgotten story of the curse of Tutankhamun is much smarter and far more appealing to be dismissed as just a moral lesson. Weigall, if responsible even partially for linking together the deaths of Lord Carnarvon, the financier of the project, the archaeologist, Howard Carter, his pet canary, and a few others directly or indirectly associated with the event by an undying curse, must have been quite the storyteller, because the deaths occurred months and years apart.
The popular tendency to seize upon coincidences as revealing a hidden design is useful to the maker of fake news, who can nudge people into seeing unthought-of connections. Equally powerful is the desire to find echoes of fantasies, fears and superstitions; it is what the media have always pounced on to increase their sales and beat their rivals. One newspaper established itself in 1835 by describing an alien civilization on the moon. While the media have aided fake news through 'yellow journalism' and propaganda, the rationale of all propaganda based on fake news could not, and cannot, be located in the media. Fake stories against specific population groups, whether in Civil Wartorn America or Nazi Germany, originated in political intent, turning on ideology and hatred — of creed or colour, for instance.
The curse of Tutankhamun has now taken on truly sinister lineaments. Fake news tells no tale, it targets the future. The world wide web can not only spread fake news at lightning speed but technology also allows distortions of visual and auditory material on video clips that can inflame cities and regions by provoking prejudice and violence. It mobilises more people at one go than, say, the Nazis could. Weigall may now look like a babe in the wood.