New energy, newer mobilisations
Collective organising to improve position of women domestic workers in the labour market remains an imperative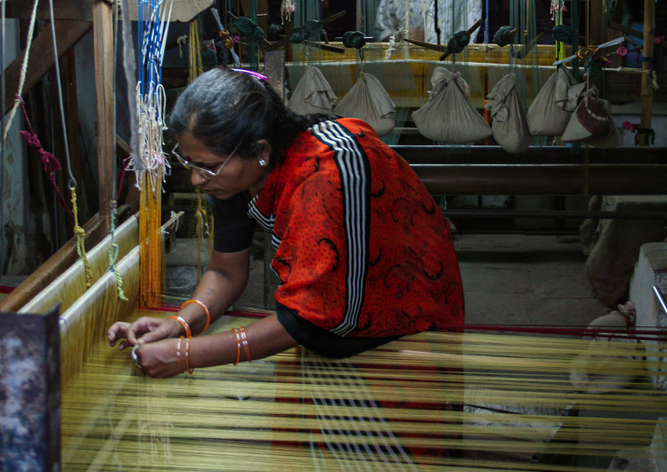 Traditional union tactics of shop floor-based organizing, typical of centralized production spaces such as factories, do not work when the workspace is one's own home, somebody else's home, or a tiny workshop tucked away inside a residential neighbourhood
(Shutterstock)
---
Published 17.03.20, 06:52 PM
|
---
In February, about 150 women domestic workers came together in Chennai to be heard and to be seen as women and as workers employed in the lowest rungs of the labour market. They proclaimed their identities as workers deserving dignity, social recognition and respect and refused to be ashamed as the performers of 'menial' labour, a servile existence marked by patronage and arbitrary concessions. What brought them together was their membership in a trade union (Penn Thozhilalar Sangam or the Women Workers' Union) which, since 2003, has been demanding that the Tamil Nadu government declare minimum wages for domestic workers and provide social security benefits.
Given that the bulk of women in urban, non-agricultural employment in the informal sector remains concentrated in low-skilled and low-paying occupations, collective organizing to improve their position in the labour market remains an imperative. However, the conditions of work and employment in the informal sector have amplified the challenges faced by such workers. Traditional union tactics of shop floor-based organizing, typical of centralized production spaces such as factories, do not work when the workspace is one's own home, somebody else's home, or a tiny workshop tucked away inside a residential neighbourhood. Yet, clues on how to effectively mobilize women working in the informal sector are emerging through grassroots initiatives and experiments, driven by the necessity of trade unions to tap into new constituencies of workers in the rapidly transforming world of labour.
Not only are new unions targeting women workers, but also older, established unions are responding proactively to these pressures. For instance, Centre of Indian Trade Unions' Informal Sector Workers Union in Chennai, which was set up in 2008, has women members in the majority. They sell flowers, fruits, vegetables and home-cooked meals and snacks. As PTS and Citu's union have realized, the key to unionizing women informal workers lies in formulating a set of demands that address urgent concerns in their work places and work lives. The PTS builds the confidence and negotiation skills of its domestic workers so that they can demand a minimum wage of Rs 50 per hour, an off-day every Sunday, and an annual bonus of one month's wage from their employers. Through its neighbourhood-based meetings, PTS brings women domestic workers together to share work and personal experiences, thereby fostering social relationships among the women so that they do not undercut each other while bargaining with employers and residents of high-income tenements in their neighbourhoods. Likewise, Citu's union has taken up cases of extortion by local moneylenders who provide the working capital required to sustain women's petty businesses on a daily basis. The trade unions are aware that their interventions seek to not only improve working conditions but also sensitize women about their rights even when they are performing 'women's work' within domestic spaces. This is a political project of self-identification for union and worker alike. For it is only when members begin to see themselves as workers outside of factory and workshop spaces can the collectives of domestic workers or of the self-employed identify themselves as trade unions.
Where factory-based organizing is not possible, the neighbourhood or slum settlement has emerged as the principal site of organizing. This has forced the trade unions to take up such issues as the maintenance of roads, street lights, public toilets, sewage systems and the functioning of ration shops and pre-school feeding centres. In doing this, the unions have come to recognize the organic links among different dimensions of the lives of these women workers, in particular the burden of balancing household chores and care work on the one hand and their livelihood activities on the other. For instance, domestic workers waiting for the water tanker to arrive in their localities show up late for work, suffering the ire of employers and risking their jobs.
For the trade unions, winning the trust of workers has also meant being willing and available to mediate in disputes and conflicts within the family. Women workers have turned to union organizers for assistance in dealing with domestic violence, suspicions of infidelity, elopement and doomed love affairs and suicide attempts of their children. The unions recognized intuitively that a rigid public-private distinction between the domains of work and home and family life did not make sense in the life-worlds of women members. This recognition has meant that the boundaries between labour movement organizing and women's movement organizing are blurring, with the former borrowing strategies honed by the latter.
If trade unions are going beyond formal workspaces to build a base in the community in order to include hitherto unorganized sections of workers, this can only bode well for the future of the labour movement in the country. Concomitantly, the public perception of trade union action — strikes, industrial lockouts, hartal and gherao — may need to shift to reflect the newer modes of activism and organizing that have emerged and are gaining momentum.