With great majority comes great responsibility
Nothing would be better than if Modi works to overcome his 'divider' image by ensuring that minorities feel secure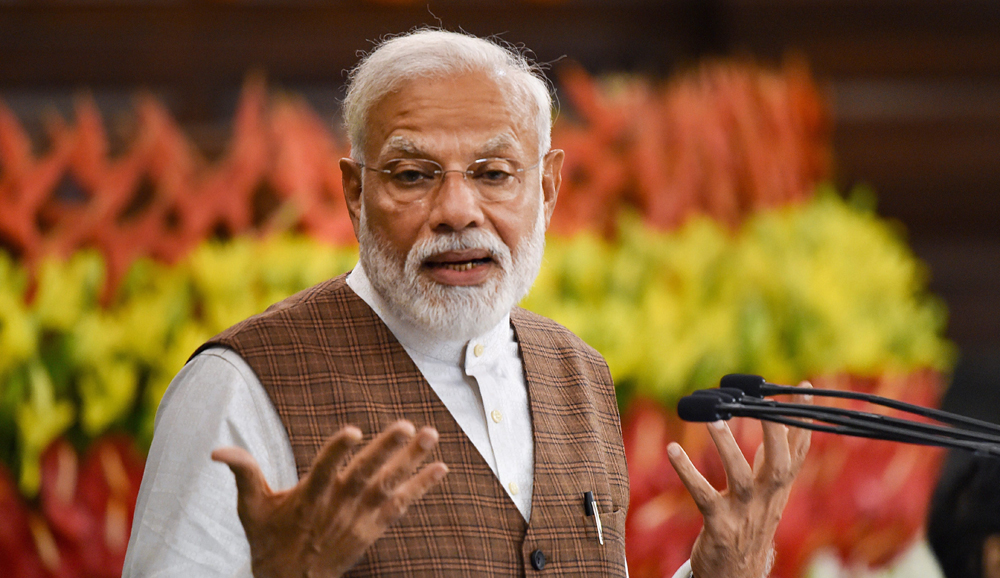 Prime Minister Narendra Modi at the NDA parliamentary board meeting at Parliament House, in New Delhi on Saturday, May 25, 2019.
(PTI)
---
Published 27.05.19, 03:38 AM
|
---
A new Lok Sabha and a befitting new tone. In his first speech after the Bharatiya Janata Party won 303 of the 542 seats in Parliament, Narendra Modi spoke of leaving bitterness behind. That Mr Modi wishes to take along his opponents in the process of government augurs well for the processes of democracy; it should assuage the fear of the last five years that these were being eroded. Mr Modi spoke of consensus, and of building the nation by strengthening its federal structure and constitutional principles. The BJP's majority in the elections has been unprecedented; it is clear that people across castes and classes have voted it to power. With great majority also comes great responsibility, and Mr Modi's speech appeared to reflect this awareness. It focused on the idea of working for the benefit of the nation together — presumably this meant the accommodation of many voices. That positive suggestion was conveyed by his remark that henceforth the country will have two castes only, those who are poor and those who work for their uplift. This promise came in the context of a glance at the Opposition that had tried to divide the country on the basis of caste, and was in line with the restrained disdain with which Mr Modi labelled as fake secular all those who would once have raised the issue of communalism. But neither communalism nor corruption was an issue in this election, he said: the people were desperate for honesty in the system.
Mr Modi seemed to be warning his workers about the mesmerizing effects of excessive power when he asked them to exercise restraint. In the speech he made after being anointed the leader of the BJP and the National Democratic Alliance, he mentioned the minorities, who had been left out in his first speech. They had been deceived like the poor for the creation of vote banks, and the challenge for his government would be to win their faith, trust and support, he said. Nothing would be better than if Mr Modi works to overcome his 'divider' image by ensuring that the minorities feel secure. But the work of reassurance needs to start immediately — alleged cow vigilantes thrashed two people in Madhya Pradesh for carrying beef the day after the results were out, and a Dalit couple's home was attacked by upper-caste people in Gujarat. In both cases, the police booked some perpetrators and all victims, which illustrates the complexities of the situation that Mr Modi must address. No doubt he is aware of the challenges.