Not enough: Editorial on PM's visit to Jammu & Kashmir
J&K's link to India cannot be only infrastructure-dependent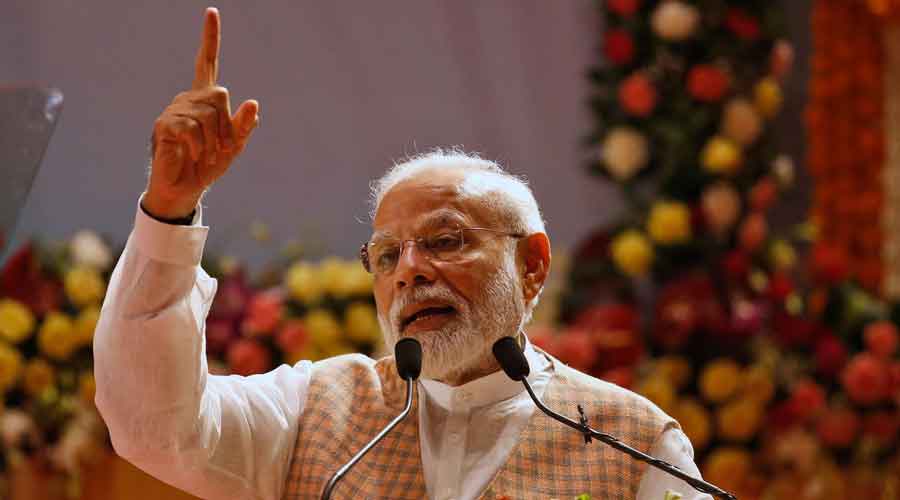 Narendra Modi.
File photo
---
Published 26.04.22, 03:38 AM
|
---
Jammu and Kashmir, the prime minister, Narendra Modi, believes, is setting new standards in democracy and development. His remark came during a visit — his first — to Jammu since his government decided to strip the region of statehood and abrogate Article 370. That Mr Modi is blessed with an unusual vision is well-known: he can spot joy amidst gloom. But the rest of India may not be missing the woods for the trees. The prime minister inaugurated projects estimated to be worth Rs 20,000 crore and assured that a new chapter of development was being ushered in. But it is telling that the Bharatiya Janata Party 's tallest leader had to devote his energy to spinning a new dream of development while remaining mum on the political — the real — challenges that endure. Memories of the annulment of Article 370 and the subsequent clampdown on life and liberties of the people have soured the public mood. There is considerable anxiety with the Delimitation Commission's recommendation of a disproportionate rise in the number of assembly seats for Jammu — a sore point for the Valley. The Gupkar Alliance, which has pledged to renew statehood, has acquired political purchase in Kashmir for these reasons. Jammu, too, is not entirely pleased with the way things are.  The Centre's failure to rehabilitate the Pandits as well as fears of loss of economic leverage in Jammu's trading constituency with the arrival of big business have lit subterranean fires. The security situation, irrespective of the Centre's claims of normalcy, remains worrying. Terrorists were gunned down days before the prime minister's visit.
Connectivity — Mr Modi prioritized it — is important. It fosters growth, addresses security needs — the borders are seldom cool for long— and promotes an idea of belonging. But J&K's link to India cannot be imagined in terms of infrastructure only. It must be organic if it is to have meaning. This will only come to pass if the chasm that separates the State from the people is bridged. This, in turn, requires a supple, sensitive approach given the region's complicated and volatile history. Unfortunately, the preference for the stick in the current administration proves that Mr Modi's government lacks a nuanced understanding of J&K and its aspirations. The regime's ideological compulsions perhaps explain this myopia. With a regime change in Pakistan and the ceasefire holding on the line of control, New Delhi must push for such political reform as elections in J&K and the restoration of its statehood. Mr Modi's credibility depends on these.