Modi-Trump: Show of friendship
By remarking "Abki baar Trump sarkar" Modi has violated the time-honoured principle of Indian foreign policy of not interfering in the domestic elections of another country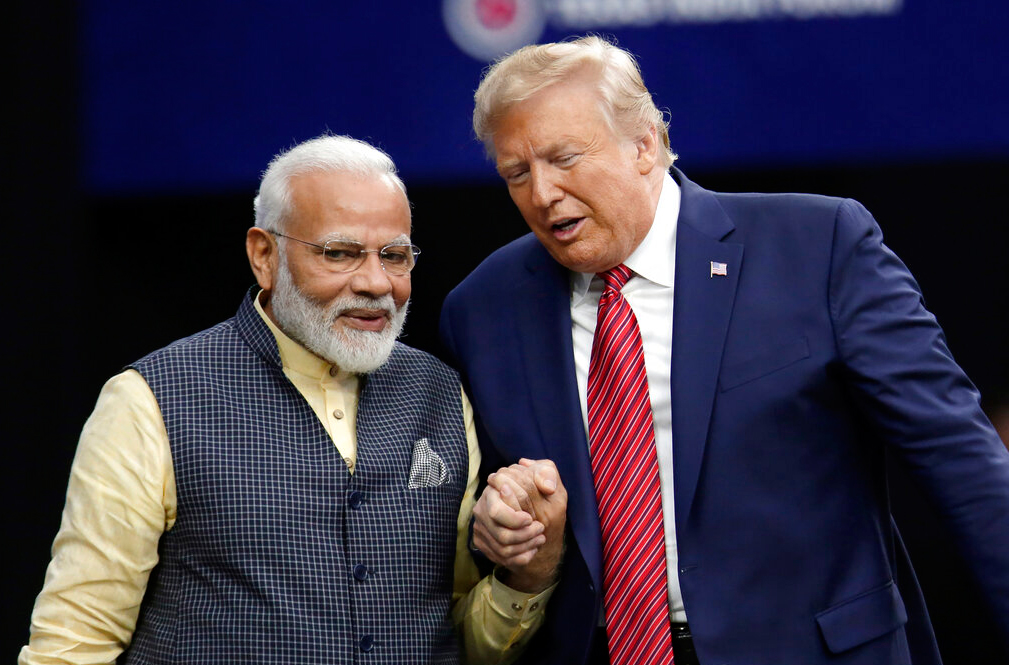 ---
---
Sir — The address by the prime minister of India, Narendra Modi, at the massive event at Houston, "Howdy, Modi!", has received divided reactions across the spectrum ("Houston hug sealed with 370, terror and border", Sept 23). Although the prime minister garnered praise from his supporters for taking a critical stand against terrorism on a global platform, he has also faced criticism.
The Congress leader, Anand Sharma, pointed out that by endorsing the incumbent president of the United States of America, Donald Trump, for re-election with his remark "Abki baar Trump sarkar", Modi has "violated the time-honoured principle of Indian foreign policy of not interfering in the domestic elections of another country". By using the popular slogan, Modi, it seems, has overstepped the boundaries of the office he holds. The event can also be looked at as an attempt by Trump to gain the support of the affluent Indian-American voters ahead of the 2020 presidential polls.
Ranganathan Sivakumar,
Chennai
Sir — Narendra Modi breached the "time-honoured" convention of Indian foreign policy of "not interfering in the domestic elections of another country" by proclaiming "Abki baar Trump sarkar" at the "Howdy, Modi!" event in Houston. While Modi may have been carried away by the adulation he received from Donald Trump, his endorsement of the latter's campaign was unbefitting his office. His act is not only inappropriate but also diplomatically unwise, as it portrays the Indian prime minister as partisan. One hopes that he will be more circumspect in such sensitive matters in the future.
It must be noted that soon after, in a joint address to the press along with the prime minister of Pakistan, Imran Khan, Trump had labelled a statement from Modi on Pakistan's role in terror as "very aggressive". This implies that Trump disapproves of such 'aggression' and also exposes his continued interest in mediating in the matter of Kashmir, even though the Indian government has explicitly stated its position of 'no third-party mediation' in this regard. Trump seems to have not got that message.
S.K. Choudhury,
Bangalore
Sir — Narendra Modi succeeded in stealing the show at the "Howdy, Modi!" event, outshining Donald Trump. However, getting entangled in the domestic politics of another nation can have repercussions. The prime minister of India weighing in on the upcoming presidential election of another country goes against diplomatic conventions. But neither Trump nor Modi are known to be conventional.
The prime minister has highlighted the common values that the two countries share by referring to India's diversity as the foundation of its democracy. By defending his government's decision on Kashmir, he has reiterated his commitment towards eradicating terrorism.
J.S. Acharya,
Hyderabad
Sir — There is no doubt that the Indian prime minister's address to a congregation of about 50,000 Indian-Americans in Houston has opened up a new chapter in US-India bilateral relations ("'Trump sarkar' shadow on bipartisan record", Sept 24). Narendra Modi's visit was not bound by stiff diplomatic protocol; it was aimed at wooing the masses. By addressing a huge public rally in Houston and by supporting Donald Trump, Modi has ensured a "great friend in the White House".
Modi also introduced the Indian diaspora as his family, drawing attention to the fact that there are "over a billion Indians and people of Indian heritage" in the world. Perhaps he was alluding to India's human resource potential which could be pivotal in determining bilateral relations.
Modi's slogan, "Abki baar Trump sarkar", acted as a reminder to the Indian diaspora that their participation in US electoral politics is valuable. The American leadership would do well to remember India's important position in domestic as well as global politics.
Subrata Pal,
Nadia
Support system
Sir — Recently, Ramata Sissoko Cissé, a professor in a college in Lawrenceville, Atlanta, carried her student's baby during a lecture. Cissé had allowed the student to bring the baby to class as the babysitter was unavailable for the day. This gesture was heartwarming, but also reminded us that millions of women, as primary caregivers to children, are often deprived of education on account of the burden of childcare. It is important that we create inclusive spaces and infrastructural facilities so that the education or careers of women who have children are not hindered.
Srestha Dasgupta,
Guwahati