Mohan Bhagwat's strange claim
The RSS chief refuses to accept that lynchings in India are due to intolerance, impunity and a defiance of the rule of law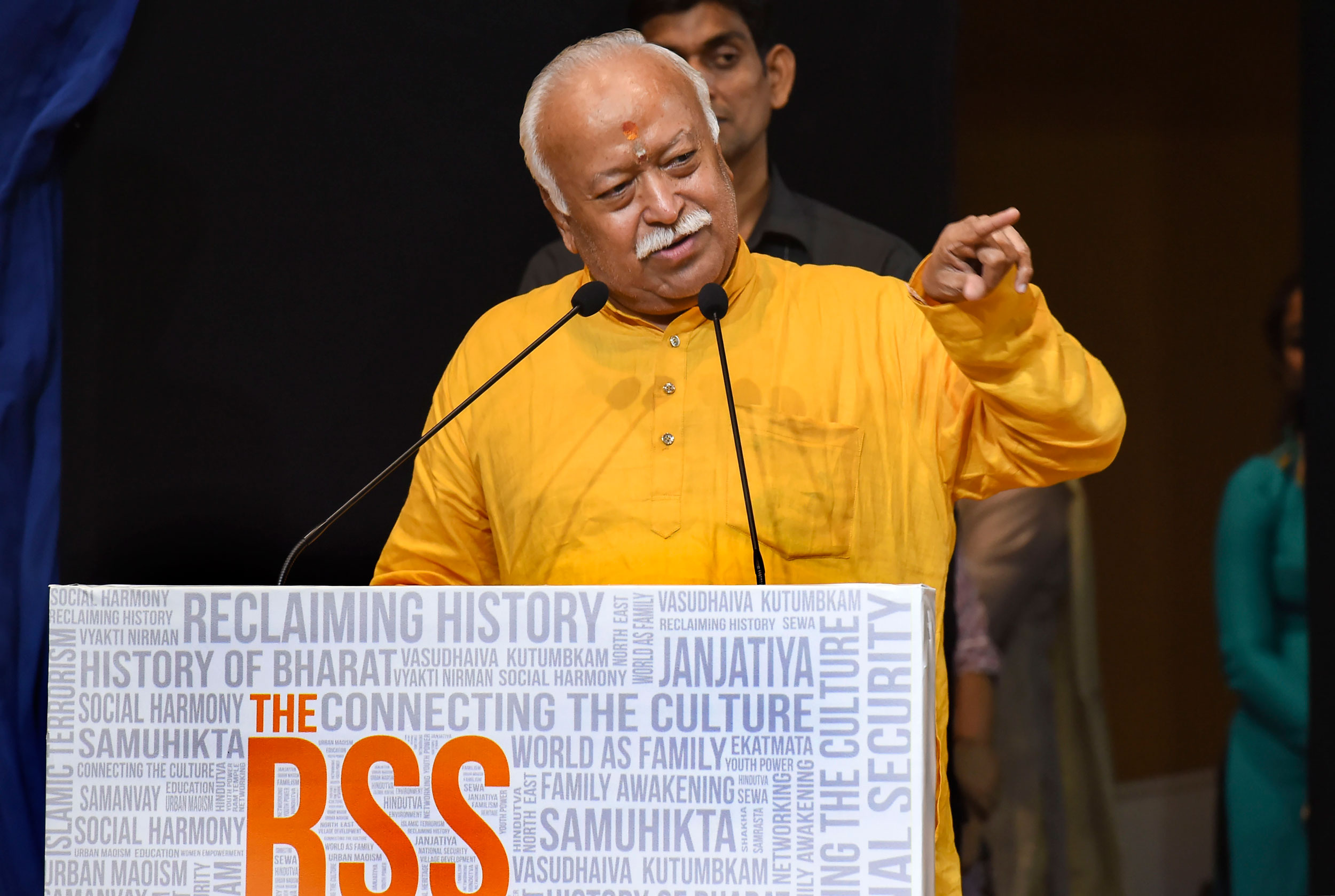 ---
---
Sir — It was quite amusing to read the statement made by the chief of the Rashtriya Swayamsevak Sangh, Mohan Bhagwat, claiming that the word, 'lynching', has no Indian origin and that some acts of "social violence" are being painted as instances of lynching in order to defame India and the Hindu society ("Lynching alien: RSS", Oct 10). While the etymology of the word can be debated, one cannot overlook the fact that the instances of mobs attacking and killing citizens, many of whom happen to be poor, defenceless and belonging to minority communities, have increased manifold since the saffron party — of which the RSS is considered the parent wing — came to power at the Centre. By saying that lynching is "alien to Bharat", Bhagwat was merely trying to throw a cloak of invisibility on the growing majoritarian violence in the country, especially those involving attacks by mobs.

It was also greatly surprising to hear Bhagwat talk about strengthening social harmony and brotherhood and protecting the values enshrined in the Constitution. While these thoughts are, in themselves, noble and upright, one must remember that the RSS has always been a virulently right-wing organization that promotes the idea of Hindu supremacy. It would be foolish to be taken in by Bhagwat's words and think that the RSS is changing its 94-year-old ideology.
Shinjita Basu,
Calcutta
Sir — Given the multiple instances of mob brutalities against Dalits and Muslims, and the general perception that self-styled Hindutva organizations — of which the RSS is a major one — have the tacit support of the State, the recent stance taken by the RSS sarsanghachalak, in which he appeared to be denouncing lynching, could have been tougher. Mohan Bhagwat claimed that the term, lynching, was a Western construct being used to defame India and its Hindu community. He also attempted to dissociate the sangh from any kind of mob violence and deny charges that the right-wing outfit he heads is Islamophobic. Perhaps he has forgotten that in most recent cases of lynching, the involvement of cow vigilantes or majoritarian mobs has come to light. Leaders such as Pragya Singh Thakur and Sakshi Maharaj — the former is an accused in the Malegaon blast case — have regularly been allowed to make hate speeches.
The sincerity or emptiness of Bhagwat's message of maintaining harmony and upholding the rule of law will be demonstrated by how vigorously the Narendra Modi-led government takes action against perpetrators of mob violence. Exemplary penalties alone will assure citizens that the government respects human rights and civil liberties.
J.S. Acharya,
Hyderabad
Sir — It is astounding that Mohan Bhagwat has called lynching 'alien' to Indian culture. But the truth is that members of minority communities have regularly faced violence at the hands of the Hindutva brigade in the name of the cow and religious supremacy. Mobs of Hindutvavadis have been mobilized by leaders and their messages of hate to carry out violence.
Naushad Shahid,
Calcutta
Sir — Mohan Bhagwat refused to accept that acts of lynching in India arise from a sense of intolerance, impunity and a defiance of the rule of law. He also claimed that lynchings are happening from "both sides". This bewildering stance only seems like an attempt to deflect attention from the overwhelming number of lynchings perpetrated by Hindutva mobs. He seems to have forgotten that in July 2018, the Supreme Court had told the Union and state governments that "horrendous acts of mobocracy" must not be normalized.
S.S. Paul,
Nadia
Sir — Mohan Bhagwat's claims on lynchings stand out for their clear denial of the brutal reality of the crime in India. He is not bothered by the crime itself; he seems to only be concerned with how it is 'defaming' Hindu society. Whether or not lynching is a Western construct is up for discussion, but perhaps Bhagwat and the RSS need to be reminded that the last public 'lynching' in the West took place decades ago, when a white supremacist group brutally lynched some members of the black community.
Bhagwat's take on the economy is also disquieting. There is no denying that the vision of a nation in which one majority religion reigns supreme lives on. Bhagwat would like all citizens to live in denial of the gross violations of the rights of minority communities that occur daily.
Bidyut Kumar Chatterjee,
Faridabad
Still divided
Sir — Sixty-three years ago, on this day, B.R. Ambedkar had embraced Buddhism along with lakhs of his followers. Last week, some 500 Dalits in Gujarat converted to Buddhism. According to the National Crime Records Bureau, between 2007 and 2017, crimes against Dalits increased by 66 per cent and the rape of Dalit women doubled. Seven decades have not been enough to realize the dreams of Ambedkar enshrined in the Constitution. India is still as riven by caste differences as it ever was. In fact, these differences have taken on a more sinister edge, honed by politicians across party lines to carve out vote banks for themselves.

Neel Banerjee,
Bhopal