Mind the word: Maha Governor's missive
Secularism, which forbids discrimination against any religion, is an integral part of the Preamble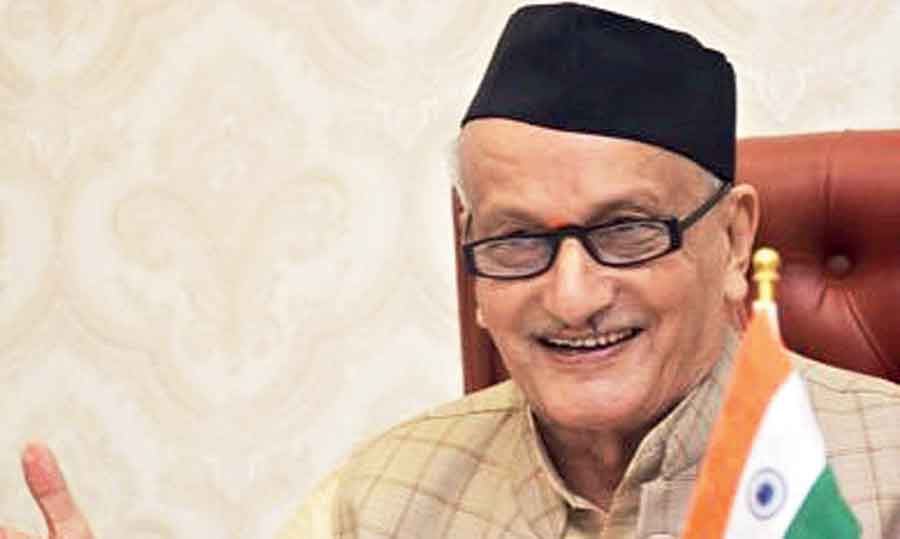 Maharashtra governor Bhagat Singh Koshyari.
Telegraph file picture
---
Published 15.10.20, 03:58 AM
|
---
New India is topsy-turvy territory. That perhaps explains why holders of constitutional positions can profess views that go against the letter and the spirit of the Constitution. The missive sent by the governor of Maharashtra, Bhagat Singh Koshyari, to Uddhav Thackeray, needling the chief minister for professing secularism, is a case in point. Mr Koshyari has taken umbrage at Mr Thackeray for his government's refusal to throw open places of worship. Here too the governor seems to have endorsed the sentiments of the Bharatiya Janata Party that has been holding protests outside temples in Maharashtra demanding that they be reopened. The BJP's delusions and double standards about the pandemic are well-documented. Maharashtra shoulders a significant share of India's Covid-19 burden and the Centre, ruled by the same party, has repeatedly pointed to the need to discourage crowding and social gatherings. The state unit of the BJP and the governor seem to have other ideas. The transformation of the governor's office into a mouthpiece of the dominant political regime — this is the point that Sharad Pawar has made in his letter to the prime minister — is, of course, not new. States ruled by Opposition parties, including Bengal, have been inconvenienced by these intrusions. Public health is unlikely to be served by the convergence of lines between holders of constitutional office and those in government.
The nation's health is suffering too on account of this conflation. Secularism, which forbids discrimination against any religion, is an integral part of the Preamble. The secular ethic also happens to be the proverbial red rag in front of a bullish, elected government. That is because the ideological tenets of the BJP, its critics allege, are not consistent with the constitutional vision that envisages peaceful, equitable coexistence among all faiths. In a nation with a pronounced history of communal conflagrations, secularism, the founders of the Constitution argued with reason, was the only glue that could keep the republic together. But reason is not known to be the BJP's core strength. Its political ascendancy has tellingly coincided with strategic assaults on the culture of interfaith harmony. These transgressions — a governor mocking secularism is among them — take a myriad forms. Mr Thackeray, the recipient of the letter, responded with grace and dignity. Mr Koshyari, hopefully, would be mindful of honouring the dignity of his office as well.