Meat less: Editorial on systematic targeting of a community
That Karnataka and Delhi should be linked through similar divisive campaigns does not augur well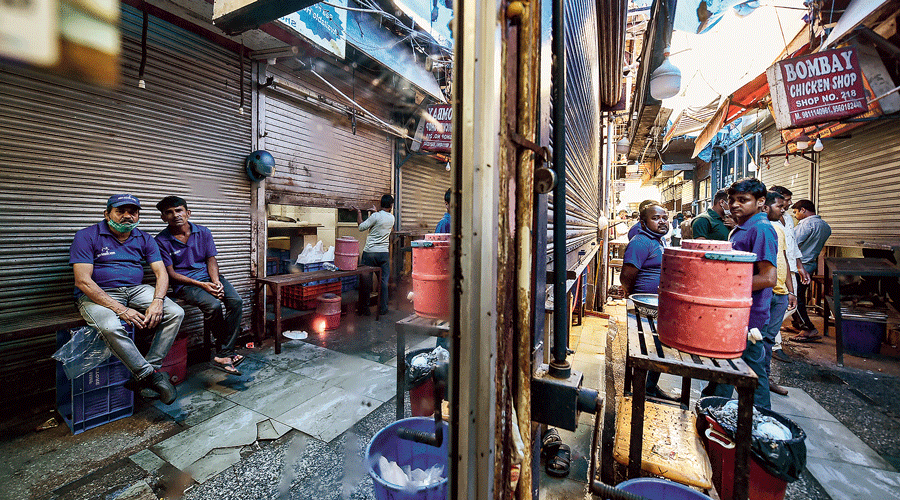 Workers sit outside closed meat shops at the INA Market in New Delhi.
File picture
---
Published 12.04.22, 12:23 AM
|
---
Hatred is not noble; it is riddled with spite. Going door to door asking people not to buy halal meat is spiteful, as is distributing pamphlets at the marketplace on the same theme. But that does not deter members of the Hindu Janajagruti Samiti and other right-wing groups from thus urging the majority community in Karnataka to boycott halal meat. They tried to ban its sale on Varshadodaku, when meat-eating is common in all communities. The Karnataka chief minister took some time to decide that his government will look into the demand to boycott halal meat; this does not entirely paper over the fact that the Bharatiya Janata Party is not inimical to the campaign. The hijab controversy had culminated in the Karnataka High Court's ruling disallowing hijabs in educational institutions. This was followed by the campaign banning non-Hindu traders from opening stalls on or near temple premises and that against halal meat. Both target the economy of the minority community. If these moves prosper, the worst sufferers would be farmers who raise livestock; they have already been hit with a beef ban. But the BJP national general secretary steadily pointed his finger: allegedly, the minority community is waging economic jihad through the sale of halal meat. Is all this a build-up to the state elections next year?
The BJP's role in the unconstitutional efforts to change people's diet and to intervene in a community's right to conduct trade freely is also obvious in Delhi. The BJP mayors of south and east Delhi ordered all meat shops to be closed for the period of Navratri because, according to them, people do not eat even garlic or onions then. The Akhil Bharatiya Vidyarthi Parishad has — unsurprisingly — been accused of thuggery in the Jawaharlal Nehru University campus after a clash over the consumption of non-vegetarian food. Not only do these transgressions ignore the non-Hindu population, but they also imply conformity with their ideas of Hindutva among the majority community, which is far from homogenous in diet or belief. Since no one but the municipal commissioner can decide to close down shops, no formal order was issued. Whether or not the mayors succeeded in this instance is irrelevant. What stands out is the systematic targeting of a community, together with the indifference to rules, laws and the Constitution. That Karnataka and Delhi should be linked through similar divisive campaigns does not augur well. Only the refusal of people across communities to accept such bullying will turn these efforts to naught.