Rare friendships: Lord Desai's autobiography
Eye on England: Martin Bashir under scanner for Diana interview; Mumbai Lit Fest session on PG Wodehouse; Cyrus Poonawalla and his munificence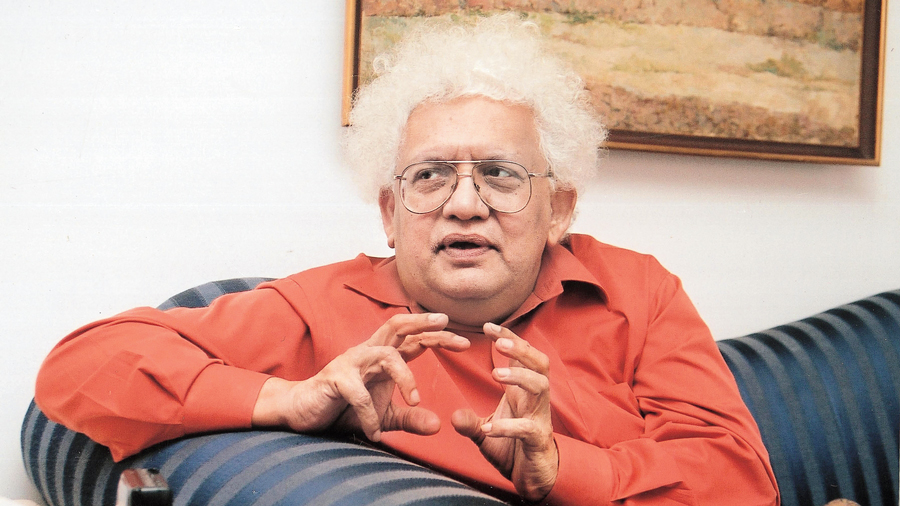 ---
---
Reading Lord Meghnad Desai's just published autobiography, I laughed out loud as though I was reading a PG Wodehouse novel when he described his "fruitful collaboration and lifelong friendship" with fellow economist, Dipak Mazumdar: "He was a rare specimen of a Bengali economist who was not left-wing." Meghnad, my near neighbour in London, had taken me into confidence before formally announcing he was leaving the "anti-Semitic" Labour Party at the age of 80 after being a member for 49 years.
We also talked about Rebellious Lord, in which he writes about his first meeting with Amartya Sen in 1964 : "One friendship I made at Berkeley which has been a great joy to me was with Amartya Sen. Amartya was visiting Berkeley in my second year. I was thrilled when I heard him speak at a seminar. We met up afterwards and then many times during the year he was there. I was 24, he was 31.We got on very well and have done so ever since."
Meghnad tells me: "Amartya is a great person. He is my longest acquaintance among Indian economists. Very nice man. I think he's slightly cross with me because I'm much softer on Modi than he is. But then you know, I'm me. And he is him. But I don't think those things are serious for either." Amartya's Nobel Prize in 1998 did not surprise him. "No, not at all."
Meghnad's own lectures have taken him to 50 countries. "There are three countries I consider my own — the US, UK and India. I belong to all three in some form or another. In America, I could have earned much more money, but being at the LSE was much more fun. Because I'm interested in many things I can talk to people about what they are interested in. I have had a lovely life."
Skeletons in the closet
The knives are out for the BBC's religion editor, Martin Bashir, aged 57, who was born in London to Christian parents from Pakistan. He secured an exclusive interview with Diana, Princess of Wales, in 1995, but it is now alleged he used forged documents to get around her brother, Charles, the ninth Earl of Spencer. The latter is leading the charge against Bashir, who is off sick after heart surgery and post-Covid complications. Charles has been accused of "hypocrisy" because he refused to provide shelter to Diana in 1996 when the distressed princess sought his help.
Timeless tonic
Talking of PG Wodehouse, a friend drew my attention to "A Plum & Tonic", a session on the author at the Mumbai Litfest. Thanks to Zoom four people from the UK could participate — the BBC journalist, James Naughtie, who presents Bookclub on BBC radio; Hal Cazalet, Wodehouse's step great grandson; the actor, Robert Goodale; and the comedian, Sindhu Vee. All this was before the Tata sponsored festival became embroiled in controversy after withdrawing its invitations to Noam Chomsky and the journalist, Vijay Prashad.
Naughtie referred to familiar characters — Bertie Wooster and Jeeves, obviously, plus Madeline Bassett, Gussie Fink-Nottle and his beloved newts, Lady Florence Craye, Lord Emsworth and his prize pig, the Empress of Blandings, and assorted aunts. Naughtie invited his audience to "cast reality aside as gently as you can, shelve all the cares of the world as we take you on an escape to the sunlit haven of that great writer".
After an hour he concluded: "There's an obvious way to end which is to quote the immortal words of another great comic novelist, Evelyn Waugh, who summed up the credo of PG Wodehouse as an admirer with great affection and hitting the spot. 'Mr Wodehouse's world,' he said, 'can never stale. He will continue to release future generations from captivity that may be more irksome than our own. He has made a world for us to live in and delight in' — and so say all of us."
Being human
The journalist, Farrukh Dhondy, has passed to me an email he has received from the fellow Parsi, Cyrus Poonawalla, after mentioning the founder of the Serum Institute of India in a newspaper. The two were "schoolmates" in Poona. "It could be a scoop for you," was Farrukh's helpful tip. Cyrus told Farrukh that he had read his article with interest, "especially the last para about your association with me".
He added: "I just wanted to share with you that, apart from partnering with US Codagenix (which will take time to develop and launch a vaccine) we are the front-runners for the Oxford vaccine, i.e. the so-called Oxford-AstraZeneca vaccine, and have already manufactured 100 million doses as a humanitarian gesture in advance of licencing, at risk. We hope to get a pre-licensure for the product as an Epidemiological Emergency Use; the good news should follow in maximum two months. Don't be surprised if our vaccine will be licenced in emergency use in the UK in case they run short of the product."
All this is useful intelligence from the vaccine oracle. The president of the Confederation of British Industry, Karan Bilimoria, who is proud to be the first Parsi in the House of Lords, has said Cyrus deserves the Nobel Peace Prize because his vaccines have helped poor people across the world.
Footnote
Anoushka Shankar admits that being Ravi Shankar's daughter has certainly helped her career as a sitar player. But she now intends to promote other women as inaugural president of the "F-List", a website directory of female artists. "The F-List is the first initiative of its kind to give female artists and musicians a platform where they can be discovered," she said. I thought she stepped out of her father's shadow when I heard her play live music at the screening of the silent film, Shiraz: A Romance of India.