Letters to the editor: Research needed to ensure safe harvesting of algae
Readers write in from Calcutta, Bhubaneswar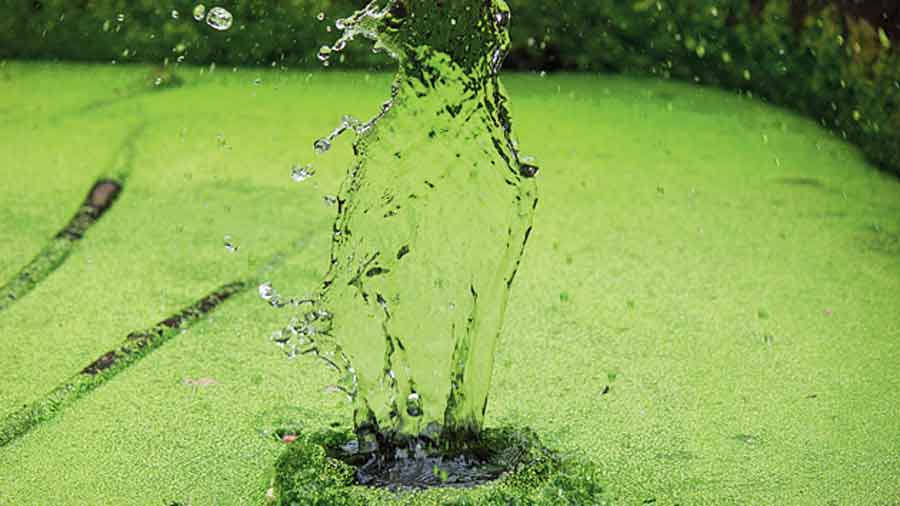 Representational image
File picture
---
Published 04.07.21, 12:00 AM
|
---
Sir — There is a lot of talk about harmful algal blooms owing to a warming planet. But little is said about using algae to fight climate change: they remove carbon dioxide from our atmosphere, store it as biomass, and replace it with oxygen. The raw algal biomass can also potentially be used as biofuel. Dry algae do not burn as well as fossil fuels, but they release more oxygen and less carbon dioxide than fossil fuels when burned. But growing algae in our ponds and seas is not an option because this will devastate the marine ecology. Research needs to go into methods to safely harvest algae.
Srikanta Bhattacharjee,
Calcutt
Blind faith
Sir — Given the onslaught of the pandemic, it is not surprising that the vaccine was brought out in record time. Usually, vaccines take years to formulate, test and launch. This time, though, clinical trials were set up to get the minimum information needed to win emergency-use approval, and follow-up study has been less than systematic. It is understandable that any criticism of vaccines or apprehension about side effects is being brushed off and silenced as fear-mongering. There can be no doubt that people should get vaccinated as soon as possible. But this does not mean that genuine concerns should be dismissed. One such concern is the impact that the vaccine is having on women's menstrual health.
As is often the case, women's health takes a back seat when it comes to policy decisions. Yet, all evidence seems to point to the fact that women are more likely to report mild or moderate side effects, and many who had blood clots because of the Johnson & Johnson vaccine were women. An overwhelming number of them also suffered anaphylaxis following vaccination. Women and men can react differently to vaccines because the former's immune systems are adapted to protect the foetus from infection but also not to attack the foreign cells that make up part of the foetus. It is thus not unexpected that many women have reported that the Covid vaccines have disrupted their menstrual cycles. While some are experiencing late periods, others report heavy bleeding.
More research is needed to ascertain how the vaccines affect women's menstrual health and to take measures to counter any adverse side effects. Contrary to popular opinion, asking more questions about the vaccines and funding more research on them — even while the vaccination drive is on — will only boost public confidence in the vaccines.
Malini Bera,
Bhubaneswar
Wise words
Sir — The Chief Justice of India, N.V. Ramana, underlined that the judiciary needs complete freedom from any extraneous influence, namely the legislature or the executive, to apply checks on governmental power and action and enforce the rule of law ("Needed: Full freedom for judiciary", July 1). While delivering the 17th Justice P.D. Desai Memorial Lecture, Ramana cautioned judges against being swayed by public opinion, often amplified on social media platforms. He also referred to the unjust laws of the colonial era being misused. The Central government's design to introduce the National Judicial Appointments Commission to interfere with the appointment of judges is clear. It is also accused of sitting on several recommendations for the appointment of judges to high courts and the apex court to suit its narrow political interest.
The judiciary is the chief guardian of the constitutional ethos. The executive tries to prey upon the weaknesses of judges by offering post-retirement prospects to get favourable verdicts. Some judges, however, stand out for their integrity. The judge, H.R. Khanna, dissented to the ruling that the right to life could be suspended during the Emergency — this cost him the post of chief justice and he resigned. This is in sharp contrast to a slew of recent verdicts — those on the Rafale contract, the PM-Cares fund, the Sahara-Birla diaries or electoral bonds case, and the Citizenship (Amendment) Act to name a few instances. Ramana rightly reminded judges that they need to live by the strictest of codes so as to uphold the image of the judiciary.
Jahar Saha,
Calcutta