Fleeting fame
Readers' Speak: Social media cannot be a replacement for social security provided by the State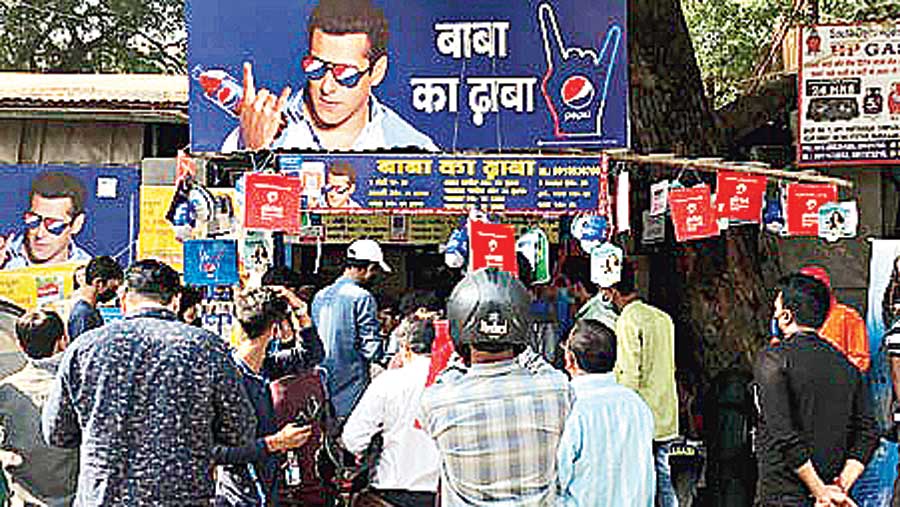 Famous spot
Twitter image
---
Published 18.10.20, 01:05 AM
|
---
Sir — Much has been said and written about a street-side food vendor, whose stall became famous after a food blogger and then some celebrities promoted it online. Now there are crowds — including politicians, actors and selfie-seekers — flocking to the stall and the fate of the vendor seems to have changed. But will this hype last? What will he do when the interest in his store wanes? As it is, many of those visiting the store are just taking pictures and not actually eating the food. Social media cannot be a replacement for social security provided by the State — something Indians do not have.
Roshni Sen
Calcutta
Parallel lives
Sir — I absolutely agree with Asim Ali's piece, "Shared trajectory" (Oct 17). The similarities between Narendra Modi and Lalu Prasad presented by Ali really changed my perspective of the current Indian political scenario. Perhaps Ali would agree that the narrative or the image of Modi that is presented is far superior than the real personality behind it. As a prime minister, Modi is not just a representation of himself, but also a reflection of the majority's political thought process, which at present runs on jingoistic nationalism. 
Political rhetoric is used to spread this pseudo-nationalism amongst the youth; they are made to feel as if they are responsible for bringing a revolution. This fake nationalism incites stubbornness, megalomania, war-mongering and so on. Unfortunately, even the Opposition succumbs to this kind of attitude occasionally. In the meantime, India is still struggling to get electricity in a host of its remote villages. While fugitive capitalists have settled abroad and are enjoying an exuberant lifestyle at the cost of Indian taxpayers, the safety of women and children are at stake while the prime minister makes promises he cannot fulfil.
Hirakjyoti Chakraborty
Calcutta
Sir — Asim Ali will have to admit that Lalu Prasad can be criticized on many counts, but he is not responsible for why Bihar is underdeveloped. Bihar has seen the rule of many chief ministers, some of them were hailed for their statesmanship, progressive outlook and wisdom, but they all failed Bihar in terms of industrialization, creation of infrastructure and investment in health and education. Nitish Kumar has done well in his term, but even he has not been able to bring Bihar on a par with other states in the country. 
Prasad has withered a lot in his political career — the Congress holds a grudge against him because he decimated the party's dominance in Bihar. He was challenged many a times by his own fellow socialist Lohiaite brethren, Nitish Kumar being a prime example. Apparently, former prime minister, H.D. Deve Gowda, allegedly let loose the CBI against him during his tenure, at a time when Prasad was one of the tallest leaders at the Centre. The present Bharatiya Janata Party dispensation in Delhi and the ruling alliance in Patna are hell-bent on destroying him politically. Many of his comrades have left him and are now in the Opposition camp. But he stands by his ideals. This is what separates him from Narendra Modi.
Kamalini Mukherjee
Calcutta
Parting shot
Sir — The fact that India ranks at 94 out of 107 countries in the Global Hunger Index, 2020, shows that there is a wide gap between boastful claims of the government and harsh realities on the ground. Even in Asia, India fares badly as far as human development indices are concerned. This is shameful given that even countries like Pakistan, Bangladesh and Sri Lanka have improved their record significantly. India became self-sufficient in food production with its hard-won Green Revolution. Yet, it failed at equitable distribution, causing crores of people to go to bed hungry. The accessibility to and affordability of food grains, let alone to nutritious food is still not available for many. Wasting and stunting among children, the indicators of acute and chronic deficiencies, point at continued failure in strategies of the government The coronavirus will worsen the scenario and add to these numbers significantly.
D.V.G. Sankararao
Nellimarla, Andhra Pradesh