Better safe than sorry
Readers' Speak: In a year when the world has been turned topsy-turvy by the pandemic, one must ask if public celebrations are really unavoidable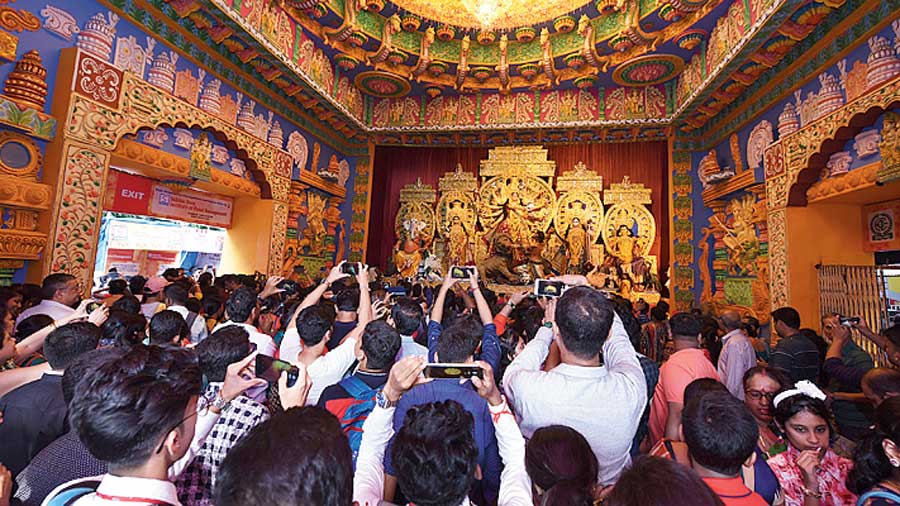 ---
---
Sir — Doctors have warned the chief minister of West Bengal, Mamata Banerjee, that Durga Puja celebrations could cause a massive surge in Covid-19 cases. In a year when the world has been turned topsy-turvy by the pandemic, one must ask if public celebrations are really unavoidable. What is worse, like each year, there are awards for best Pujas and so on. This will make organizers compete to make creative pandals, which people will then flock to. Surely, the only award this year should be for the pandal that ensures that people can enjoy the Pujas safely?
Tiyasha Mukherjee
Calcutta
Conflicting rights
Sir — While the Supreme Court accepted the right to peacefully protest against a legislation, it also made it absolutely clear that protests in public places for an indefinite period of time are unacceptable. A three-judge bench held that democracy and dissent go hand in hand, but the demonstrations expressing dissent have to be in designated places alone. The court also said that protests must not block a public way and cause inconvenience to commuters. 
The order came in response to a petition regarding the Shaheen Bagh protests against the Citizenship (Amendment) Act. A significant aspect of democracy is that citizens have the right to freely express their views, mobilize and protest. On the other hand, it is true that they are not entitled to infringe on the rights of fellow citizens. While the Supreme Court order will safeguard the rights of commuters, it will do so at the cost of those protesting against a divisive, unlawful Act. Restrictions on protesting, especially for groups that have no other way of expressing themselves publicly, will jeopardize the right to freedom of expression. While it is true that the protests may have caused some inconvenience to people, the rights to freedom of peaceful assembly and of expression are inviolable in a democracy. It is unjust to specify where public assemblies must occur in a democracy. Given that political and social participation through public demonstration is critical to the consolidation of democracy, the judiciary and the governments are expected to accord due weightage to this practice.
Venu G.S.
Kollam, Kerala
Sir — When a Supreme Court bench said, "Public places cannot be occupied indefinitely. Dissent and democracy go hand in hand but protests must be carried out in designated area... Such kind of occupation of public place for protests is not acceptable," it made a truly sensible observation. Although those sitting in protest at Shaheen Bagh have returned home in the wake of the Covid-19 pandemic, the verdict shows the path for future protests. In India, protests like the one in Shaheen Bagh have been taking place for long — remember Anna Hazare's protest? But Shaheen Bagh was different — nothing could scare the protesters away from the place, not shots fired, not petrol bombs hurled at the site. Shaheen Bagh has shown the world the meaning of a peaceful protest. If this is done at designated places, then the rights of others will not be infringed upon either.
Bidyut Kumar Chatterjee
Faridabad
Sir — The Supreme Court has said that protests can and should take place only at designated spots in the city. But one is forced to ask if this will ever achieve the desired results. People protest in their own way but unless others are made to stop in their tracks do they take notice? Is a minor public inconvenience of greater concern than a divisive bill that seeks to turn thousands of rightful Indians aliens in their own country? Moreover, is not restricting the rights of some citizens to express themselves in a location of their choice an infringement on their rights?
While the Supreme Court is hearing a bunch of petitions, the primary issue — that of the constitutionality of an Act that singles out one community and excludes it from the benevolence and amnesty of the State — remains unaddressed. The pandemic did a good job of sweeping that issue under the carpet. In such a situation, a protest that is visible and makes people pause and think is more important than ever.
Rohan Sengupta
Calcutta