Letters to the editor: Novak Djokovic out of US Open
Readers write in Navi Mumbai, Kozhikode, Hooghly, Muzaffarpur, Mumbai, and Calcutta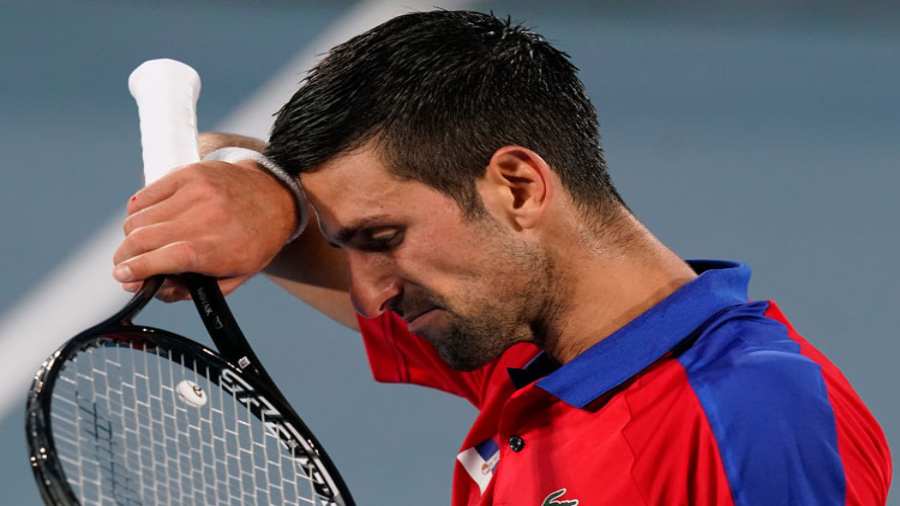 Novak Djokovic.
File photo
---
Published 16.09.21, 12:24 AM
|
---
Rising stars
Sir — Novak Djokovic's quest for a record 21st major title and a calendar-year Grand Slam collapsed at the US Open final with a 6-4, 6-4, 6-4 loss to the Russian player, Daniil Medvedev, at Flushing Meadows. Medvedev, playing in his third Grand Slam final, hoisted the trophy, avenging a straight sets defeat at the hands of Djokovic earlier this year in the Australian Open final.
Djokovic is one of the greatest tennis players of all time and winning a Grand Slam final against an opponent of his calibre is a remarkable achievement. Medvedev's serve was excellent for most of the game, but he seemed flustered towards the end, committing double faults at a crucial juncture. Nevertheless, his nerves did not get the better of him and he clinched the title on his third match point. This year's US Open — in both men and women's singles — has shown that a new era of tennis has begun.
C.K. Subramaniam,
Navi Mumbai
Sir — Had Novak Djokovic won the US Open final he would have not only secured a calendar-year Grand Slam, but would have also surpassed Roger Federer and Rafael Nadal in the total number of trophies won. But the Arthur Ashe stadium witnessed the rise of a new champion. Daniil Medvedev played remarkably, with Djokovic struggling to establish a rhythm throughout the match.
A new crop of players led by Medvedev, Alexander Zverev and Stefanos Tsitsipas seems to be rising to the top of men's tennis. Although Djokovic, Nadal and Federer have not hung up their rackets yet, their vice-like grip on the Grand Slams has started to loosen. Women's tennis, too, saw the rise of two teenage sensations. Both Emma Raducanu and Leylah Fernandez were equally impressive. At long last, it seems that tennis is at a new and exciting juncture with fresh faces emerging.
Haridasan Rajan,
Kozhikode, Kerala
Sir — Most of us had thought that Novak Djokovic would complete a career Grand Slam this year by winning the US Open. But all hopes were dashed when Daniil Medvedev defeated the Serbian to win the first Grand Slam trophy of his career. Medvedev's perseverance and steely nerves — he was booed at match-point — ensured his win. The US Open final was delightful to watch.
Jayanta Datta,
Hooghly
Sir — Daniil Medvedev and Emma Raducanu must be congratulated for winning the first Grand Slam titles of their careers. While the women's singles final saw two newcomers vying for the top prize, few could have anticipated that Medvedev would beat the crowd-favourite, Novak Djokovic, to claim the title. Not only did the Russian player win the final, but also did so by beating the world's top-seeded player in straight sets. Both Medvedev and Raducanu have bright futures ahead of them.
Md. Yousuf Kamal,
Muzaffarpur, Bihar
Sir — For years, Roger Federer and Rafael Nadal have dominated men's tennis. Then, Novak Djokovic burst into the scene and it became a competition between the big three. It is thus a huge relief that men's tennis has broken out of the clutches of a few star players. After a long time, it is exciting and unpredictable to watch the game.
Women's tennis has been far more dynamic. But what now stands out is the entry of racially diverse players into the top echelons of the game. The rise of mixed-race players such as Naomi Osaka, Emma Raducanu and Leylah Fernandez is sure to boost the confidence of other young players.
Keya Sengupta,
Calcutta
Parting shot
Sir — Many parts of Delhi have been flooded owing to heavy rainfall over the last few days, bringing various neighbourhoods to a standstill. But rather than owning up to the failures of the Delhi government in improving the drainage system, the chief minister, Arvind Kejriwal, thought it would be prudent to blame the situation on the "idiosyncratic drainage system" which he says is a "gift" of previous dispensations.
Is it not time for Kejriwal to stop blaming his predecessors for the failures of his government? Waterlogging in the capital city of any country is a matter of shame. It is high time that the Delhi government works on improving the situation.  
Bhagwan Thadani,
Mumbai
Crucial lesson
Sir — Pope Francis has sent out an important message by denouncing the use of Christianity as a political tool. His remark came after he met the prime minister of Hungary, Viktor Orbán, who has repeatedly appealed to Christian sentiment in his anti-immigrant and nationalist rhetoric. At a time when religious extremism has gripped the world, the pontiff's advice to refrain from using religious symbols for political gains must be heeded by all, irrespective of faith. It is only through a shared notion of brotherhood and respect that we can overcome the crises that assail the world at present.
Amiya Gupta,
Calcutta