Letters to the editor: Judges must not give in to political pressure
Readers write in from Calcutta, Nadia, Kollam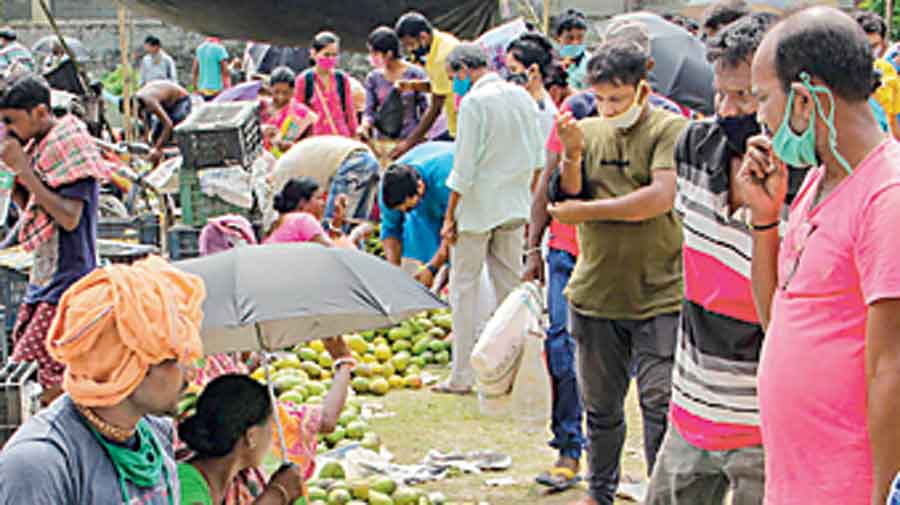 Representational image
PTI
---
Published 27.06.21, 01:31 AM
|
---
Be careful
Sir — When the second wave struck India, and newspapers were full of reports and images of death and shortages of medicines and oxygen, people finally showed the good sense of following protocols wearing, masks and so on. But such sense seems to have been forgotten as soon as the second wave eased slightly. This is why scientists have said that the third wave is no longer just a possibility but inevitable. Given India's poor vaccination record, if people do not mend their ways soon, more people will lose their lives. The government should boost both vaccination and awareness drives.
Pinaki Bhattacharjee,
Calcutta
Two sides
Sir — The request by the chief minister's lawyer to the judge hearing the Nandigram poll case to recuse himself is rather confusing ("'Caesar's wife' reminder to HC judge", June 25). Justice Kausik Chanda, who is hearing this case, has been accused by the Trinamul Congress of having close ties with the Bharatiya Janata party. Some TMC leaders have tweeted photographs of Chanda sharing a stage with the state BJP president, Dilip Ghosh. In spite of such 'evidence', this seems like a case of unnecessary interference with the judicial process. Judges are oath-bound under the Constitution to be fair and impartial; any link that they shared with any political party before becoming a judge is immaterial.
If every appellant who thought that a judgment might go against him requested to shift his case to a different bench, the judiciary would not be able to function. Consider this: if influential political leaders want to transfer their cases to a bench assuming a favourable judgment, would justice ever be served in this country? A similar logic applies to judges who recuse themselves from hearing sensitive cases. Judges must give their reasons for recusing themselves in writing. While taking oath of office, judges promise to perform their duties, to deliver justice, "without fear or favour, affection or ill-will". They must not undermine the judiciary's independence by capitulating to political pressure.
S.S. Paul,
Nadia
Sir — While it is true that appellants should not be allowed to make untoward requests to shift their cases to a different bench, it must be considered why such a request is being made and why many even consider it justified. A slew of judgments has raised questions about the impartiality of the judiciary. It will take time for this trust to be regained.
Goutam Pan,
Calcutta
Picture imperfect
Sir — Public comments have been sought on the new cinematograph (amendment) bill, 2021. The information and broadcasting ministry intends to make changes to the law which controls the functioning of the Central Board of Film Certification. The proposed amendments will allow the Central government to re-examine a film, subdivide the existing unrestricted public exhibition (UA) category into age-based groups, prohibit unauthorized recording and list penalties against offenders to curb piracy. Apart from this, no person shall be permitted to use any audio-visual recording device in a place to make or transmit or abet the making or transmission of a copy of a film or part of it. Provisions will also be introduced to penalize those involved in film piracy.
While it is true that laws need to change to keep up with the times, the bill has provisions that leave scope for unwarranted government intervention. This is likely to lead to controversies. Take, for instance, the provision which grants the government powers to order re-examination of films. Given the temperament of the current dispensation — in fact, any regime that has too much power — this rule can be used to target film-makers who are critical of the government. It can also be used to curb freedom of speech when the government does not agree with a film ideologically — violence surrounding films about Hindu myths or history is not unheard of. The Cinematograph Act must not try to cut down expression, instead allow scope for creativity.
Venu G.S.,
Kollam, Kerala