Letters to the editor: Emma Raducanu wins US Open 2021
Readers write from Chennai, Hanamkonda, Fardabad, Calcutta, and Satna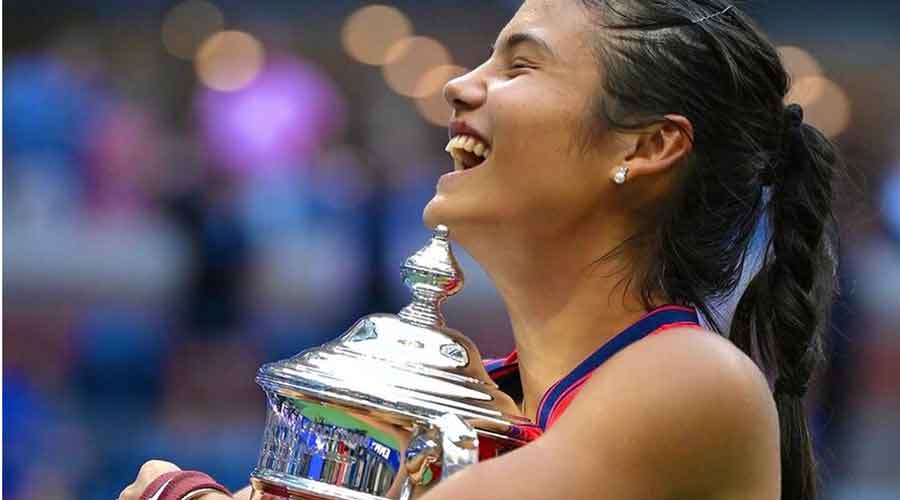 The British teenage sensation, Emma Raducanu, deserves to be congratulated for winning the US Open, 2021.
File photo
---
Published 13.09.21, 02:31 AM
|
---
Young gun
Sir — The British teenage sensation, Emma Raducanu, deserves to be congratulated for winning the US Open, 2021. She has created history by becoming the first British woman to clinch a Grand Slam singles title in 44 years; Virginia Wade had won the Wimbledon in 1977. Raducanu's maiden Grand Slam win is all the more remarkable because she defeated top-seeded players without dropping a set.
Amazingly, Raducanu is said to have turned pro just three months ago — she has never been a direct entrant to a Grand Slam main draw, she is yet to play a tour-level three set match, and she has not even won a match at a World Tennis Association tour event. But occasionally a special player like Raducanu comes along, making a mockery of conventions and taking the sporting world by storm.
Ranganathan Sivakumar,
Chennai
Sir — Emma Raducanu has shown spectacular potential and determination at the US Open. Given her lack of experience and young age — she is just 18 years old — the feat of winning the US Open is commendable indeed. Raducanu is sure to become yet another jewel in the tennis crown. We wish her all the best for the future.
Seetharam Basaani,
Hanamkonda, Telangana
Sir — The 18-year-old Briton, Emma Raducanu, has become the youngest Grand Slam champion since Maria Sharapova in 2004 by beating the Canadian, Leylah Annie Fernandez 6-4, 6-3. She has already achieved several milestones in a professional tennis career that only began in earnest three months ago. I doubt we will see anyone else with her potential in the near future. Raducanu has been outstanding in this tournament and deserves all the praise being heaped on her.
But one hopes that Raducanu has a good head on her shoulders. She will need it if she is to continue to do a good job in the future while handling all the media attention that she will be subjected to. Between Raducanu and Fernandez, one cannot think of a more spectacular ending in the memory of the US Open women's final.
Bidyut Kumar Chatterjee,
Faridabad
Sir — Emma Raducanu's achievements are significant. She may just be the new star on the tennis firmament. But success at such an early age has its pitfalls. The other ace tennis champion, Naomi Osaka, had recently highlighted some of these. Mental health can take a backseat when players are pushed to succeed no matter what the cost. If Raducanu is to truly live up to her potential, she should not be forced into anything and allowed to just enjoy the game. This enjoyment of the game is the secret to the success of greats like Roger Federer and Rafael Nadal, who continue to stun spectators even at such an advanced age.
Even pure talent needs to be honed over time if it is to last. If Raducanu allows fame and fortune to get to her head, then she may burn brightly but briefly.
Shreya Basu,
Calcutta
Poppy pickers
Sir — In an effort to gain international acceptance after seizing power in Afghanistan, the Taliban have told farmers to stop cultivating opium poppies — the raw material for heroin. Illicit drug trade has long been a cash cow for the Taliban. Drug traffickers are known to have made huge donations to the Taliban to meet the group's weaponry requirements and so on in exchange for 'protection'. Foreign aid cuts and losses in local spending by departed foreign troops are fueling an economic and humanitarian crisis. It is thus unlikely that either the destitute Afghans or the Taliban will turn their backs to the narcotics trade.

Rajesh Kumar,
Satna, Madhya Pradesh