Without parallel: Ganesh Puja live stream
Readers' Speak: Facebook hate speech row; live streaming pujas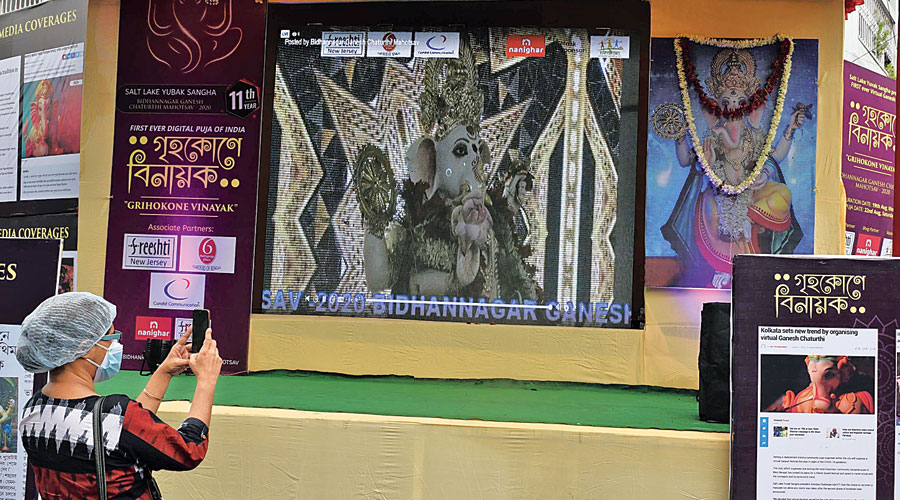 ---
---
Sir — It was interesting to read that a club in Salt Lake live-streamed the Ganesh Puja rituals by fixing a giant-screen on a stage in the area. Many Durga Puja organizers are likely to follow the same path this year given the pandemic. Although with the easy availability of advanced technology, darshan and even offering anjali — which are part and parcel of the lives of most Bengalis — are now possible from the comfort of one's home, e-darshan or e-anjali could never give the same amount of happiness and satisfaction. Seeing a protima with one's own eyes and chanting the anjali with friends and strangers are irreplaceable.

Sourish Misra,
Calcutta
Evil path
Sir — The disclosure by The Wall Street Journal that Facebook is inclined to err on the side of caution when it comes to commercial success and has refrained from taking a firm stand against hate posts uploaded by internet users affiliated to the Bharatiya Janata Party has serious implications for our democracy. As a commercial entity, there is nothing wrong with Facebook wanting to be successful. But it cannot be guided by the unethical principle of the end justifying the means.
Ankhi Das, whose job includes lobbying the Indian government on behalf of Facebook, has allegedly told the staff that "punishing violations by politicians from Mr. Modi's party would damage the company's business prospects in the country". This borders on collusion with the nefarious agenda of a political party to manipulate people's trust. Das is free to have a political leaning or even close ties with the BJP's top leaders but she cannot bring them into play when she is making business decisions. It is unacceptable for any business platform to allow posts intended to spread the poison of religious hatred. Online posts with the potential to incite hatred and violence in real-world situations must be anathema, even in the face of economic loss.
Facebook cannot redeem its reputation — which is now in tatters — merely by hiding behind platitudes like freedom of expression or democratization of discourse. These ideals cannot be pursued at the cost of communal peace and harmony. Hate speeches on social media have resulted in outbreaks of communal violence. Facebook must be hauled up for relaxing its hate-speech rules when it came to Hindutva zealots and acting against the sanctity of Indian democracy and its political processes.
This is not a question of Rahul Gandhi being a 'loser' or Narendra Modi being a 'victor'; it is a question of preventing social media sites from exerting a baneful influence on our democracy. India's destiny is to be decided by Indian people and not by rapacious multinational social media behemoths. The WSJ's exposé that Facebook showed "favouritism" and provided "favourable treatment" to the BJP on election-related issues has taken some shine off the party's electoral victories. As a first remedial step, representatives of Facebook can appear before the parliamentary standing committee on information technology as suggested by its chairperson, Shashi Tharoor.
G. David Milton,
Maruthancode, Tamil Nadu
Sir — In a recent report, the WSJ alleged that Facebook's executive in India has said that its "hate speech rules" do not apply to at least four individuals and groups linked with the ruling party who were promoting or participating in violence. Although Facebook clarified that it would not permit the use of its platform for hateful content that could instigate violence, the WSJ report laid out in detail how current and former Facebook employees in India were told that the company's business prospects would be hurt by applying the rules to ruling party members. Significantly, the WSJ report also points out that Facebook India deleted the said hate posts after investigative enquiries made by it. This confirms that the charges raised against Facebook are not completely baseless.
Facebook has become a powerful media platform where 300 million Indians are active users. They get their daily dose of news, views and entertainment on the platform. Yet, it is not subject to any regulations applicable to Indian newspapers. Allegations of misuse of the platform by the Russians in the last presidential elections of the United States of America, privacy violations and clear links between social media misinformation and hate crimes forced the company to change its business policy in the West. In India, social media videos and viral fake news have triggered communal riots and lynchings frequently.
Another menace is WhatsApp, also owned by Facebook; it reportedly helped miscreants coordinate during the violence in Jawaharlal Nehru University earlier this year. Facebook is also letting hate speech spread unchecked across Assam, where the minority community is already being harassed by issues related to the National Register of Citizens.
Now the social media giant has been summoned by the parliamentary standing committee on information technology to answer questions on the alleged collusion. The committee must investigate Facebook and its claims of prohibiting hate speech irrespective of party affiliations. China and Pakistan could be using the platform to risk India's national security. The recent ban on some Chinese apps makes this threat even more potent. The ruling party should try and clear its name at the earliest.
Khokan Das,
Calcutta