Another blow
Reader's Speak: Concerns over whale shark numbers in the Indo-Pacific; deforestation for Jewar Airport; stray dog hazard Guwahati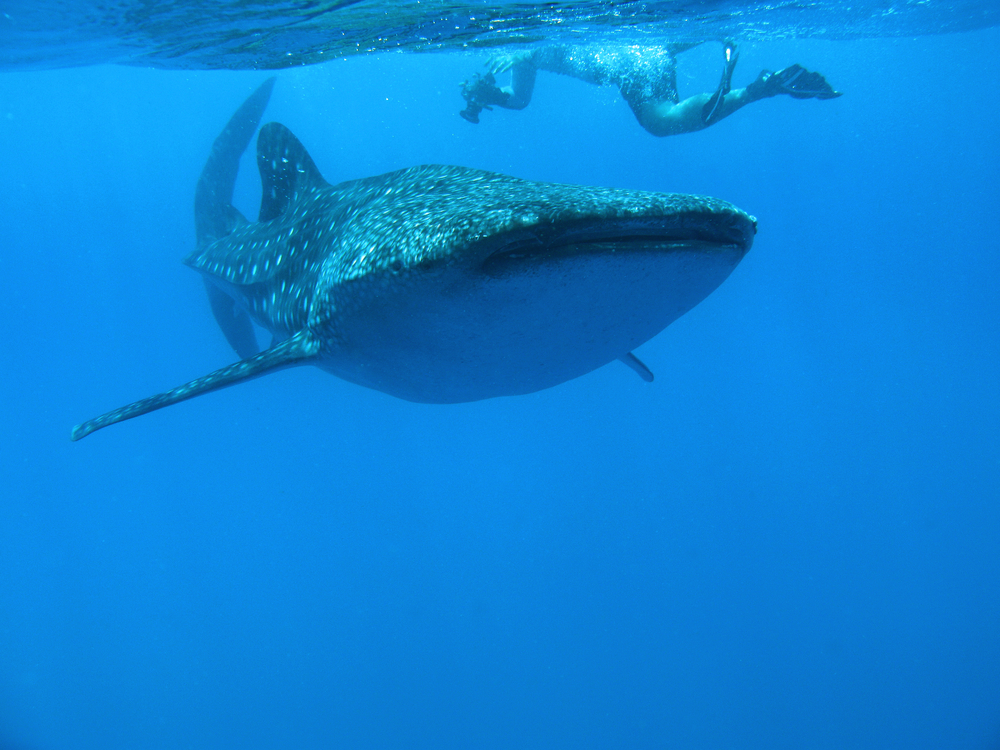 A whale shark with a snorkeling diver in Don-sol Bay at Philippines.
Shutterstock
---
Published 23.02.20, 08:33 PM
|
---
Sir — It is disheartening that the population of whale sharks in the Indo-Pacific region has declined by 63 per cent in 75 years. This alarming fall bears testimony to the all-round degradation of the environment caused by human beings. Their greed knows no bounds; much like other species, the whale shark is also targeted for its meat and for the illegal trade of its fins. Its extinction will throw the entire marine ecological balance in the region off-kilter.

Zinnia Roy,
Mumbai
Great loss
Sir — It was shocking to read that an apex committee of the Union environment ministry has cleared the cutting down of 11,182 trees for the proposed Jewar airport in Gautam Buddha Nagar, Uttar Pradesh. As a result of the large-scale felling of trees, the residents of many cities in India are suffering from a number of ailments. Pollution is increasing by the day with the rapid disappearance of a green cover.
It is true that this arrangement is conditional upon 1,12,820 trees being planted at alternative sites. But has the government made adequate provisions to ensure that this condition is fulfilled?
M. Qasmi Nadwi,
Ganeshpur, Uttar Pradesh
Sir — While the felling of 11,182 trees to enable the construction of an airport has been greenlit on the condition that over a lakh trees will be planted at other sites and an environmental cess of Rs 35 crore will be paid by the state's directorate of civil aviation, it must be asked whether the condition will be carried out with the same gusto with which the trees will be cut down. It is, after all, no secret that the environment is not a priority for the Bharatiya Janata Party, which is in power both at the Centre and in Uttar Pradesh.
Nitin Bhargav,
Bangalore
Save lives
Sir — The unchecked growth in the number of stray dogs is proving to be a hazard even to their own safety and well-being. While travelling along the road stretching from Orang to Mangaldoi recently, I was greeted with the chilling sight of dogs who had fallen prey to speeding vehicles. This sight is greatly disturbing for commuters who travel along that stretch. The government must take humane measures to ensure that the number of stray dogs does not grow. They must be spayed or neutered. This is the only way to ensure that more dogs do not die on account of vehicular traffic. After all, they too have a right to live.
Neha Singh,
Guwahati
Letters should be sent to:
The Telegraph
6 Prafulla Sarkar Street,
Calcutta 700001
ttedit@abpmail.com