Raise the bar
Readers' Speak: Commending New Zealand prime minister Jacinda Ardern; mass resignation of nurses in Bengal; plight of migrants during Covid-19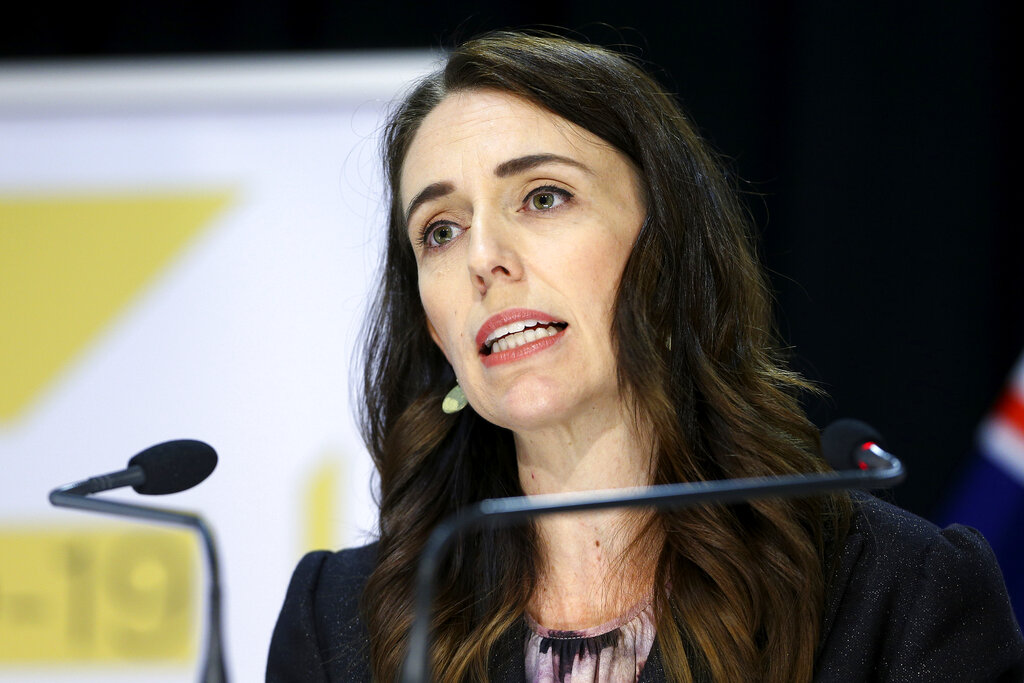 New Zealand Prime Minister Jacinda Ardern addresses a press conference after the 2020 budget at Parliament in Wellington, New Zealand, Thursday, May 14, 2020.
(Hagen Hopkins/Pool Photo via AP)
---
Published 21.05.20, 08:15 PM
|
---
Sir — The prime minister of New Zealand, Jacinda Ardern, has once again set an example before other world leaders after she, her partner and some friends were denied entry to a cafe where they had dropped by without pre-booking a table. Since all the tables were full when they arrived, according to the social distancing norms in place on account of Covid-19, the cafe authorities had to initially turn them away. Ardern and her friends simply turned back, taking the blame on themselves. One shudders to think what would have happened had a similar incident involving any political leader taken place in India.

Hira Lal De,
Hooghly
Care more
Sir — The decision of the West Bengal government to appoint retired nurses and 'helpers', reportedly irrespective of gender, to replace the nurses who have left Calcutta should come as a relief for city's private hospitals ("Hire retired nurses: Mamata to hospitals", May 19). The chief minister, Mamata Banerjee, has said that these helpers should be given some basic training, so that hospital services can continue uninterrupted until new nurses are employed.
At a time when several private hospitals that were shut down earlier have just begun to resume their services and are preparing to scale up operations, around 350 nurses have left their jobs and returned to their home states — over 60 percent of nurses working in private healthcare centres across Calcutta reportedly hail from other states. Some of them have claimed that the absence of proper safety protocols, familial pressure and food issues have prompted their move.
Most of the city's private hospitals are now admitting Covid-19 patients. It may thus be assumed that many of their nurses are equipped to take care of Covid-19 patients. If such trained personnel continue to leave at this juncture, the healthcare system in the city will collapse. All stakeholders must assess the reasons why the nurses quit and take measures to persuade the rest to keep working.
Khokan Das,
Calcutta
Sir — It was appalling to learn about the mass resignation of nurses working in different private hospitals and their migration back to their home states in the midst of this pandemic. It is important to figure out the reasons behind their decision. Is it really out of fear of contracting the infection or it is the paltry salary that many of them receive? One cannot rule out a political conspiracy to bring down the state either.
Regardless of the root cause of this exodus, it seems like the nurses who have left their patients hapless have brought disgrace upon the noble profession of which Florence Nightingale was a beacon. If they resigned because of the amount of money they earn, their decision should have been deferred until the pandemic had subsided. The government should also have taken precautionary measures to prevent this new crisis.
Anathbandhu Banerjee,
Chittaranjan
Sir — After hundreds of nurses resigned, private hospitals in Calcutta are in a grave crisis. It is unlikely that many retired nurses will jump at the opportunity of joining work as expected. They, too, must be afraid of the coronavirus.
West Bengal has been suffering from an acute shortage of doctors and nurses for a long time now. Why has the state not been training adequate number of nurses when there is such a great demand for the job? It is ridiculous that this has still not been turned into an employment opportunity. Had enough jobs in this domain been created, many citizens of Bengal would not have had to migrate to other states in search of a livelihood. The Central government alone is not at fault. The state is also accountable for the crises that its people are facing now.
Sukhamay Biswas,
Calcutta
Precious lives
Sir — The plight of the migrant workers, stuck on national highways without food, makes one question the motives and the plan of the government to mitigate their suffering. Amidst this woeful situation, the nation is witnessing a political tug of war between the Centre and states such as West Bengal, where one is accusing the other of a lack of sympathy towards the migrants. This is nothing but a mockery of the lives of the people stuck in the middle.
The fatal accidents in Maharashtra, causing the death of 16 migrants, and that in Uttar Pradesh, resulting 25 deaths, are heart-breaking. Such apathy might even cause the faith of the migrant community in the nation to waver. These are the people who break provincial barriers and move to other states to work, considering the whole country their home. Will they have the courage to leave their home states
in the future? The places where they had been working for years have now cast them out. The government must come up with a more effective plan to ensure the safety of migrant workers.
Shayan Das,
North 24 Parganas
Sir — There seems to be no respite for the migrant labourers of the country, even though it is their efforts that form the foundation of any development that India boasts of. Both the states and the Centre must take immediate steps to ensure that no other life is lost because of the insensitivity of the authorities.
Goutam Mukherjee,
Calcutta