Moment of hope
Readers' Speak:YouTube's 'Dear Class of 2020'; India's tension with China and Nepal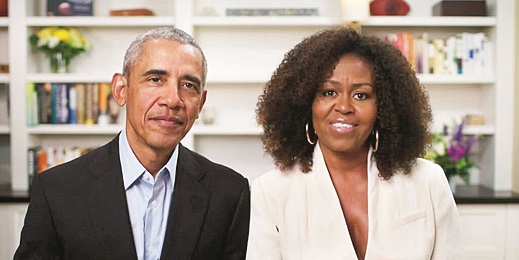 Barack and Michelle Obama addressing the audience at the YouTube event, 'Dear Class of 2020'.
Screengrab
---
Published 15.06.20, 07:31 PM
|
---
Sir — It was wonderful to see YouTube organize a virtual graduation ceremony — 'Dear Class of 2020' — at a time when students are facing an uncertain future. In a rare instance, it brought young people from all over the world — albeit only those with access to the internet — on the same platform to celebrate an important moment of their lives. The programme included commencement addresses by Barack and Michelle Obama, Lady Gaga and BTS, who offered words of wisdom and hope. While a virtual event cannot replace the experience of walking up to a podium, it certainly provided encouragement at a time of great crisis.

Riya Yadav,
New Delhi
Rising tension

Sir — It seems that the old adage about neighbours coming to each other's aid in times of crisis has been proven wrong in the case of India ("Bill linked to map passed, India fumes", June 14). Earlier it was the actions of Pakistan and China that had been of grave concern to India, but now it seems that the country's old ally, Nepal, has become a source of worry. Last week, the lower House of Nepal's Parliament passed a constitutional amendment bill revising its emblem to reflect a new map including territories involved in a dispute with India.
The tussle, however, was triggered by the inauguration of an 80-kilometre-long strategically crucial road connecting Lipu Lekh with Dharchula in Uttarakhand by defence minister, Rajnath Singh, in early May. Nepal had raised objections, arguing that the move went against the understanding reached between the two countries on resolving border issues. Nepal, reportedly, had tried to initiate a meeting between the foreign secretaries of the two nations in a bid to resolve the problem. Perhaps it was New Delhi's lukewarm reaction to this proposal that led Kathmandu to take this controversial step. The Narendra Modi government at the Centre must make concerted efforts to resolve the issue and work towards rebuilding diplomatic relations between the two countries.
Kavya Shah,
Ujjain
Sir — It was not unexpected that policymakers in Nepal would vote in favour of the inclusion of Lipu Lekh, Kalapani and Limpiyadhura in the redrawn map of the country. The constitutional amendment bill was passed unanimously in the House of Representatives and is likely to be passed in the upper House as well. It seems that both China and Nepal are taking an aggressive stand against India when it comes to border disputes. The Centre must strive to resolve this issue at the earliest.
K.V. Seetharamaiah,
Hassan, Karnataka
Sir — While the Chinese government's aggressive stance on its territorial claims over parts of Ladakh, Arunachal Pradesh and Sikkim does not come as a surprise given its past behaviour, the move by Nepal to pass a constitutional amendment bill in the lower House of Parliament to include certain disputed areas in its redrawn map is of great concern. At the same time, this lays bare the monumental diplomatic and political failure of New Delhi to resolve boundary disputes amicably.
One must question the reasons why the Centre had been reluctant to hold diplomatic talks between the foreign secretaries of the two countries in spite of Nepal reaching out after a row erupted over India's inauguration of a road to Kailash Mansarovar via Lipu Lekh. Had the Narendra Modi government made efforts to improve bilateral relations with its traditional ally rather than focusing excessively on an unpredictable Donald Trump, perhaps this situation could have been avoided. India must prioritize repairing its rapidly deteriorating relationship with Nepal. If the conflict escalates any further, China might end up being the only one to emerge victorious in this precarious situation.
This development has also exposed the shortcomings of the diplomatic strategy of our country. The authorities must reflect on their missteps so that any further issues concerning India's territorial integrity can be handled efficiently.
S.K. Choudhury,
Bangalore
Sir — It was the inept handling of the five-month-long blockade on the India-Nepal border in 2015-16 by the Narendra Modi government that had virtually pushed the landlocked country into the lap of neighbouring China. Since then, Sino-Nepal relations have gone from strength to strength. Earlier, Nepal had backed the Belt and Road Initiative alongside China, standing in opposition to India. New Delhi also failed to realize the importance of the trade, infrastructure and security deals that were signed between China and Nepal in October last year, thus continuing to give Nepal the short shrift regarding its demands.
Moving forward, New Delhi must take a cautious approach in dealing with Nepal as it cannot afford to see the latter build a greater military alliance with China. The political stability of this small nation is crucial to India's strategic interests in the sensitive Himalayan zone. It is worrying that this development has come at a time when the region is witnessing a rise in tensions between India and China, with a resurgence in longstanding border disputes amid the coronavirus pandemic. The government must prioritize repairing its relationship with its long-term ally and work towards the restoration of peace and cooperation.
S.S. Paul,
Nadia