Open sesame
Readers' Speak: Museums opening to public; the danger of changing labour laws in BJP-ruled states; communal attack on praying Muslims in Telengana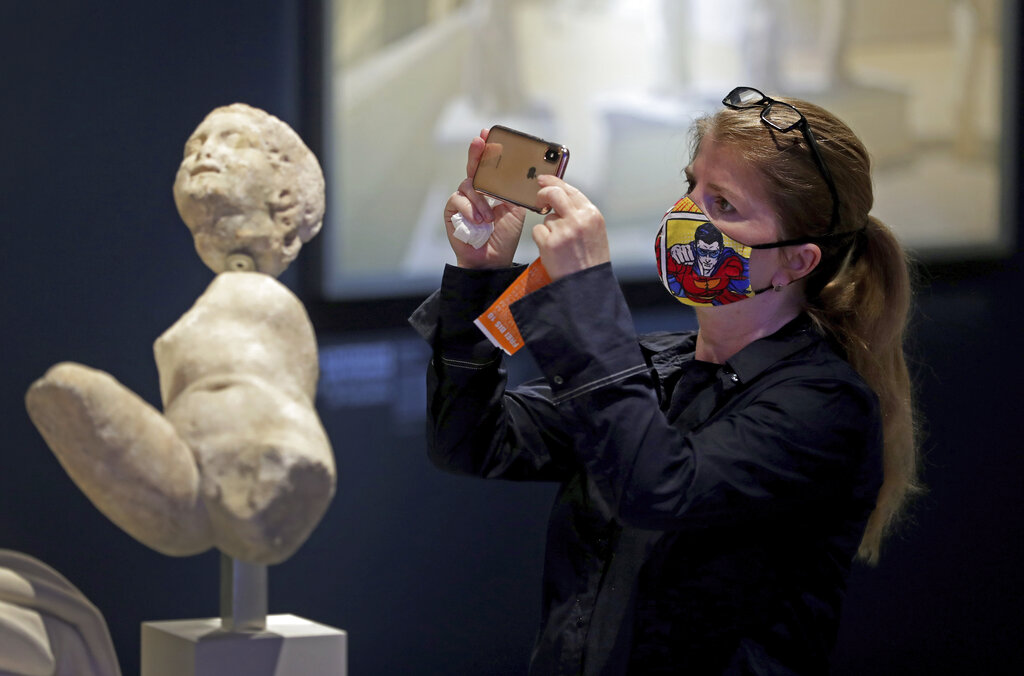 A woman takes a picture of a sculpture at the 'Pergamonmuseum The Panorama' in Berlin, Germany, Tuesday, May 12, 2020. After weeks of lockdown due to the new coronavirus outbreak Berlin's museums opened the doors for visitors on Tuesday.
(AP Photo/Michael Sohn)
---
Published 13.05.20, 06:58 PM
|
---
Sir — Museums across the world are taking the first steps towards reopening their galleries to the public, albeit with several restrictions in place. However, the measures that were taken during the lockdown to make art more accessible to a global audience must not be forgotten. In fact, making art more accessible will actually benefit the galleries. The internet has made almost any art readily available, but the authentic history and other details related to an artwork that can be provided by galleries are unmatched. Once people get a taste for art, they will flock to the galleries in the future.

Sweta Saha,
Calcutta
Heavy burden
Sir — The so-called 'reforms' in labour laws that were initiated unilaterally by the governments in Uttar Pradesh, Madhya Pradesh, Gujarat and Assam amid the coronavirus pandemic are, in fact, detrimental to the interests of workers ("Labour trouble", May 13). Taking advantage of a pandemic to strip workers of their hard-won rights is not what one expects from a democratic government. The idea seems to be to put the burden of recovery from the economic recession on labourers. Are the states trying to say that labour interests and economic growth are in conflict and do they, then, see the rights of labourers as barriers to growth? These theories are far from true.
The new set of rules gives employers the licence "to hire and fire" and squeeze more work from the labour force by increasing daily working hours to 12 hours from the present stipulation of 8 hours. The increase in working hours will not only exhaust workers physically and mentally, but also 'dehumanize' them. Allowing workplaces to go without ventilation, lighting, toilets, sitting facilities, first aid boxes, protective equipment and break-time is in violation of every modern principle of liberty and equality. The attempt to bring back the days of forced labour — what else can one call the reforms? — must be given up.
Regressive steps such as these will not stop the recession. Instead of suspending or scrapping labour laws on wage hikes, working hours, working conditions and worker welfare, steps must be taken to attract investment and boost job creation. It is inconsiderate of governments to give employers the power to sack workers and simultaneously ask the latter to faithfully co-operate with employers and rely on their goodwill. Dignity becomes a casualty when workers are denied their rights and left at the mercy of employers.
The rapacious industry captains seeking greater profits carry a lot of clout with the current dispensation at the Centre and are known to use funding to influence policy decisions in their favour. Labour laws that provide workers dignity and protection against exploitation should not be suspended or diluted in the name of promoting economic growth.
G. David Milton,
Maruthancode, Tamil Nadu
Sir — The missteps of this government in the name of reform are countless. First, the ill-planned and ill-implemented demonetization caused untold miseries. Then the goods and services tax proved to be a barrier that many small businesses could not cross. Land, labour, exports and power are just some of the sectors that are suffering because of a plethora of bad decisions. Parallelly, slogans brimming with patriotic fervour, such as 'Make in India', are employed to draw attention away from such failings. Coordination among ministries and departments is at an all-time low.
Labour reforms need to be debated and ratified by experts before they are put into practice. The bureaucracy, which is supposed to formulate a sound policy, seems to be of no use either. A burdensome package has now been pushed on to people without any consideration. It is unfortunate that the shoulders that have to bear the weight of the purported five-trillion-dollar economy are being treated this way.
R. Narayanan,
Navi Mumbai
Brutal attack
Sir — It was heart-wrenching to hear that a masjid in Telangana was attacked by goons while five people — this number has been allowed by the government — were offering namaaz there. Members of the majority community not only created an unnecessary ruckus, but also pelted stones, injuring some people. The police have taken cognizance of the matter; four cases have been registered and Section 144 was imposed in the area. The Telangana government must take strict action so that such a dreadful incident does not recur.
Ibn-Katib,
Azamgarh, Uttar Pradesh