Fallen off the map: China's treatment of Uighurs
Reader's Speak: Election freebies; Rebecca Welch becomes first female referee of English Football League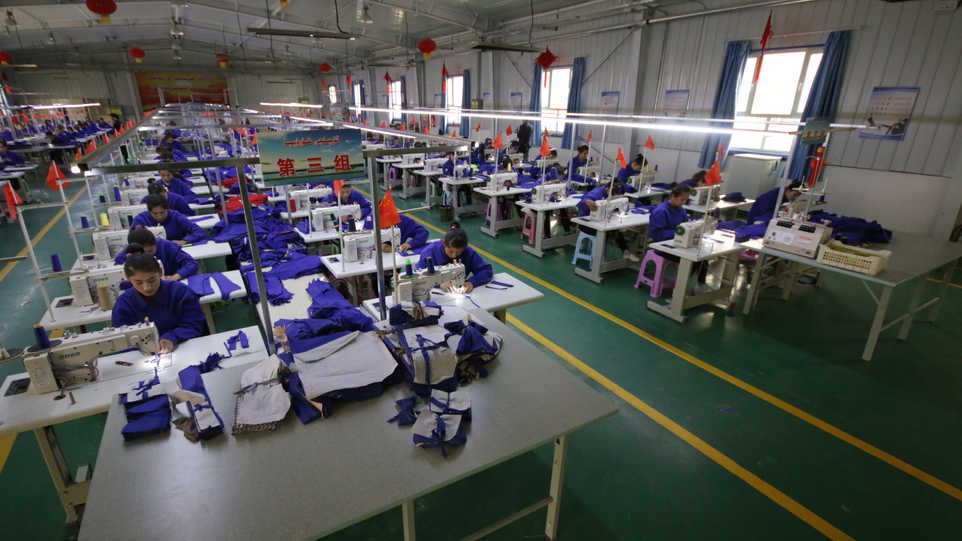 ---
---
Sir — In recent months, several major Western retailers have expressed concern over China's treatment of the Uighurs in the country's cotton-growing Xinjiang district. Companies including H&M, Adidas, Burberry and Nike have been penalized for questioning China's actions in this region — online shops of some brands have been blocked and the location of their stores have vanished from certain digital maps. While it is good to see brands prioritize human rights concerns over profit, there is little that the international community can do unless the Chinese government introspects and revises its policies in this area.
Abhinav Chakraborty,
Calcutta
Out of control
Sir — It is a matter of great concern that competitive clientelism in Indian politics, especially in Tamil Nadu, is escalating with each passing year ("Free for all", April 6). In Tamil Nadu, where polling in the assembly elections has just concluded, the All India Anna Dravida Munnetra Kazhagam has promised, among other things, a washing machine and a free cable TV connection if it is voted to power. The Dravida Munnetra Kazhagam, on the other hand, has said that it will provide a tablet to every government school and college student. Moreover, a day after the DMK promised to give Rs 1,000 per month to female family heads, the AIADMK upped the ante by offering Rs 1,500.
The Election Commission's rather restrained guidelines in the model code of conduct have not been able to put an end to such malpractices. Significantly, in the matter of cash, liquor, coupons and freebies in elections, Tamil Nadu seems to leave most other states way behind. Based on poll campaign observations, the EC has characterized more than 50 per cent of assembly seats — 118 out of 234 — to be "expenditure sensitive constituencies". This is in sharp contrast to the 16 per cent in West Bengal and about 17 per cent in Kerala.
At least two recent elections in Tamil Nadu — in the Vellore parliamentary constituency in 2019 and the R.K. Nagar assembly seat in Chennai in 2017 — had to be rescinded owing to exorbitant and unaccounted for cash flows and freebies offered by rival political parties. Such unabashed clientelism is antithetical to free and fair elections. Elections in Tamil Nadu can certainly do with some institutional scrutiny. Hopefully, people will soon begin to see the reality of these giveaways — that these come from the taxes which they themselves pay.
Khokan Das,
Calcutta
Sir — Over the last few years, it has become abundantly clear to the people that all political parties try to grab power by hook or by crook. This is in sharp contrast to the years immediately after the independence of India when parties worked towards the development and welfare of the electorate. They did not attempt to lure voters by offering them any kind of compensation.
Nowadays, political parties include promises of freebies — these can be mixer-grinders, musical instruments or even cash prizes — in their election manifestos. The Madras High Court has rightly questioned the Centre and the EC about this practice. The Centre must enact a law governing manifestos and the EC, too, should be diligent in vetting them. The high court's reported understanding of the distribution of freebies as a corrupt practice is not off the mark. Such actions will only destroy our democratic credentials.
Md. Yusuf,
Illambazar, Birbhum
Sir — The practice of distributing freebies before elections has become a worrying trend in politics. Amidst the ongoing assembly polls in several states, this phenomenon is being debated, once again, with the Madras High Court directing a series of probing questions at the government departments and the EC.
There is scope to learn from anti-corruption laws that already exist in India. The Prevention of Corruption Act, 1988 was enacted to combat corruption in government agencies and public sector businesses. A similar Act with regard to the practice of promising freebies in election manifestos could help curb malpractice. Political parties make outlandish commitments in their manifestos only to forget them when they come to power. It is time they are held accountable for their actions.
M.R. Jayanthi,
Chennai
Way forward
Sir — The selection of Rebecca Welch as the first female referee to take charge of an English Football League match is historical. She recently officiated Easter Monday's game between Harrogate Town and Port Vale in League Two. Welch has become a role model in the world of sports. Surely, many will be encouraged to follow in her footsteps.
Sourish Misra,
Calcutta