Ill omen: Donald and Melania Trump test Covid positive
Readers' Speak: M.K. Gandhi's 151st birth anniversary, Donald and Melania Trump test positive for coronavirus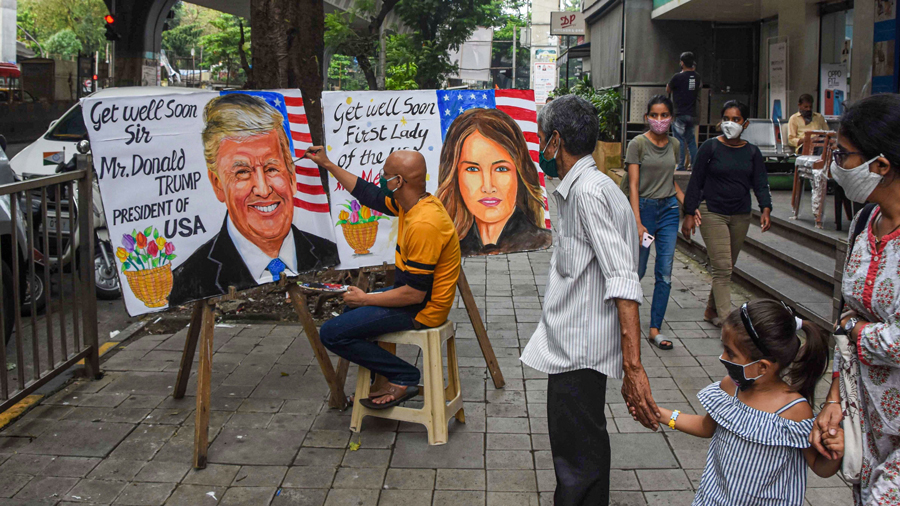 A Gurukul teacher makes a painting of US President Donald Trump and USs First Lady Melania Trump after they tested positive for COVID-19, at Lalbaug in Mumbai, Friday, Oct. 2, 2020.
PTI
---
Published 03.10.20, 03:40 AM
|
---
Sir — It is sad and, to some extent, surprising to hear that the incumbent president of the United States of America, Donald Trump — he is running for re-election to the top post of the country — and the First Lady, Melania Trump, have tested positive for Covid-19 just 31 days before the presidential polls. One wishes them a speedy recovery. Trump has often made headlines for his ambivalent and cavalier attitude towards wearing masks and maintaining social distance. While pulling a mask out of his pocket during the first presidential debate in Ohio and saying, "I wear masks when needed", Trump also mocked the Democratic candidate, Joe Biden, for wearing the "biggest mask" he had "ever seen". Few believe his promise of a vaccine before election day, which is November 3. In the US, the number of Covid-19 cases has exceeded 7.16 million and the death toll has climbed past 2,05,500.
This is not a moment to gloat over the suffering of another, but it must be emphasized that a pandemic is better responded to in a scientific manner. Trump cannot be blamed for catching the infection, for anyone can contract the virus. Life, after all, is full of uncertainties. Even so, it is important to take precautionary measures suggested by medical experts to protect oneself and others during a global contagion. Trump attended crowded rallies with little to no distancing and many onlookers without masks.
A contagious disease is indifferent to one's station in life and does not distinguish between the powerful and the weak. Trump's illness has belied his claim that the 'virus is behind us'. Diagnosed with coronavirus infection, the US president will now be in quarantine for at least a fortnight as the incubation period of the novel coronavirus can go up to 14 days; he will be unable to be on the campaign trail as a sick man or as a convalescent; his suffering may get him a bit of sympathy from some American voters, but it may fall well short in terms of him being able to catch up with his rival, Biden. The dismal state of the economy and the plummeting of markets will only add to his woes and detract from his chances of winning.
It has been said that Trump is a healthy individual, even if not fit as a fiddle; the Russian president, Vladimir Putin, is convinced  that Trump's 'vitality' will help him fight the virus; one hopes that Trump recovers.

G. David Milton,
Maruthancode, Tamil Nadu

Sir — It is not surprising that Donald Trump and his wife, Melania, have contracted the coronavirus; the US president has never lost a chance to make his disregard for the seriousness of the pandemic clear. He has publicly been derisive about the use of masks and physical distancing norms. One hopes that this setback will not only teach him to respect the word of scientists and acknowledge the gravity of the global situation, but will also drive home the fact that his presidential campaign for re-election must involve responsible rhetoric with regard to the disease.
Anita Mookerjee,
New Delhi
Sir — Donald Trump must be regretting the fact that he showed disrespect at the Ohio presidential debate towards Joe Biden's decision to wear a mask. Now that the former has tested positive for Covid-19, will his stance towards the pandemic become more reasonable? There is a vast segment of the American population that does not believe in wearing masks; this is deeply worrying and it is Trump's job as their leader to show them the right path.
Rushaad Faiz,
Calcutta
Pray together
Sir — It was deeply heartening to read that on the occasion of the 151st birth anniversary of M.K. Gandhi, the Sabarmati Ashram in Ahmedabad organized a multi-faith prayer meet with limited attendance. This event is of special significance not just because of Gandhi's ideals, but also because the state of Gujarat has a troubled and chequered history of communal violence. Minority communities have also borne the brunt of being blamed for the spread of the coronavirus. Meets such as this will hopefully help dispel false narratives and promote unity.
Radhika Ahuja,
Mumbai