Fool's gold: Row over Tanishq ad
Readers' Speak: Nirmala Sitharaman's free vaccine poll promise; space junk collision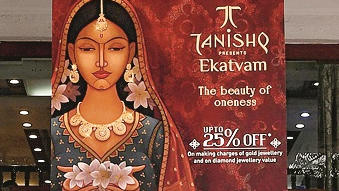 One fails to understand what was wrong with the Tanishq jewellery advertisement to elicit such a strong response.
Telegraph picture
---
Published 28.10.20, 02:42 AM
|
---
Sir — It is not surprising that supporters of the political right in India, who are offended by the very idea of communal harmony, were furious with the Tanishq advertisement which depicted a Muslim mother-in-law throwing a baby shower for a Hindu woman according to the customs in her culture ("Poison ivy", Oct 19). The response of the jewellery brand to the criticism, however, was disappointing. Secularism is still an integral part of the Indian Constitution, even though some forces are trying hard to reduce the nation to a 'Hindu rashtra'. The notion of 'love jihad' — the advertisement was accused of promoting this concept — is absurd. Any two adults have the right to decide to marry one another; one wonders why a third party should be allowed to have a say in it. 
No political party should be allowed to polarize the nation along religious lines. Following the controversy, many interfaith couples in India decided to share the story of their lives on the internet — some of them were threatened by trolls. If the common people of India can have the courage to stand up to bullies and bigots, there is no reason why an established corporate should not be able to stand its ground.

Ayesha Mehta,
Calcutta
Sir — One fails to understand what was wrong with the Tanishq jewellery advertisement to elicit such a strong response. Is there a problem with celebrating traditions across religious barriers in an Indian household? I found the advertisement beautiful. The company's decision to withdraw it sends out a wrong message — as if such loving relationships as the one shown in the advertisement do not exist in reality. But that is not true. Such relationships do exist; the problem is that many do not inhabit that reality.
Jubel D'Cruz,
Mumbai
Sir — The Tata-owned jewellery brand cannot be faulted for withdrawing its advertisement after being trolled on social media. Of course, nobody can justify the trolls threatening to boycott Tanishq or its parent company, Titan, for sending out a socially relevant message of Hindi-Muslim unity. But it was only expected that the company would put its business interests as well as the safety of its employees first.
Chandan Kumar Nath,
Guwahati
Tall claims
Sir — At a time when the entire country is facing the cruel onslaught of the coronavirus pandemic, it was quite uncharitable of the Union finance minister, Nirmala Sitharaman, to promise free vaccination to the people of Bihar as part of the Bharatiya Janata Party's election manifesto. 
Of late, it seems that benefits are being considered solely for BJP-ruled states; other states are being turned a Nelson's eye. If the BJP-ruled government at the Centre is interested in the welfare of the entire country, it should have announced free vaccines for every citizen of the country. How can a research involving taxpayers' money be offered as an election bonanza only to a particular state with the intent of getting votes? Sitharaman should keep in mind that she is not the finance minister of just BJP-governed states but of the entire country.
Tharcius S. Fernando,
Chennai
Sir — Nirmala Sitharaman's announcement in Bihar is condemnable. Her promise involves healthcare policy and ethics. It is clear that politicians are more concerned with reaping electoral gains than moral principles. If such a proclamation had to be made, it should have been done by the chief minister of the state, not the Union finance minister. It brings to light the Centre's lack of transparency with regard to decision-making.
India has not yet released any guidelines related to the effectiveness, procurement, distribution or cost of the vaccine. In fact, vaccine trials in India are still under way. As such, the promise is premature, misleading and discriminatory.
Venu G.S.,
Kollam, Kerala
Massive problem
Sir — This month, a collision between two pieces of space junk — a defunct Russian satellite and a spent Chinese rocket part — was narrowly avoided. It could have created a cloud of debris, jeopardizing other satellites and spacecraft for decades. This is part of the larger issue of space pollution. An estimated 29,000 man-made objects are orbiting the earth already. Yet no mission to remove these has yet been launched. Further, the entry of private companies into space tourism is bound to increase littering. This must be addressed at once.
Souparno Mitra,
Calcutta