Unclear picture: Netaji portrait at Rashtrapati Bhavan controversy
Readers' Speak: Bona fides of RTI enquirers; habit of reading decreasing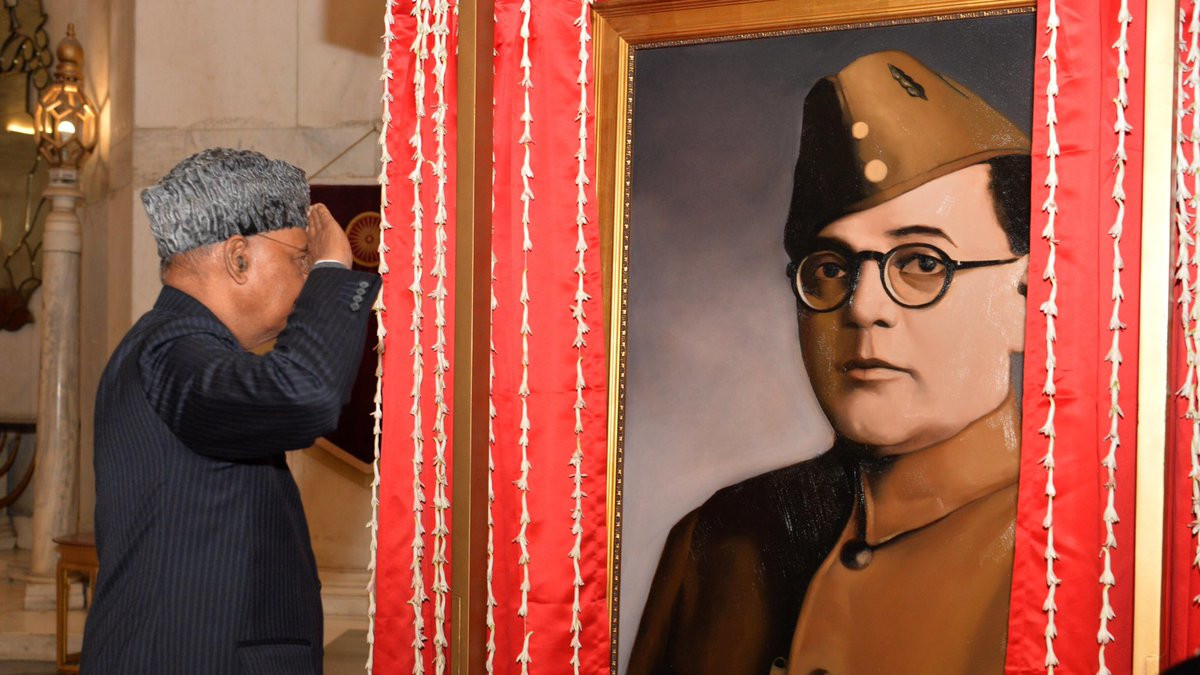 President Kovind unveils the portrait of Netaji Subhas Chandra Bose at Rashtrapati Bhavan to commemorate his 125th birth anniversary celebrations.
Twitter/@rashtrapatibhvn
---
Published 27.01.21, 12:11 AM
|
---
Sir — The controversy regarding the portrait of Subhas Chandra Bose unveiled at Rashtrapati Bhavan — some argued that it does not depict the national hero but the actor, Prosenjit Chatterjee, who played Netaji in a Bengali biopic — is amusing. While the biopic maker tweeted a picture of the freedom fighter on the basis of which the portrait was made, it is not surprising that the Central government's knowledge of Bengal's culture is being doubted. Bharatiya Janata Party leaders regularly display their ineptitude in this regard.
Rajashree Ganguly,
Calcutta
Ask questions
Sir — In a recent ruling, the Delhi High Court sought the disclosure of interest from an applicant who had petitioned against an order of the Central Information Commission under the Right to Information Act in order to establish his bona fides ("Losing point", Jan 21). A hefty fine was also imposed on him. However, such disclosure is unnecessary according to Section 6(2) of the RTI Act, 2005. This ruling — passed as verdict in a particular case — could be harmful for a democracy that mandates transparency and accountability when it comes to public institutions. Many offices are now likely to cite this ruling to act against public disclosures, although several public institutions are already exempted from giving out information under this law. This will also discourage RTI applicants for fear of reprisals. 
The Central government has now become the de facto master of information commissioners by assuming the power to decide their tenure, status, salaries and other terms and conditions. This threatens impartial action on the part of the office. For a strong participatory democracy, the RTI Act serves as a weapon. In the recent past, several controversial court judgments have been viewed with scepticism even by eminent judges and legal luminaries. Citizens once again look forward to a strong, unbiased judiciary to fall back upon as a last resort. This matter should thus be reconsidered.
Jahar Saha,
Calcutta
Sir — The Delhi High Court's ruling that an applicant who seeks information under the Right to Information Act should disclose his or her interest in it is unfortunate, and will further weaken the principle of transparency embedded in the law. The court's ruling is not in agreement with the letter and spirit of the RTI Act. Section 6(2) of the Act clearly states that an applicant making a request for information is not required to give any reason for doing so. 
It is surprising that the court has issued this order when the position has been made clear by many rulings in the past, including those by the Supreme Court as well as other high courts. Since the right to information is a fundamental right, it cannot be constrained by the conditionality of disclosure of motive.
Shovanlal Chakraborty,
Calcutta
Sir — The Right to Information Act encourages public offices to practise transparency and honesty. It should not matter whether a person has a personal interest in the information sought or if the query has been made in public interest. Public offices — apart from the ones exempted from the law — should be answerable to the people.
It is true that a spate of enquiries, many of which may not seem important or urgent, can slow down the administration, but public offices must be equipped to deal with such a problem. They should remember that their primary job is to serve the people, and responding to their queries is a part of that.
Pradip Sahoo,
North 24 Parganas
Turn the page
Sir — It is unfortunate but true that owing to the emerging mediums for entertainment, the habit of reading appears to have decreased significantly among a section of the people, especially the younger generations. Under such circumstances, it was wonderful to learn that a school in Calcutta has set up a street library — by installing a stocked bookshelf — outside its gate ("Street library outside school", Jan 25). People can pick up books, read, and then return those any time they please as the shelf is not under lock and key. 
The library will surely be a boon for people in the locality who love to read but cannot afford to buy books or get membership in a proper library. This initiative to promote the habit of reading is undoubtedly praiseworthy. One only hopes that this noble mission undertaken by the school is successful.
Sourish Misra,
Calcutta