Unfair treatment: Wasim Jaffer
Readers' Speak: Baruipur artisans make biodegradable Saraswati idols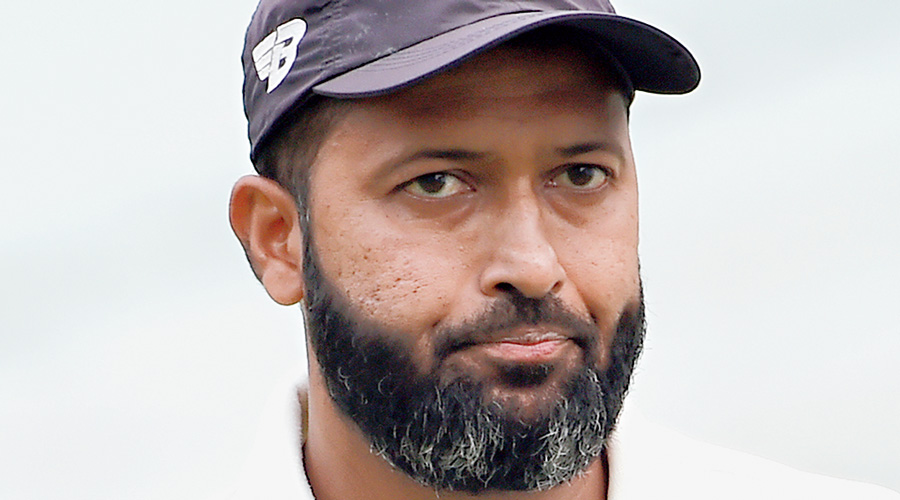 Wasim Jaffer.
File picture
---
Published 17.02.21, 04:12 AM
|
---
Sir — The article by Mukul Kesavan on the insult and injustice meted out to Wasim Jaffer makes all Indian cricket lovers bow their heads in shame ("Jaffer alone", Feb 14). Jaffer exemplified the solidity of the Mumbai batting order for nearly two decades and provided great service to Indian cricket. The celebrities of the Mumbai and the Indian cricket teams who shared dressing rooms and playing fields with him should not forget his contributions.
It is shocking that the Cricket Association of Uttarakhand has brought charges of communalism against Jaffer, compelling him to resign from the post of coach of the Uttarakhand cricket team. But it is more shocking, even unforgivable, that apart from a few cricketers, no one uttered a word of condemnation in support of Jaffer. The silence of the most famous names in Indian cricket — such as Sourav Ganguly, the president of the Board of Control for Cricket in India — is disconcerting. They should have come out with an appropriate statement against the charges.
Susanta Ghosh,
Calcutta
Sir — It is not Wasim Jaffer alone who has been made a scapegoat for having spoken the truth — many others have suffered the same fate. But Jaffer, who had alleged that undeserving players were being pushed by some selectors, is surely a victim of the same politics. The charges against him seem to have been made only to scrap him from the cricketing arena. It is also not a surprise that fellow cricketers of his time, except for a handful, have not spoken a word in favour or against him — they have preferred to stay mute spectators rather becoming involved in his problem. In his article, Mukul Kesavan has referred to such former players as a row of waxworks. But there is a reason for this: the fear of losing the position conferred on them if they dare to speak out. Many of them, especially those who have known Jaffer as a human being, may even support him personally.
 There is no doubt in Jaffer's abilities as a cricketer. Whenever he represented his side with the willow in his hand, his performance spoke for him. He has shown great prowess as coach: his experience helped him successfully mentor the players training under him. It is very much possible that the complaints against him have been lodged by trainees biased against him. Perhaps it was better that he stepped down rather giving in to the high-handed attitude of others.
Alok Ganguly,
Nadia
Sir — It was shocking to learn that Wasim Jaffer, the former Indian Test cricketer and the highest run-scorer in the Ranji Trophy, resigned as the coach of the Uttarakhand team, alleging that some officials were pushing for undeserving players. He received support from cricketers like Anil Kumble and Irfan Pathan; some of his former teammates have also vouched for his professionalism and integrity.
A fallout between a coach and a cricket association is not new, nor are differences arising on the selection of players, how a team should function or the autonomy enjoyed by a coach. But cricket in India has been an exemplar of Indian secularism in practice. All that has mattered is how well one can bat, bowl, field and function in the team, on purely cricketing yardsticks. The allegations made against Jaffer of communalizing the selections is surely baseless. But it is also disturbing. It is an effort to introduce the politics of communalism, bigotry and prejudice into what has often been called India's true religion — cricket. The treatment meted out to Jaffer must be condemned.
Bhagwan Thadani,
Mumbai
Wise choice
Sir — Every year, people across Bengal pray to the deity, Saraswati, asking for wisdom. That the prayers of some have been answered is evident from the fact that artisans in a Baruipur village decided to make biodegradable idols for Saraswati Puja this year ("Go green with Saraswati", Feb 14). Made of cow dung and clay, the idols are expected to dissolve in water within days, as opposed to those made of burnt clay. This could help reduce water pollution caused by idol immersions every year. May more people find the wisdom to opt for these environment-friendly idols from next year.
Sampa Kundu,
Calcutta