Suffer slowly: Varavara Rao's plight
Reader's Speak: Murder in Madurai of a 75-year-old woman by her sons and grandsons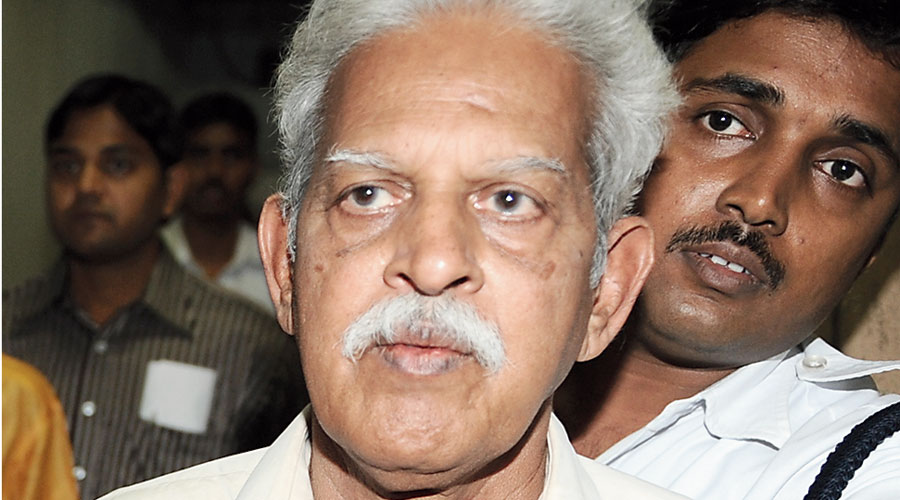 ---
---
Sir — The aged poet-activist, Varavara Rao, who has been jailed under the draconian Unlawful Activities (Prevention) Act in the Bhima-Koregaon case, was denied bail by the Bombay High Court even though his health is deteriorating. Rao's family had approached the court for him to be granted bail urgently on health grounds. The court has directed the Maharashtra government and the National Investigation Agency to arrange a medical consultation over video, and for doctors to visit him if need be. But can critics of the government expect fair treatment in New India?
Shyamal Mitra,
Calcutta
For shame
Sir — It was shocking to learn of the gruesome murder in Madurai of a 75-year-old woman by her sons and grandsons because she wanted her daughters to have a share in her property. It is difficult to fathom the ruthlessness and heartlessness of the woman's male descendants, that too over a property dispute.
The woman, M. Pappa, owned 2.75 acres of land, which she wanted to divide equally among her five surviving children. The sons and grandsons, however, wanted all the land to themselves. They objected to their mother's decision and, in a fit of rage, attacked the old woman with a weapon, killing her instantly. They even assaulted Pappa's husband — their father and grandfather — when he tried to stop the attack. The culprits of this heinous crime, which is symbolic of so many things that are wrong with our society, should be brought to justice at the earliest. They must not be allowed to take over their mother's property.
Ibne Giasuddin,
Mumbai
Sir — The murder of an old woman by her own sons and grandsons just because she wanted her daughters to have a share of her property drives home the fact that Indian men will stop at nothing to deprive women of their rights, even those women who are closely related to them. It is hard to believe that such a brutal crime can be committed in a major Indian district over such deeply regressive beliefs. In India, Hindu women are legally entitled to their parents' parental property; these are rights that they have managed to win only after many years of struggle and suffering.
But legal victories rarely translate into social change unless the mindset of the people also evolves. Even though the deceased woman's daughters are as entitled to her property as her sons are, the prevailing mindset within the family — one which is reflected in the beliefs of society at large as well — is that women are not worthy of the kind of inheritance that sons should get, especially in terms of property. It has been reported that the victim's sons, Kannan and Ponram, told her that she should only leave her land to them and they would give their sisters some money as a settlement. But why should their sisters only get some money when the brothers get all that land? Are they not equals in a democratic country? It is shameful that the men in the family wanted to deprive their own sisters and aunts of their rightful claims and, worse, murdered the old woman over it. One hopes that justice delivery in this case is expedited and the perpetrators are given the strictest punishment.
Adil Hossain,
Calcutta
Sir — The adage, 'family is everything', is propagated with great gusto in our society; and yet, it is often family members who inflict the most damage on their closest relatives and are the source of deep injustice. This is borne out regularly in the form of honour killings and the sexual and physical abuse of women and girls by their own fathers, brothers and husbands. Hatred for women, coupled with greed and a sense of entitlement, is an even more potent mix for such violence; it can cause sons to murder their mother, which is what happened in Madurai recently when two men and their sons murdered their aged mother because she wanted to divide her land equally among her five children, three of whom are daughters. Will the accused be brought to justice swiftly and, more important, will the old woman's wishes be honoured?
Anita Kundu,
Chennai