Barriers broken: Kamala Harris to become US vice-president
Readers' Speak: OTT platforms to come under the Union information and broadcasting ministry; Mumbai Indians win IPL 2020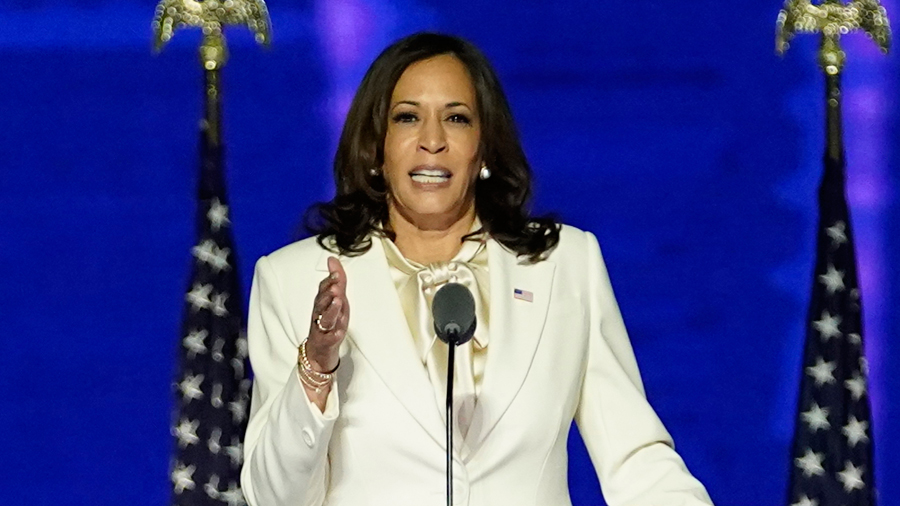 ---
Published 12.11.20, 04:17 AM
|
---
Sir — While the victory of the Democratic candidate, Joe Biden, in the recently-concluded presidential elections in the United States of America was a relief — it means that Donald Trump shall no longer be the US president — more remarkable was the ascent of Biden's running mate, Kamala Harris, to the post of vice-president ("Kamala crushes barriers", Nov 8). She is not only the first woman to attain such a high position of leadership in the history of America, but is also the first Indian-origin and black vice-president. She was born to a Jamaican father and an Indian mother; she would be a perfect example of the diversity in leadership that American democracy has always claimed to uphold but never quite managed to put in practice.
Throughout her campaign, Harris kept acknowledging her Indian heritage. She spoke of her mother, Shyamala Gopalan, who had taken Harris and her sister to India so that they could begin to understand their roots. Will her Indian heritage make her more sympathetic to the troubles of the South Asian community in the US, which has long borne the brunt of racism? Harris has been elected vice-president at a time when the question of race has become a significant one in America, with a primary focus on the plight of citizens of black origin. Her task, not only as vice-president but also as a leader of mixed heritage, will be to steer her nation, which has witnessed the bogey of white supremacism, towards a future that is free of prejudice towards minority communities. Most important, her victory could encourage more black women and women of colour to enter US politics.
Anirban Lokesh,
Delhi
Sir — Kamala Harris being elected vice-president of the US is a significant moment in global politics. The US has long claimed to be the 'leader of the free world' but has never had a single woman as vice-president, let alone as president. In comparison, India, as a much younger democracy, has elected women to the highest offices in the country — Indira Gandhi held the post of prime minister, while Pratibha Patil was president from 2007 to 2012. In addition, several women have been chief ministers of various states in India. It was high time that this glass ceiling was broken in the US.
It, however, remains to be seen whether Harris uses her power to work towards the uplift of marginalized women in her country. Her victory should not merely remain symbolic; one hopes that she will further the interests of women, especially those of black and South Asian origin, in a nation that has had a long, troubled history of violence and discrimination against both communities.
Hearteningly, US politics has recently witnessed the rise of many young women leaders of colour who hold out a lot of hope for the future — the Congresswoman, Alexandria Ocasio-Cortez, is one of them. One hopes that Harris will work closely with such women leaders to bring about positive change in the general attitude of American society towards women from minority communities. It will also be interesting to see how the US's foreign policy with regard to India shapes up during Harris's term in office.
Raina Mukherjee,
Calcutta
Silenced again
Sir — It is disheartening that over-the-top platforms and video streaming service providers such as Netflix and Amazon Prime Video will now come under the Union information and broadcasting ministry. Under the current oppressive political and social climate in India, this only means that creativity and free expression will be stifled even further. Up till now, the video streaming platforms were the only places where creators and film-makers could release content that was even tangentially critical of the government. Now, under government regulation, heavy censorship will become the norm.
Prakriti Basu,
Calcutta
Parting Shot
Sir — The Mumbai Indians have emerged victorious in the 13th edition of the Indian Premier League. The skipper, Rohit Sharma, must be lauded for his brilliant captaincy throughout the tournament and for playing an exceptional knock in the final. By lifting the trophy for the fifth time, Sharma has proved why he is acknowledged as one of the most successful captains in the IPL. The team's young talents, Ishan Kishan and Suryakumar Yadav, have also been impressive with their batting this year. The franchise has invested a lot in grooming these batsmen; it will be no surprise if they don the national jersey soon.
Tushar Anand,
Patna