The other side of the Indian education system
Can a handful of success stories mask India's failure to make education accessible?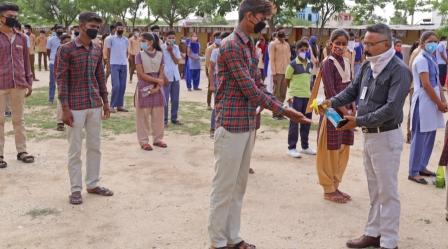 Beawar, Rajasthan, India, June 29, 2020: A teacher pumps sanitizer on the hands of students before appear in the 10th standard board exam.
Shutterstock
---
Published 21.07.20, 01:26 AM
|
---
Students overcoming great odds to achieve success is always heartening. Take, for instance, the student in Ludhiana who scored above 90 per cent in the recently declared results of the board exams in spite of being differently-abled or the daughter of a paddy farmer from a remote hamlet in Panaji who scored 94.6 per cent. The results of board examinations have thrown up a number of such shining cases. This kind of success is laudable; but does it also expose the failures in India's education system? Children living in poverty — two-thirds of Indians are economically poor — face numerous barriers to accessing education; the absence of schools, high drop-out rates and poorly trained teachers are among them. Children with disabilities suffer on account of the absence of properly trained staff in a nation that has not only made education a fundamental right but also passed the Rights of Persons with Disabilities Act, 2016. Students who cannot afford to buy books or other basic educational amenities have to walk — often literally — the extra mile in order to be on a par with their privileged peers. The success stories of disadvantaged students rightly make it to the headlines. But each of these cases also bares the barriers — poverty, inequality, prejudices — that meritorious students have to cross in their path to success.
The pandemic has only made a bad situation worse. The shift to online education is forsaking large segments of students who can neither afford the technology nor the skills that are required for this new mode of instruction. Significantly, the guidelines for protection and safety of persons with disabilities during Covid-19 do not even take into account their educational needs. Some of the other obstacles transcend these structural blind spots. The plight of students from riot-affected northwest Delhi, many of whom had to sit out the exams, is a case in point. Can a handful of success stories mask India's failure to make education accessible?