India is on slippery ground over ties with Iran
We must engage Iran and the United States in ways that preserve its equities in both bilateral ties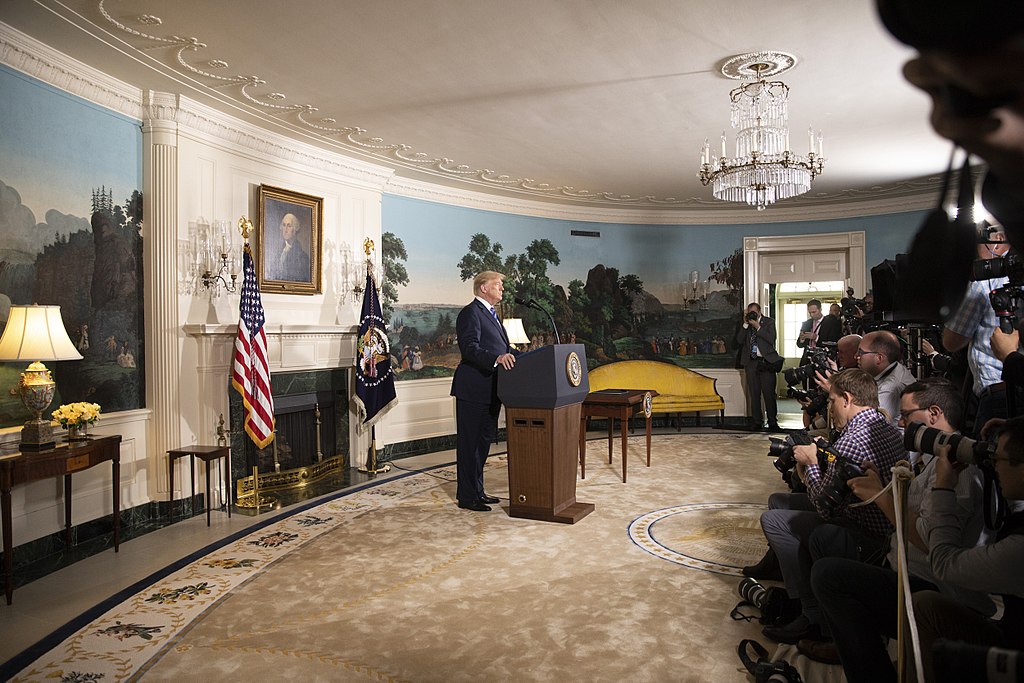 On May 8, 2018, Donald Trump announced that the US would withdraw from the Iran nuclear deal. Subsequently, he signed an executive order reinstating sanctions against Iran.
Source: The White House
---
Published 14.10.18, 08:25 PM
|
---
The United States of America is escalating its rhetoric on Iran as the November 4 deadline for sanctions on oil exports by the latter draws near. The US secretary of state warned: "Make no mistake about it, come November 4 [and] there will be a fundamentally different set of rules with respect to anyone who deems it necessary to engage in economic activities with... Iran." His message was aimed at nations that continue to do business with Iran, in spite of the growing sanctions on Tehran by the Donald Trump administration.
After the US president withdrew from the Iran deal earlier this year, he signed an executive order officially reinstating sanctions against Iran. Unsurprisingly, Iran is frustrated. Its foreign minister, Mohammad Javad Zarif, has suggested that Europe should take action to neutralize the consequences of the US decision to withdraw from the nuclear deal. If the nuclear agreement is jeopardized by "the actions of the Americans and the passivity of the Europeans," he warned that Iran could "reduce [its] implementation" of the agreement and possibly increase uranium enrichment activities.
For Europe though, this is easier said than done. Its private sector is keen on reducing its exposure in Iran. The impact of the sanctions is already being felt with the Iranian rial dropping to a record low of 1,90,000 to $1 in late September. The rial made some recovery but a further decline is anticipated as the US pushes more sanctions on Iran's crucial oil industry in early November.
Like others doing business with Iran, India, too, is being challenged. It has underscored its opposition to the unilateral sanctions by the US. But beyond that, ground realities will dictate future course of action. India has already started reducing its oil intake from Iran, though it is unlikely to bring it down to zero. Iran accounts for more than 10 per cent of India's total oil import. Indian refiners are reportedly cutting down their monthly crude loadings from Iran for September and October by nearly half. This is deemed important to get waivers from Washington.
But New Delhi is in a quandary as the falling rupee and high oil prices are creating discontent in India and it would be difficult to ignore Iran in this context as it offers concessionary rates to India on oil purchases. India is the second largest buyer of Iranian oil and firms have already started feeling the pressure of US sanctions. To offset some of the challenges in importing oil from Iran, India has permitted state refiners to import Iranian oil with Tehran arranging tankers and insurance. New Delhi has approved the proposal of the Iranian private lender, Bank Pasargad, to open a branch in Mumbai to explore the possibility of reviving the rupee-rial arrangement used in the past for importing oil from Iran.
If there is no waiver from the Trump administration, it could complicate policy choices for India, which has significant stakes in Iran — energy ties, investment in the Chabahar port as well as broader West Asian policies. New Delhi, thus, continues to engage the US at the highest levels. This was a topic of discussion at the recently concluded 2+2 dialogue between the foreign and defence ministers of the two nations. The national security adviser, Ajit Doval, has also been to the US and met the US secretary of state, Mike Pompeo, in this regard.
Pompeo remains sympathetic to Indian concerns. He suggested, "There are still a number of decisions pending before the November 4 deadline that we've got to make about waivers or potential waivers, and we're working our way through each of them." Given the importance the Trump administration has given to US-India ties, it can be expected that the Indian case would be looked at through the strategic lens.
Iran has been a long-standing irritant in Indo-US ties. Although now that Iran has bounced back, India is not the only nation being targeted by Washington. Yet, India is being affected by the US posture and it will have to engage both Iran and America in ways that preserve its equities in both bilateral ties.