In this election, how many parties have identified public transport as a key to smart cities?
Adequate representation of women on buses as drivers and conductors is essential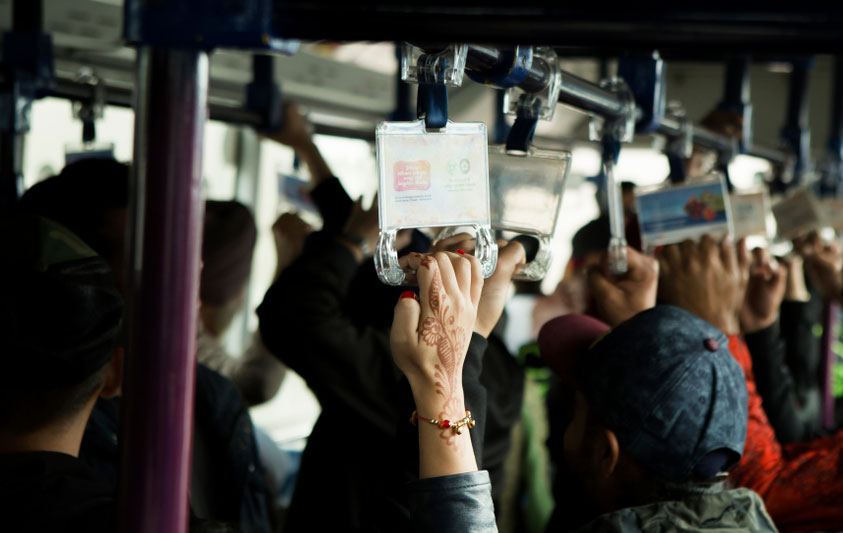 Sexual harassment on public transport is common in every urban and semi-urban centre in South Asia, and makes life a nightmare for women
(Shutterstock)
---
Published 07.05.19, 04:48 AM
|
---
On buses and other public transport across a sprawling South Asian city, women are wearing T-shirts and hair brooches saying, "Ga gheshe daraben na", Bengali for 'Don't come too close'. It is a campaign in Dhaka, Bangladesh, against sexual harassment on public transport.
The relevance of that stinging statement is seen in every urban and semi-urban centre in South Asia, where women travel in crowded buses. Such conduct, which makes life for women a nightmare across the region, used to be widely reported in New Delhi some years back and is now a low priority.
Accounts of child molestation in school vans are well documented. I once suggested to a member of the National Commission for Women that one way of tackling this would be to hire women conductors and monitors for such transport. Gender representation and sensitivity are needed; for example, greater representation of women in the police forces.
The Bangladesh Research Action Committee, the country's oldest non-governmental organization, says in a study that 94 per cent of women passengers reported facing physical, verbal and other forms of sexual harassment on public transport. In 2016, the FIA Foundation presented an international study on women's safety on public transport that encompassed India and Nepal. The report, Safe and Sound: International Research on Women's Personal Safety on Public Transport, noted that "overcrowding or isolation may enable sexual offending", that is, "crowded, enclosed rush hour conditions on public transport vehicles may facilitate rubbing against a girl or woman and conversely women may be also be vulnerable when public transport is largely deserted or stations are isolated".
It identified three elements which can influence a woman's decision whether to make a trip or not. One is walking to, from or between transport facilities or stops (from departure point to a taxi rank or back; from a taxi stop to a bus station; from a train station to destination point or back). Then waiting at boarding points and facilities (taxi or bus stops, train or bus stations, modal interchanges). And last, travelling on board a mode of transport such as a bus, train or taxi. This is a pattern that emerges across all countries, regardless of wealth or poverty: "It is also not confined in any way to the developing world, and appears to be just as prevalent in rich, highly industrialised cities... London, New York or Paris."
It noted that victims underreported the crimes and that men, although aware that this occurs, tended to underestimate its scale and had an unconscious bias that women should accept it as "normal female/male behaviour and that women's behaviour encourages men to act in this way". It established that walking to and from public transport stations was seen as an especially dangerous part of the trip.
There was a lack of confidence in authorities and the treatment of an incident report "influences both how women feel about their personal security during their trip and the number of incidents reported". The FIA account said that where knowledge was available "little is being transferred between cities or countries and there is a considerable amount of duplication of efforts".
The FIA survey ranked the 16 cities surveyed with Bogotá, Colombia, being in first place, where women felt least secure. Delhi was fourth. It is the most polluted capital and in perception, the fourth most unsafe city for women. Three Latin American cities figure in this list as do Beijing and Tokyo at 14 and 15. New York is the 'best' at 16 while London scores worse than Beijing.
At election time it has to be asked how many parties have identified public transport as a key to smart, safe and swachh cities? Or tried to develop a discussion around the patterns of vulnerability discussed above so that actionable decisions can be taken and duty holders held to account?
Adequate representation of women on buses as drivers and conductors is essential to this process. Government and private transporters must hire qualified women to these posts against existing quotas. If the quotas don't exist, create them. State governments could set an example by filling the quotas for women in the police department.
Representation is part of the process of reorientation, not just of procedures and structures but also of cultural approaches steeped in patriarchy which find an echo in the violence that women face on buses. The media have a major role in enabling this change. For they do not just reflect views but also carry out the service, as Mahatma Gandhi wrote, of providing public education. So the 2019 vote is important not just because we have to elect a government but because we need to hold one another and institutions to account, including the media.