In a winter wonderland, a key that unlocks your future
Dream Downtown Hotel in New York City has unveiled a 'magical' oracle that tells you what's in your stars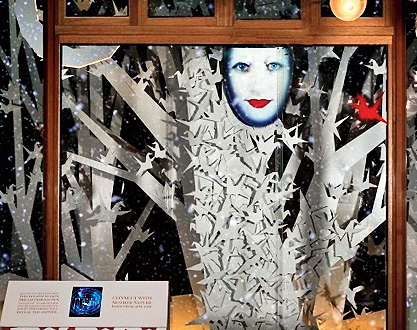 The oracle installation at Dream Downtown Hotel, which answers questions about the future with the tap of a button.
guestofaguest.com
---
Published 05.01.19, 07:00 AM
|
---
New York City holds the key to your future now. The hotel, Dream Downtown, has unveiled a 'magical' oracle that will answer your questions about your future. Every year, the hotel creates its annual lobby installation, inspired by the famous NYC holiday windows displayed across the city's department stores, with an interactive feature for those who happen to step in.

Visitors who head into the hotel's trendy lobby will step into the winter wonderland forest scene and a giant oracle called 'Mother Nature' waiting to answer questions about the future with the tap of a button. The display was created in partnership with theory11, a magic collective made up of some of the best magicians in the business and the minds behind the popular 'The Magician' performance held at the NoMad Hotel.
To get their fortune read, visitors can head to the installation each day between 4 pm and 1 am. They must tap on the iPad screen in front of the display to hold down a button and ask the oracle a question of their choice. The response appears on the screen minutes later.
"As magicians, we are always leaning on technology and the latest and greatest to demonstrate to people things that they think are impossible to make them dream a bit," said Jonathan Bayme, theory11's CEO, to Travel + Leisure. The experiential pop-up adds a touch of magic to the holiday season. Dark designs
If you are a Tim Burton fan, you are in for a treat. For the first time, there is an exhibition in Las Vegas at the Neon Museum to view the artist's work up close. Burton brought us films like Edward Scissorhands, Beetlejuice, Mars Attacks! and The Nightmare Before Christmas. The exhibition will run for four months and include original art pieces, dark set designs and massive installations from his film sets.
Before this, Burton's art and the memorabilia from his films found their way through metropolitan museums from 2009 to 2013, ending up in often sold-out runs at the Los Angeles County Museum of Art, the Museum of Modern Art, and Paris's Cinémathèque, among others. But in the Las Vegas exhibition, pieces will be spread across the iconic museum's campus: the outdoor exhibition space, its adjacent North Gallery and the visitors' centre.
The Neon Museum is quite different from previous exhibition spaces for Burton's work. The massive neon signs outside it certainly complement the art. This exhibition will be a collaborative showing that features site-specific staging. "To say we're flattered that Mr Burton has chosen our museum for this exhibition would be an understatement," the Neon Museum's president, Rob McCoy, said in a press statement. "But when you think about it, Tim is one of the few artists who can match the great imagination of Las Vegas."
Quality control
When you think of good food, you may not think of airlines food. However, recently people have been taking pleasure in critiquing, ranking, and even hating airplane food on social media. Brian Kelly, the founder of The Points Guy, indulged in this pastime recently by posting a photo of a rather unappetizing plate of pasta served to him on an American Airlines first-class ticket. He invited his followers to caption the photo, which led to some caustic remarks that probably would cause a public relations nightmare.
Kelly is not the only one calling out airlines for their soggy food.
Popular Instagram accounts such as @inflightFeed and @airplanefoodselfie feature frequent fliers's meals as a form of culinary entertainment. The latter account crowdsources photos and then invites followers to rank each offering on a scale of one to 10. It includes the flight number and route to make clear where the dining experience — whether it was great or terrible — happened.
But the critics are not limited to dedicated accounts only. A Malaysian chef took to Instagram to lash out at AirAsia, the Malaysian low-cost airline, for allegedly serving poor quality sambal tumis (stir-fried chilli paste) with nasi lemak in its Premium Lounge. He also uploaded another video of a sambal prawn dish which he whipped up himself, describing it as "nice and thick", and said it "does not look like the AirAsia premium nasi lemak sambal".
Steep drop
New Year is famously about the drop of the crystal ball in NYC. But this year there has been a lot more of things dropping in different states around the country. In Key West, Florida, the city rings in the new year with a high-heeled shoe dropping from the balcony of a popular Duval Street bar. Mt Olive, North Carolina drops a pickle every single year, but not at midnight. They drop it at 7 pm Eastern Standard Time because that is midnight on Greenwich Mean Time. In Georgia, a giant peach — the state's official fruit — drops in the middle of fireworks. The rain in Atlanta did not stop thousands from turning up to watch.
Bethlehem, Pennsylvania drops a 400-pound illuminated Peep (the popular branded yellow marshmallow candy) each year. They do this because Peeps's parent company, Just Born, is headquartered in the town. Mobile, Alabama drops the marshmallow-stuffed moonpie every year. But it is electronic and weighs nearly 600 pounds. Boise, Idaho drops a giant, glowing potato, now in its sixth year. Viewers can watch the famous 17-feet, 800-pound 'GlowTato' drop right in front of Idaho's capitol building each year.
Footnote

 New Year means it is time for resolutions. According to MarketWatch, about four in 10 Americans make resolutions each year — eating healthier, getting more exercise and saving more money top the list. This year, one of the biggest trends is leaning towards veganism. A record 1,70,000 people across 14 countries have signed up for Veganuary, in which people pledge to go vegan in January.