Human Bonds: Citizens helping with Covid
A tragic devastation that was largely avoidable has also become the scene of an assertion of humanity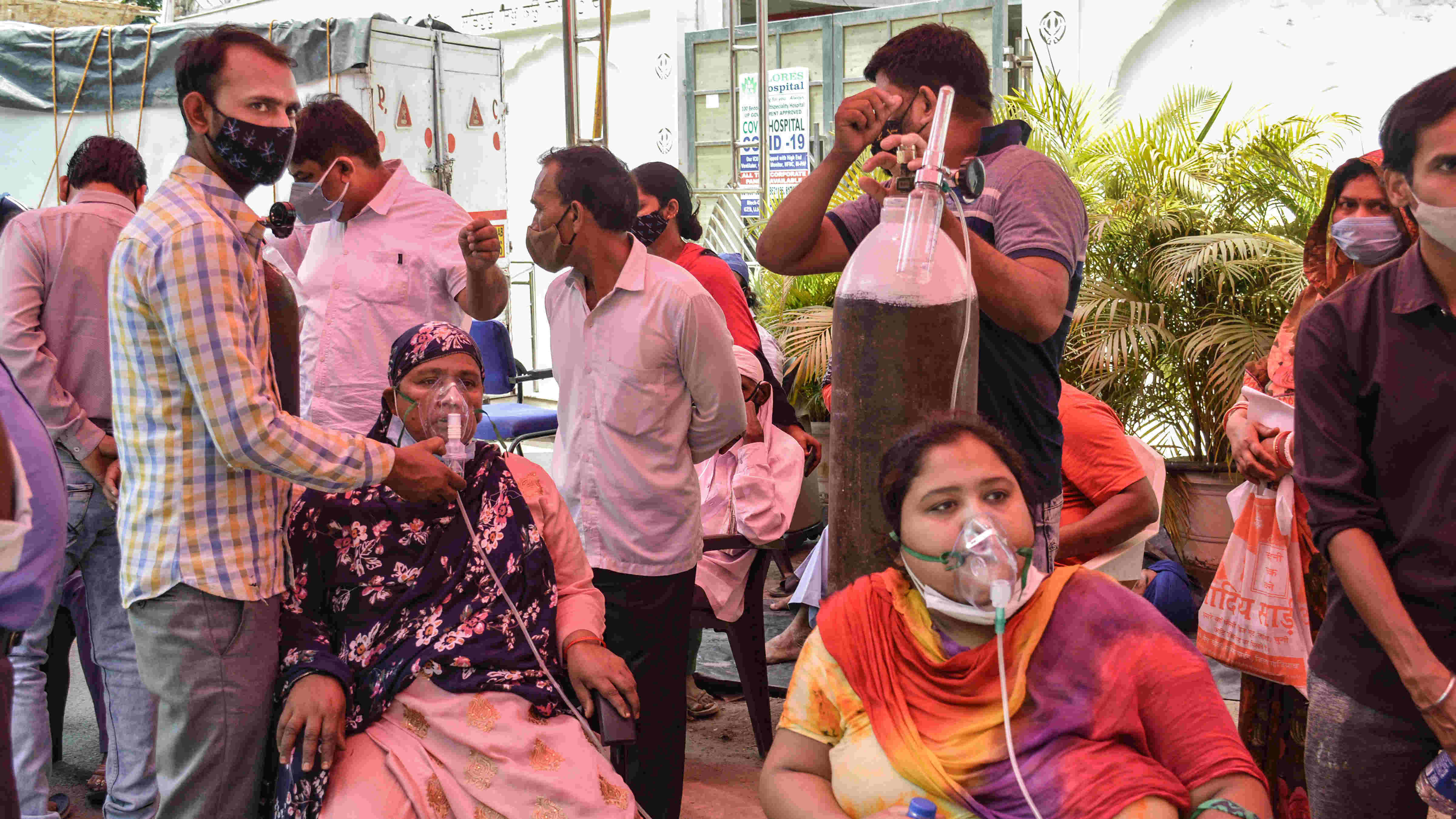 Covid-19 patients receive free oxygen, provided by a Sikh organization at Indirapuram Gurudwara, in Ghaziabad, Monday, April 26, 2021.
PTI
---
Published 21.05.21, 01:07 AM
|
---
There is never a vacuum. The more the political dispensation at the Centre abdicates its responsibility of protecting and healing the people, the more groups and individuals spring up across the country, in cities, small towns, villages or just localities, to help the sick access scarce oxygen and medicines, find hospital beds, get them admitted or help with funerals. They are the people, nameless: students and the young, professionals from all spheres, or entrepreneurs, traders and manufacturers offering resources, quite often free — oxygen flow meters for example, or just oxygen at critical times. There are autorickshaw drivers taking patients to hospitals for free, or racing drivers now driving ambulances. From the large canteen feeding migrant labourers and others in need and professional kitchens ready with food either free or with a nominal charge to women cooking in their kitchens for Covid patients, helping hands come from everywhere. Celebrities and less-known citizens are donating money and, when possible, equipment. Many volunteers in the field are unvaccinated, putting others' pain above their own fears. They are often informally organized, responding to calls of distress on social media and by word of mouth with quick networking to get whatever is needed. The face of religion is turning out to be quite unlike the political leadership's expectations: numerous people from minority communities are helping even in funerals, irrespective of faith.
Sikh langars feed thousands in every crisis, whether located at the farmers' protest site or on wheels during lockdown. Now gurdwaras have extended their service to 'oxygen langar sewa' in cities such as Delhi and Calcutta, helping patients fight the virus by giving them oxygen at critical moments and, when necessary, finding hospital beds for them. The organizers of the oxygen langar in Calcutta are planning to open one in the Nakhoda Masjid through discussions with the mosque authorities. In the crisis, the hatred unleashed by the dominant political party has become inconsequential. Even the Delhi police, after questioning the president of the Indian Youth Congress and eight others regarding charges of hoarding and black-marketing essential resources, found no prima facie evidence against them and were compelled to report to the Delhi High Court that they were actually 'helping' people. A tragic devastation that was largely avoidable has also become the scene of an assertion of humanity.