Sir — An excess of anything is bad, even if it involves what is considered to be the 'holiest' of animals ("Moot point", Jan 4). As a result of aggressive cow protectionism and restrictions imposed on cattle trade and slaughter in India, the country is presently facing local spikes in the stray bovine population. An unexpected rise in the numbers of any species in a small area threatens the ecological balance. Stray cows are no different. In their need to graze, they are bound to destroy crops. As a result, human and animal lives dependent on consistent crop cycles will suffer. This will put further pressure on farmers who are already financially burdened with the upkeep of their ageing cattle.

The Uttar Pradesh government's solution of increasing the cess on excise goods to fund the construction of cow shelters is absurd. It is a waste of public money, especially in light of the countless pressing problems in the state which remain unaddressed because of a lack of funds. Clearly, promoting cow protectionism is an electoral gimmick. The sad part is that such government action spurs radical mobs in our country on to becoming violent — the murder of the police officer, Subodh Kumar Singh, by cow vigilantes last month is the latest instance. It is unfortunate that the cow, as a symbol of religiosity, is valued over the lives of citizens.
Jishnu Hore,
Calcutta
Sir — Could the Bharatiya Janata Party have imagined that its much-hyped policy of cow protection would boomerang and create a catastrophic effect on the rural economy? Adding to the many incidents of cow-related lynchings, cows that have now reached a non-productive age are let loose only to damage standing crops. They also cause serious accidents by their unrestricted movement on roads and highways.
It has become very difficult to compensate for the damage done. The problem has reached such alarming proportions that even the BJP's own lawmakers are now questioning the merit of the party's stand on cow protection. Since it is impossible to construct old-age homes for all stray cattle, is it possible that the BJP might go back on its stance on the issue? This would be a wise move, especially if it wishes to win the elections in 2019.
Sukhamay Biswas,
Calcutta
Sir — The introduction of the 'gau kalyan' cess by the Uttar Pradesh government might seem like a good idea, as it would help tackle the present crisis by raising funds for the construction and maintenance of cow shelters across the state. There also seems to be a need to create a separate department to look after the massive number of cows, which will only go on increasing with every passing day. However, if the government continues to shift the economic burden of looking after cattle on to the people by imposing new taxes, the ruling party will soon become unpopular. Forcing people who consume meat to give it up will not be appreciated by the masses either.
This issue is becoming too much of a risk for the BJP, especially since it has gathered steam just before the upcoming general elections. The government would have been widely appreciated if it had raised funds like this to feed the millions of hungry or homeless people in the country. In fact, the amount of importance attached to the well-being of cows ought to have been given to alleviating the suffering of the people of India.
B.K. Nundee,
Calcutta
Heavy burden
Sir — A recent survey revealed that 74 per cent teachers in India assess the potential of students in Classes III, V and VIII based on their homework. But most of the younger students cannot do their homework without the help of their guardians. In order to ensure that students learn their lessons, monthly assessments ought to be conducted. And even apart from that, kids who do not perform well in tests can grow up to be efficient at work. Teachers should not impose an excessive burden on students through home assignments, as this also robs them of whatever little time they get to play and enjoy childhood.
K.V. Seetharamaiah,
Hassan, Karnataka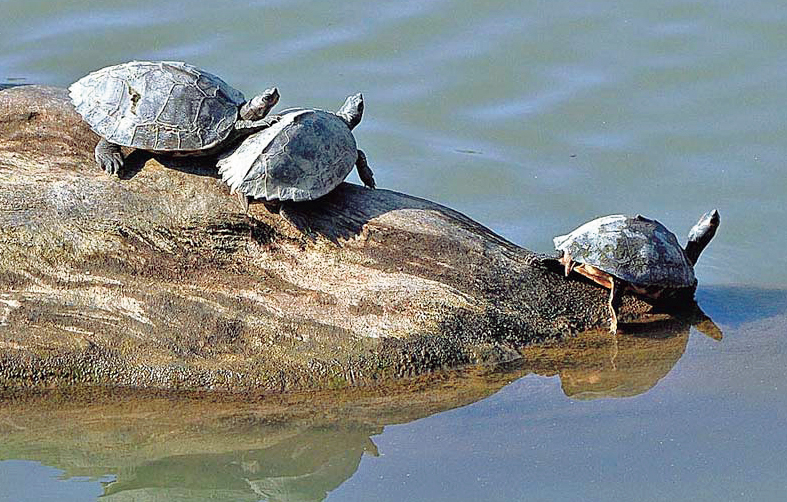 Assam roofed turtles. Conservation efforts in West Bengal have helped increase the population of river terrapins from only a handful to about 300. The Telegraph file picture
Steady steps
Sir — Amid the many unfortunate incidents reported in newspapers, it was heartening to find that conservation efforts in West Bengal have helped increase the population of river terrapins from only a handful to about 300 ("River terrapins: 50 to 300 in 10 years", Jan 3). The fact that such improvement could be brought about within a decade shows that all hope is not lost. However, in India, several kinds of turtles remain endangered. As such, success stories should encourage more conservationists — professional and budding — to work harder rather than make them complacent.
Debolina Roychowdhury,
Calcutta