Durga Puja: Big budgets, tattered clothes
Many festival pandals spend lakhs on pomp and show, but spare little for the musicians, who are often of humble means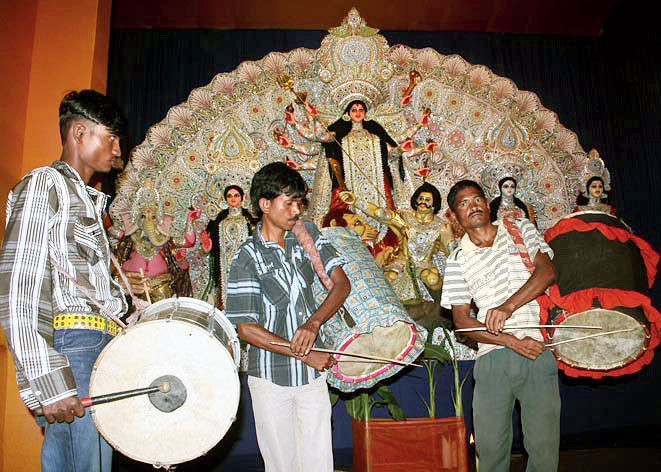 ---
---
Sir — The biggest festival of West Bengal, Durga Puja, is just round the corner. These days, almost all Puja organizers spend lakhs of rupees on the decoration of theme-based pandals. Unfortunately, the dhakis and kashor-players, who are an indispensable part of Durga Puja, remain neglected in most pandals. Most of them come from poor families, and can often be seen playing their instruments wearing old or torn clothes, even in mandaps with grand budgets. The very least that the organizing committees — which spend such huge amounts of money on pomp and show — can do is give these people a new set of clothes.

Sourish Misra,

Calcutta
Panic mode
Sir — Incidents of Indian commercial aircraft running into serious safety problems during flights have often rung alarm bells. The most recent one, in which the pilots forgot to switch on the system that maintains cabin pressure on a flight from Mumbai to Jaipur, resulted in many passengers bleeding from their ears and noses ("Pressure havoc inside Jet flight", Sept 21). This incident is perhaps the first of its kind in Indian civil aviation. Yet it points to the lack of compliance with safety operation procedures in the aviation industry. It is high time that the government carried out a comprehensive safety audit of all commercial flights. Cabin crew should also be trained to handle such mid-air crises, as these can be life-threatening, especially for senior citizens and children.
Ramesh G. Jethwani,

Bangalore
Sir — The incident with regard to faulty cabin pressure that forced the Jet Airways flight to return to Mumbai shows that the standard operating procedure for pilots must be more stringent. There should be a proper scanning of all operating devices, including switches, especially before the first flight of the day. The incident in the Jet Airways plane could have proved to be disastrous if, like the passengers, the cockpit crew also suffered from disorientation. This would have prevented them from performing their follow-up duties properly. Lessons should be learnt from this incident so that similar mishaps can be avoided in future.
Sujit Ghose,
Calcutta
Sir — At least 30 passengers on a Jet Airways flight suffered ear and nose bleeds after the pilots failed to turn on the system that maintains cabin pressure. The negligence of the crew could have resulted in a catastrophe, much like the one that had happened in Greece 13 years ago, when a similar problem led to a Boeing aircraft crashing into a hilly terrain, killing 121 people. The Jet Airways authorities must investigate the matter seriously and take strict action against those responsible for this error. During a flight, even a small mistake can severely harm passengers.
Mohd. Usmani,

Mumbai
Sir — The recent mishap on board the Jet Airways flight was avoidable but, in the end, handled well. The oversights, of course, are not excusable. But once the problem was detected, the safety procedures kicked in and a prompt decision was made to bring the plane back on the ground as soon as possible. Pilots and crew members should be made to undergo evaluation drills on a regular basis, so that they can keep abreast of the safety procedures.
It is also true, however, that most fliers do not pay adequate attention to the safety guidelines given by flight attendants before taking off. For instance, in the same incident, there was considerable panic among the passengers when oxygen masks were deployed. It did not escalate the problem in this particular incident, but passengers who are inattentive when safety-related instructions are being given can often complicate the situation further during a mid-air crisis. Alertness and proper knowledge among passengers and crew alike are necessary to avert such situations in future.
Aman Bhuwania,
Howrah
Sir — The utter callousness of the pilots of the Jet Airways flight in which cabin pressure was not maintained is disturbing. The mistake occurred either because of carelessness or mental fatigue brought on by a gruelling tight schedule.
The Director General of Civil Aviation should evaluate the roster of pilots, co-pilots and crew members to ensure that they are mentally and physically fit before they take control of an aircraft.
A.S. Mehta,
Calcutta
Sir — Mistakes are bound to happen in every sphere.
It is fortunate that the accident aboard the Jet Airways flight was not grave. But these errors must not be repeated. After the probe ordered by the DGCA is completed, all airlines should be told about the exact nature of the problem of the Jet Airways incident, so that they can avoid making the same mistake.
Pramit Deb,

Calcutta