Hate can be a mirror in testing times
We can only place our hope in history; for history has a way of defying the insidious calculations of ideologues intent on bleaching their transgressions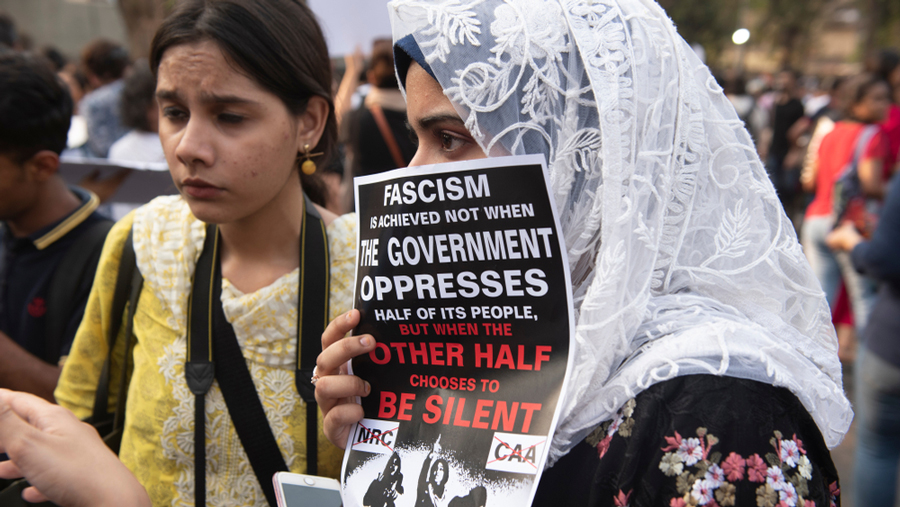 A Muslim woman protesting the CAA and NRC.
Shutterstock
---
Published 23.10.20, 01:24 AM
|
---
The pandemic has coincided with a regression that has amplified the worst tendencies in Indian culture and polity. Why should anyone care about the welfare of minorities under these trying circumstances? The answer is that this needs to be done. This is because a beleaguered minority might reflect the true intentions of a regime. The Muslim experience thus offers insights into the challenges that confront India today.
Toxic myths
There is now a well-entrenched idea that Muslims wage jihad and go to great lengths to harm Hindus. Some of these myths allege that Muslims encourage larger families to become the numerically dominant group in India or they engage in occupations to wilfully offend Hindu sentiments. It has even been suggested that Muslims fell ill intentionally during the Covid-19 pandemic in an attempt to spread the disease. 
The propaganda has been disseminated meticulously. But how do we explain a vast section of the population believing these canards? 
The answer may lie in 'majority appeasement'. Here 'majority' implies a constituency — as opposed to numerical superiority — that is nurtured and protected by the regime in power because of its unquestioning allegiance to the ideology of the elected party. 'Appeasement', in this context, is a code for a model of electoral politics in which a group of people is responsible for stoking deeply-held insecurities so that the real problems of the nation remain unaddressed. The all-round economic devastation caused by India's present rulers is an example of such a calculated chaos in which bigotry and hate-mongering are being used to deflect scrutiny of the failures in governance.
Graded misery
Liberal intellectuals, activists and journalists have protested against the gravity of the situation. For instance, when there was a bigoted media campaign vilifying Muslims for spreading Covid-19, they dubbed it reprehensible. But in their condemnations, they asserted that the anti-Muslim campaign in the media was meant to distract public attention from the 'real issue' — that of the plight of migrant workers. In creating these hierarchies of misery, they seem to have ignored a crucial point. Is the plight of Indian Muslims — social and economic boycotts, the impunity of those indulging in anti-Muslim violence, brutal police crackdowns, lynchings and other kinds of violence, discrimination and intimidation — not real enough? The disenfranchisement of Muslims in electoral politics has marked an era in which the baiting of minorities is a necessary condition. 
Those affected by this 'chaos' wish for the resurrection of the welfare State from the brink of death. But have they not been a silent witness to a repressive State shedding all its pretences as it went about brutalizing the powerless? 
We can only place our hope in history. For history has a way of defying the insidious calculations of ideologues intent on bleaching their transgressions.